Coffee House Test – Crema Coffee House, Denver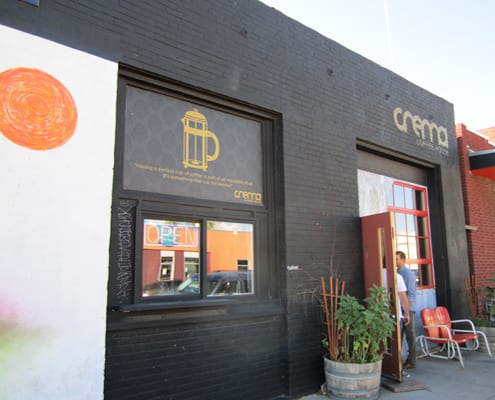 Resident coffee geek Bill Walsh tries out the Crema Coffee House in Denver.
By Bill Walsh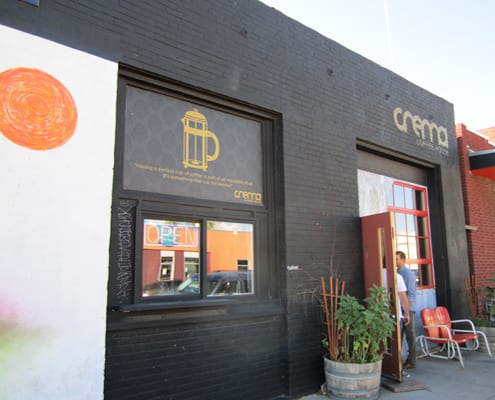 Subject: Crema Coffee House
Location: Denver, CO
Free WiFi ? : yes
Rating: 6+ [see key]
One sunny Denver morning, I had the delightful luxury of taking it slow and having a lackadaisical coffee stop before starting my day. Given my geography at the time, I set my sights on a local establishment with an effervescent reputation, Crema Coffee House.
Sitting in a black brick building on a corner lot, Crema has a unique exterior with a lot of sleek design elements that pull forward your eyes to its existence. Inside, the place reverberates with a stylish yet efficiently purposed space, complete with a chandelier, lots of natural light and some interesting art.
Their coffee is as copious as it comes, with numerous roasters on hand such as Counter Culture, Novo, Boxcar, Herkimer and Dogwood. That morning, I had an espresso from Herkimer (their Espresso Blend I believe) and a french press of a Colombian from Novo. The espresso, pulled short with a brown crema, held notes of dark cocoa, a little clove, light sugar, a bit of ginger and a smoky finish, all of which combined to form a sweet and balanced infusion. The Colombian doled out a delicious light-medium bodied brew that smacked of wheat, pear, black tea, banana nut muffin and broth.
All together (now!), Crema provided great coffee, great service and wonderful ambiance; I couldn't have chosen a better spot to start off my slow day. If you're in or around Denver, give Crema your patronage.
Crema Coffee House
1+ 720 284 9648
2862 Larimer Street
Denver, Colorado 80205
Bill Walsh
Bill Walsh is a contributing writer at Honest Cooking and the fanatic behind the acclaimed Pure Coffee Blog. He gains his inspiration from God, family and coffee, and loves to take each of them on the road as frequently as possible for a solid adventure.