Clou – a Bright Star of the Danish Food Scene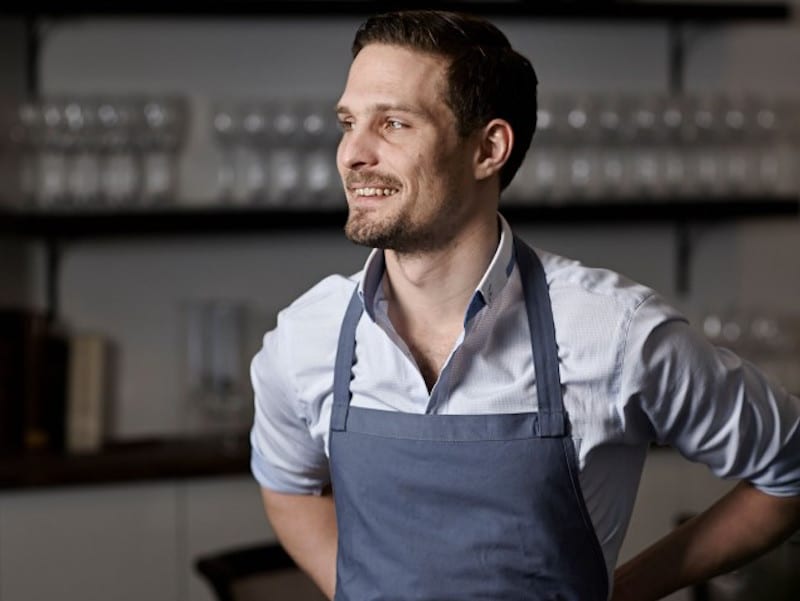 Take a creative approach to pairing food with wine, some true dedication to the classic techniques of cooking and the homey feeling of dining at the house of your best friend, and you have Clou. A trailblazing bright star on the Danish food scene, Clou proves the Danish restaurant scene is more than Nordic minimalism.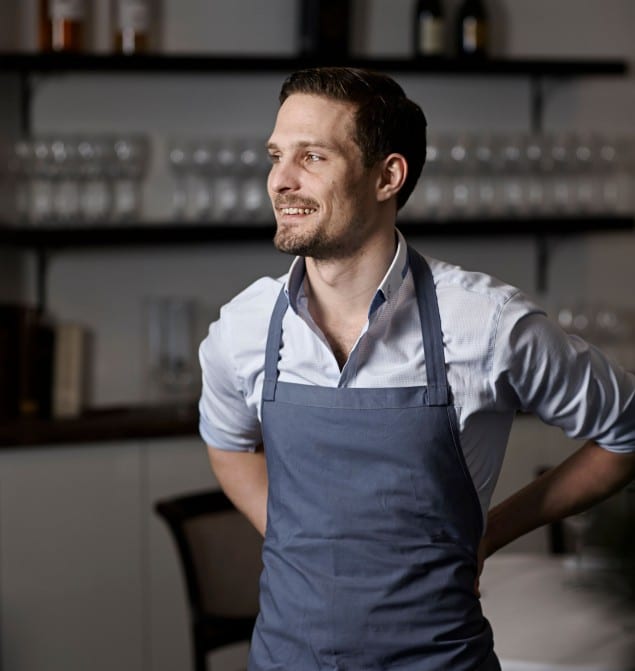 The driving force of Restaurant Clou; Jonathan K. Berntsen
Old concrete buildings inhabited by a slew of dry cleaners, laundromats, upholsters and shoemakers, supermarkets, roads that are mainly used for parking spaces and a big old fashioned gas station halfway down the street. This is how one could describe the street of Borgergade in the center of Copenhagen, a javelin throw away from the historic D'Angleterre hotel.
The undisputed gem of the street is located in number 16. As you lean in towards the tinted windows, you can just barely sneak a peak of the room inside. When you step in through the main door you immediately get a feeling of warmth and homeliness. The place is Clou – a highly popular restaurant that dazzles local diners and internationally same with their creative approach towards cooking.
The food & wine symbiosis
Jonathan K. Berntsen is the owner and head chef at Clou, a restaurant he opened when he was only 27 in 2012 with his twin brother Alex, who was Clou's sommelier. The wines are carefully selected first, and from the wines they create the accompanying dishes.
"At Clou we like to do it the opposite way of how other restaurants do it. We change our menu at least once a month, but depending on the mood sometimes more often. We are really close with our wine suppliers, so when they come to visit we sit down and taste the different wines they have brought. When we find a good wine we start talking about what kind of dish we can make from it using the seasonal ingredients", Jonathan Berntsen explains.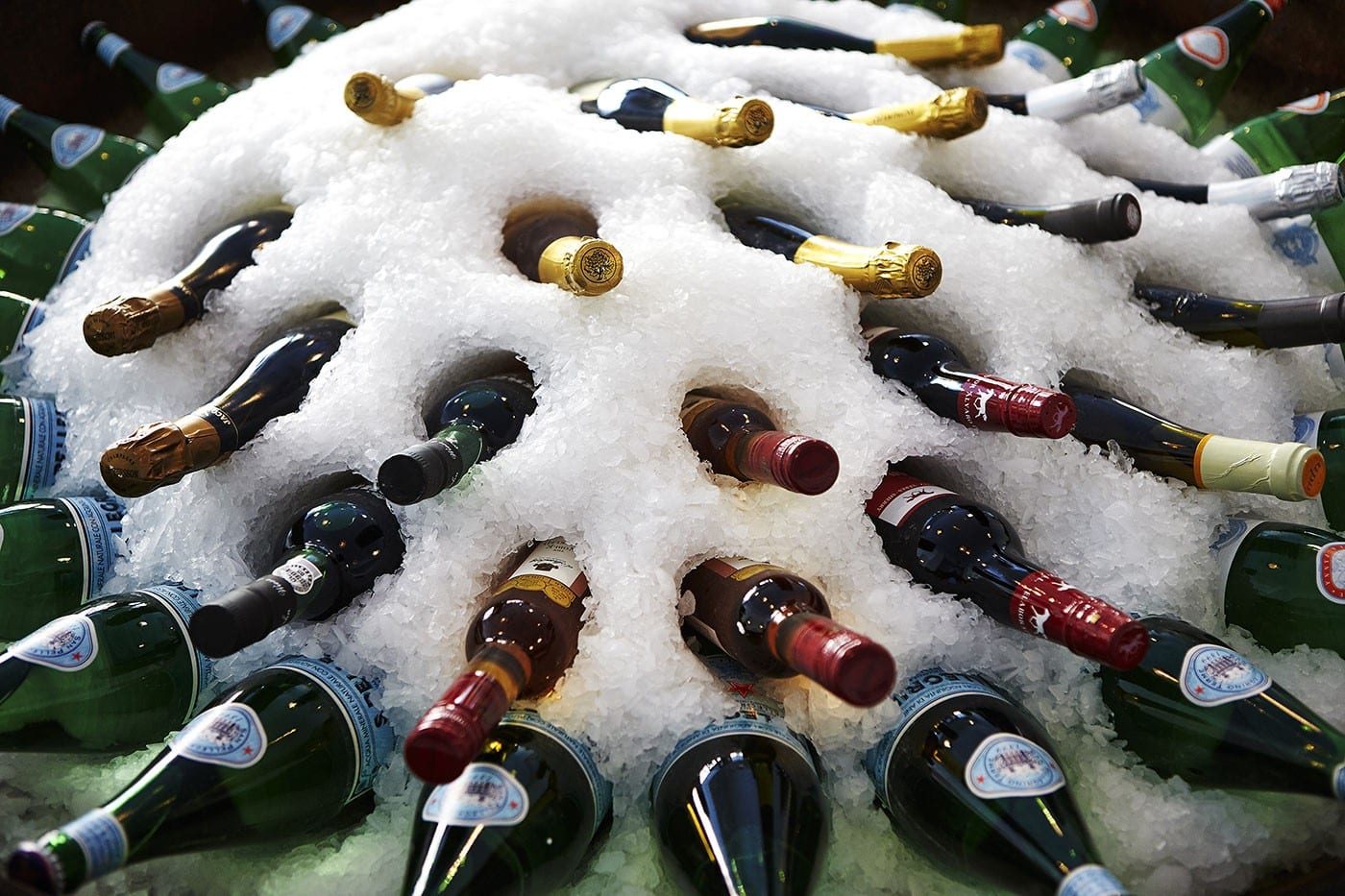 Cool it: A giant bowl with 250 kilograms of ice greats you when entering Clou.
The creativity behind Clou has put the restaurant amongst the best restaurants in Copenhagen. The restaurant has been open for almost four years and have since its first year been accoladed by the Michelin Guide with a star. The staff's knowledge of wine also gave them another prestigious award, when they won the fifth edition of the international Sherry contest Copa Jerez in 2013.
"I definitely think that our way of creating the menus gave us a huge advantage in the beginning. At the time we didn't have a Michelin star and was up against some highly renowned restaurants and chefs. The judging panel consisted of chefs and sommeliers from restaurants like El Celler de Can Roca and El Bulli, so we were really nervous. We were however the only restaurant that created menus from the wines and that impressed the judges and we won both the overall prize and the prize for best chef. The biggest honor was when we just served the first course and Juli Soler (of El Bulli fame) gave us a standing applause".
Southern European meets Danish cuisine
The pursuit of creating the perfect menu is just one of the ways Clou tries to excel in.  Jonathan describes his food as Southern European with an international twist and his background as a chef in France is evident in his work. 
 "I describe my cooking as Southern European and a lot of the ingredients we also get delivered from there. Nowadays in Danish culinary schools, you're not really taught the more Southern European styles anymore, which is a shame. At Clou we still use the classic techniques to create dishes like terrines or bisques. I use the knowledge I acquired in France and make it my own by adding my own special twist to it".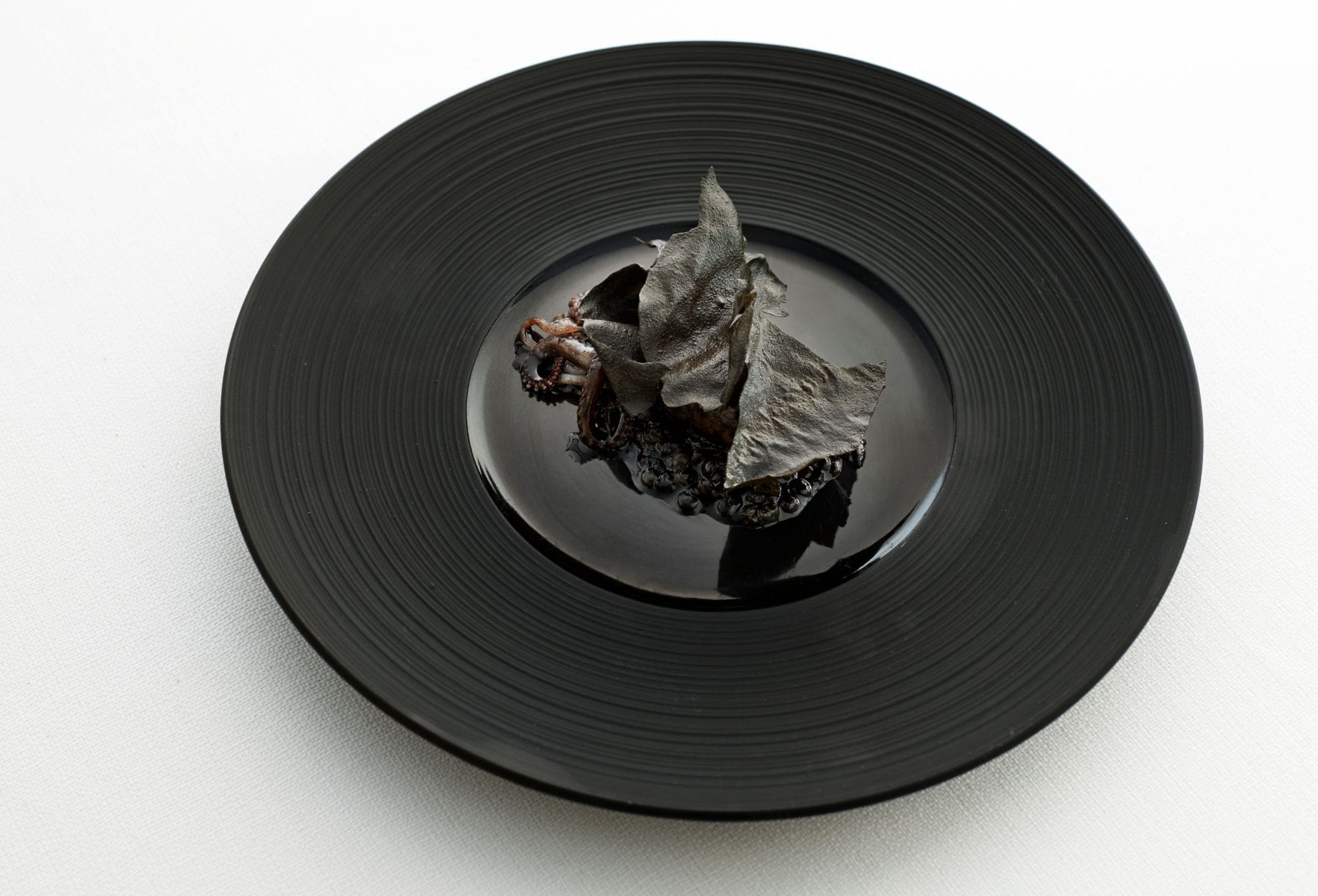 The Mediterranean sea meets the minimalism of Denmark. Chipirones en su Tinta Jonathan style. Squid and Iberico Pork in squid ink. The ingredients are from the South, presentation is from the North. Photo: Thomas Hommelgaard.
This twist is what Jonathan explains as the reason why they received their first star in the Michelin guide.
"To get the first star I believe you have to be the very best in your specific category and there weren't really any restaurants like us at the time. There are tons of amazing restaurants in Copenhagen and we kind of compete for the guests, as you don't really dine out in Copenhagen the same way as other big cities. We are able to distinguish ourselves by bringing classical Southern European cooking to Denmark and giving it a special twist. That combined with the way we create our menus gives Clou a unique personality and that's what I think awarded us the first star".
No restrictions in the kitchen
Bringing the diversity of the South European cuisine to Denmark and giving it a special twist is an advantage for Jonathan, as he basically has no limits in the kitchen when it coms to creating new dishes.
"We aren't limited to any norms as we kind of flow between a lot of different styles of cooking. If I wanted to use something from the Mexican or Japanese kitchen, I wouldn't hold back. We just hired a Korean chef and I managed to lure his family's kimchi recipe out of him. He mentioned that they would eat it with oysters so we tried that and my reaction was literally "holy shit". That made me do a twist on it, and we know have oysters with kimchi on the current menu."
Having this freedom in the kitchen and changing the menu often means that they go through a lot of different courses over the span of a year. Therefore you don't find any signature dishes at Clou, although they do sometimes resuscitate previous recipes and improve them.
"For every menu we create we strive to become better. Tomato salad is a familiar friend on the menu as we have had variations on several occasions. Right now we're doing a version that we serve for dessert. It's confit tomatoes with basil ice cream, Nicoise olives, mozzarella and a very dark chocolate. It surprises guests but it works really well."
Food prepared the old fashion way
Just as he gets inspiration from his colleagues, Jonathan also draws a lot of inspiration from restaurant in the Southern part of Europe and names the cuisine of Nice as his all time favorite.
"There's in particular a restaurant there called La Marenda, and I would eat there every day if I had the chance. They have one chef, one waiter and one dishwasher and the menu is simple yet so delicious".
The most important element to Jonathan's cooking is the presentation of food. Although the presentation of the dishes align perfectly with the simplicity and the "less is more" approach of Nordic cuisine, he still believes that food should look like food. By that Jonathan doesn't mean that the dishes shouldn't be picturesque, but that basically everything that you serve on the plate should be edible, without bells and whistles.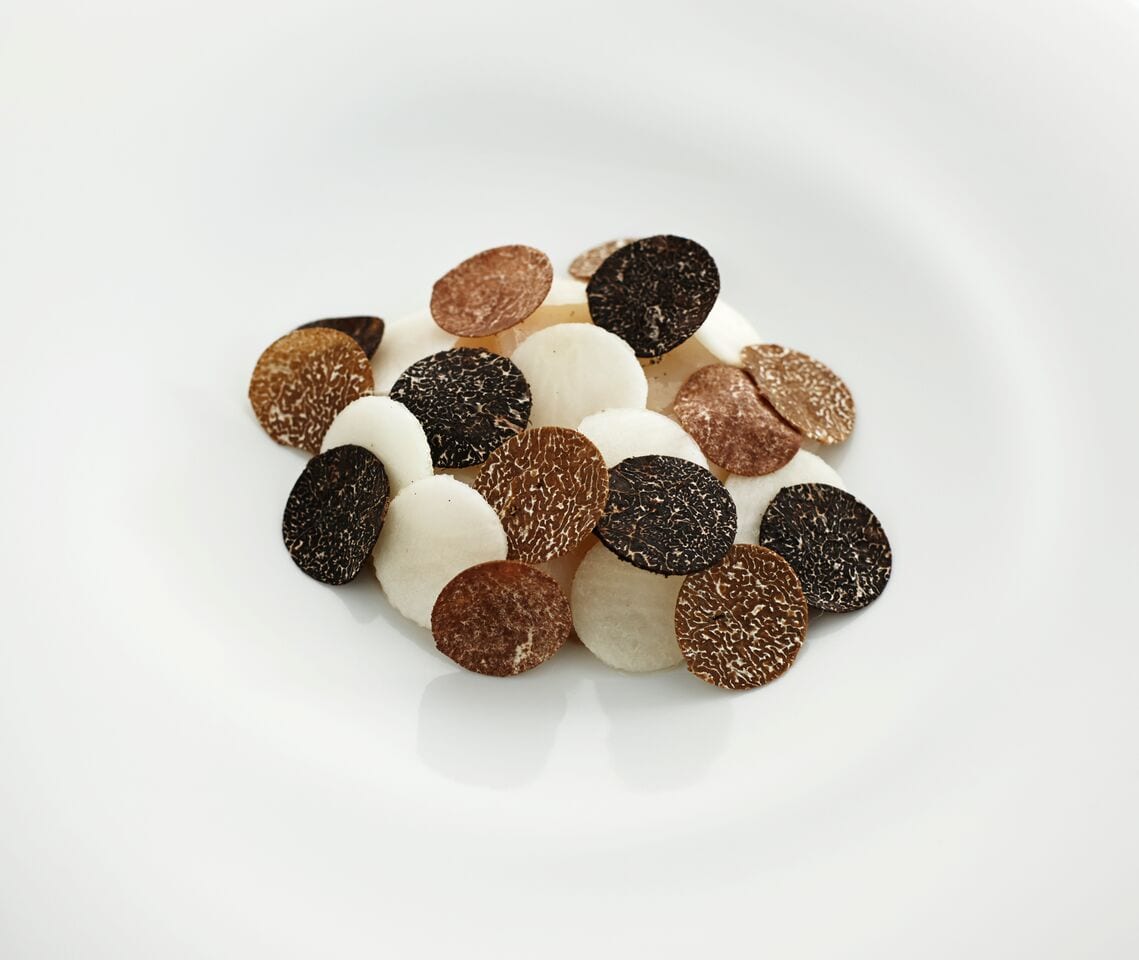 Beautiful and 100% edible. A royale of sun choke, raw Norwegian scallops, truffle salsa and 3 different types of truffles. Photo: Thomas Hommelgaard.
"We are not a theatrical dining show. We aim more towards giving our guests a more classical restaurant experience. You won't see groundbreaking cuisine here, but you'll get solid food and leave the restaurant completely full. At Clou is all about making food that actually looks and tastes like food. It's not about foam and smoke. We actually fry our meat and fishes instead of vacuum packing and putting it in warm water. It's more authentic this way"
The feeling of home
The authenticity behind Jonathan's way of thinking doesn't only come across in his way of cooking, but it also shows in the interior of the restaurant. Where many other Michelin awarded restaurants tend to have world-class interior designers on the payroll, Jonathan and the team from Clou decided that a homely and more familiar feeling was the way to go.
"Most of interior of the restaurant has a story to tell. The silverware on the tables are heirlooms from my grandparents and I have exclusively selected the art on the walls from my personal taste. Another heirloom from my grandparents is the small portable bar made of glass and brass that we use to display our avec selection on, and even the lamps are industrial street lamps from the meatpacking district of Copenhagen that I saw were being thrown out and I then got a bargain on buying".
Jonathan wants Clou to be a high end restaurant where people feel comfortable,- he strives to make it as homely as possible, and wants the guests to feel like they are visiting a close friend. This is also why the young chef restaurateur hasn't made a big bucks on the restaurant despite the many accolades. He simply spends the profit on constantly improving the restaurant, and is hands-on in every aspect of the designs.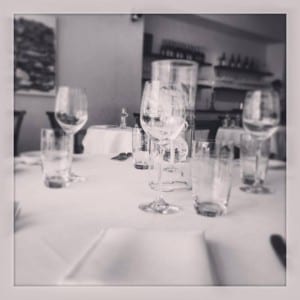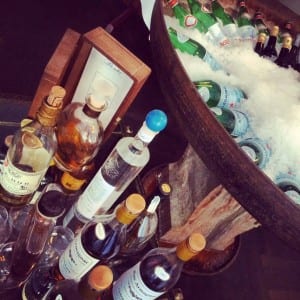 Left: a candid shot of the restaurant overseeing the tables. Right: The ice bowl next to the glass and brass portable bar used by Clou to store avecs. 
"When we started it was three different rooms and everyone on the team helped knock down walls, renovate the floors and pain everything. It gives you a whole other form of personal attachment to the restaurant. My restaurant manager and I make all the flower arrangements. It's become a tradition every Tuesday before we open the restaurant and is kind of a meditative way to start the week", Jonathan explains and adds that the style of the interior is also more old school French than minimalistic Scandinavian".
Quality over quantity
So even though the success and popularity of Clou is increasing, Jonathan never wants to compromise his core values of a homely restaurant. The restaurant has a measly 14 tables and seats a maximum of 36 people in the restaurant with the majority of tables being for 2 or 4 people and only in few cases a single table of 6 or 8.
"For us it just works better having a small restaurant even though the demand is high. I want all the dishes that come out of the kitchen to have the exact same high standard. If we are not able to deliver that, we are failing both our guests as well as ourselves. It's a small kitchen and we all help each other with every aspect of cooking and I'd like it to remain that way", Jonathan explains and adds that 98% of the guests opt for the large menu of seven courses with seven corresponding wines – it's what Clou has become known for.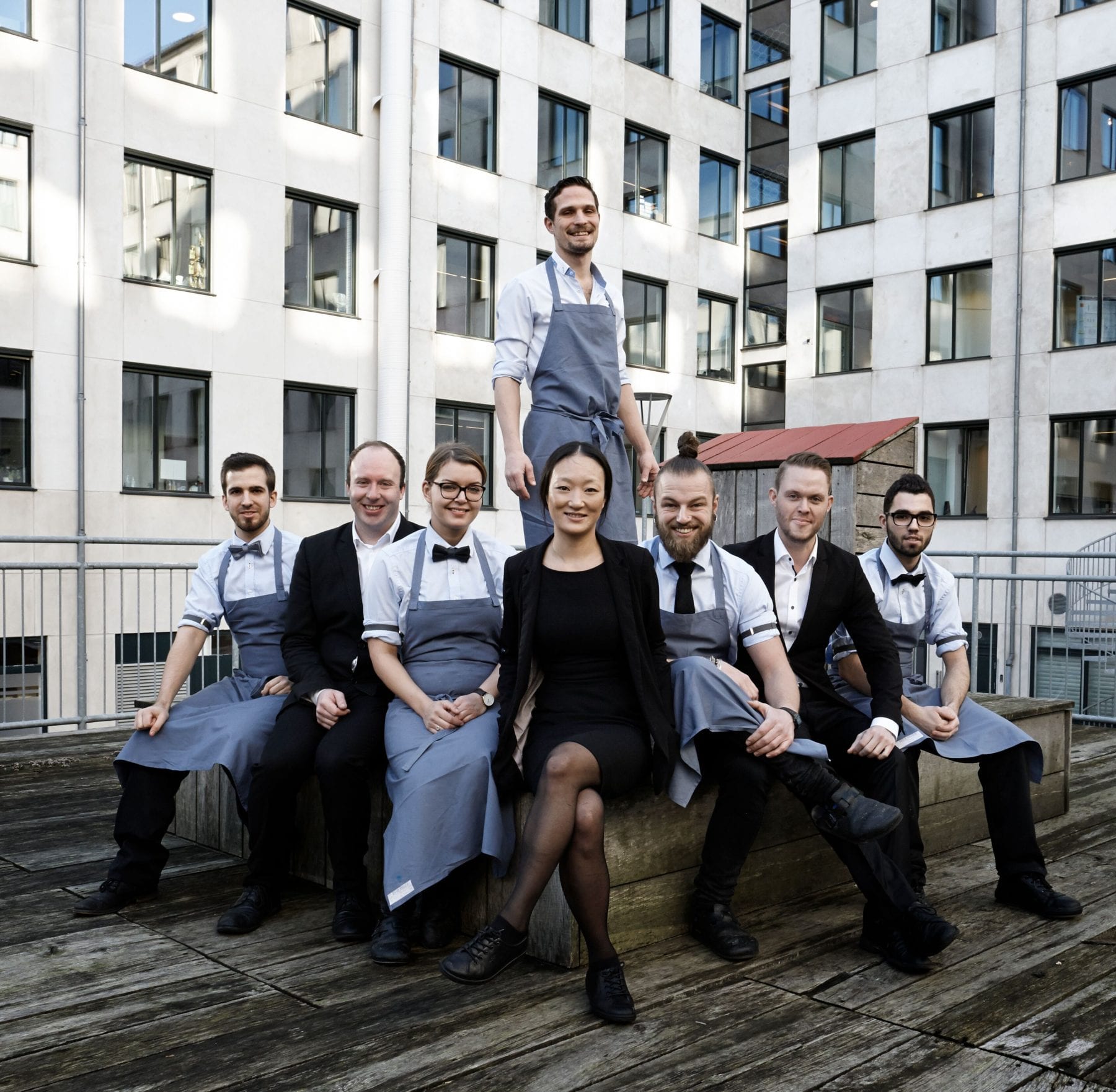 The team behind Clou. Photo: Thomas Hommelgaard.
Jonathan also recently experienced success in his personal life, when he became a first time father in the beginning of the year, which also plays an important factor in the way he runs things at Clou.
"Because we're a small restaurant I'm here from we open till we close Tuesdays to Saturdays, every week. I do work a lot, but I still manage to live out two of my biggest dreams at the same time; having a family and succeeding as a chef. It would be harder if I was just an employee somewhere, but because I own the restaurant it gives me freedom".
"The important thing for us is that we feel like we are getting better and better for each night. If we don't get the second star this time, then we'll simply just aim for it the next time and try to improve. We don't know if we ever will get the second star, but as long as we feel the improvement we're happy. The great thing about the Michelin Guide is that it keeps you on your toes and you consistently have to have a certain level of quality, as you never know when the inspectors are coming. At the end of the day we just hope our guests, who are our bread and butter, are happy with the food and service that we offer."
And it looks like both guests and critics have embraced Clou so far. Besides full booking and impressive reviews, Clou is nominated for one of Denmark's highest honor in the culinary industry, The Danish Dining Guide award of The Restaurant of The Year, where they'll be competing against heavy hitters like Noma, Relæ and Kadeau. The winner will be decided October 30th.
Until then Jonathan and the team behind Clou remain grounded and focus on the craft of cooking. And as Jonathan says, he's only doing it while he finds it fulfilling.
"Right now for me it's all about seeing how far we can go with Clou. And then someday maybe I've reached my goals and decide on embarking on a new adventure. You never really know".
Restaurant Clou is open for dinner service Tuesdays through Saturdays and is located in Borgergade 16, 1300 Copenhagen K. For more information visit www.restaurant-clou.dk.
Daniel S. Bahrami
Daniel S. Bahrami is a Barcelona based writer with a background in digital communication and journalism in Copenhagen, Denmark. He has been part of the editorial staff of the biggest Danish fashion magazine, Eurowoman, and has worked freelance for several other publications as well as experience in fashion and gastronomy PR.