Served warm and with a heavy dusting of powdered sugar, these New Orleans-inspired beignets are the perfect treat with a cafe au lait.
Now you might think that New Orleans is not ideal for a family vacation (and trust me the last few times we were there were not exactly G-rated), but I beg to differ. Like us, our kids appreciate food-centric trips with a little sight-seeing thrown in. Where else can we get a swamp tour, wander through cemeteries, follow a brass band down the street and happen upon a jazz funeral that celebrates life in seemingly the darkest hour?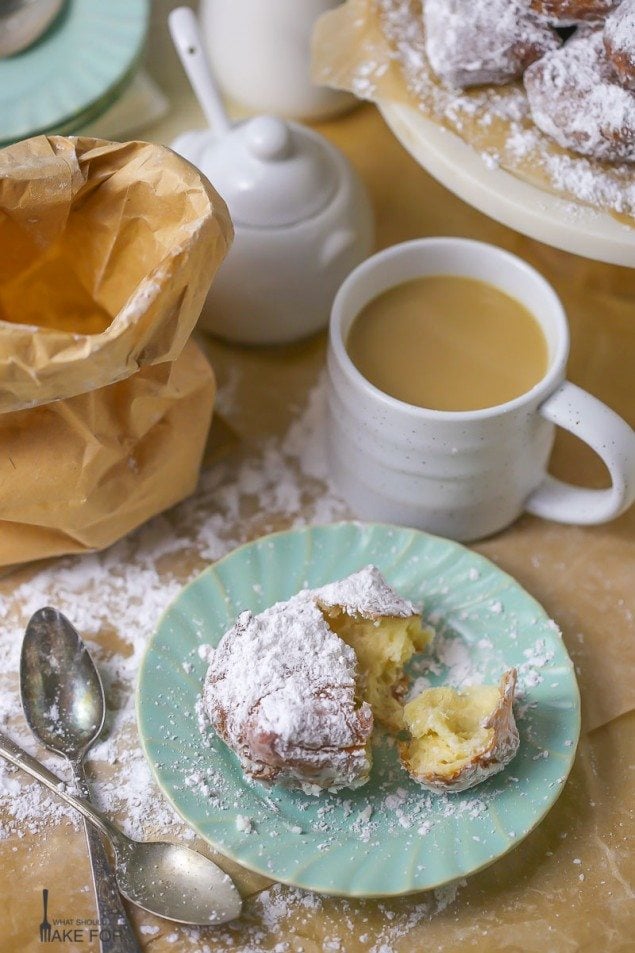 Oh, and do all that while eating The. Best. Food. Ever. Gumbo, etouffée, muffuletta sandwiches, pecan pralines, and of course beignets. I mean is there any food more synonymous with NOLA than a beignet? A warm, airy, square of puffed dough doused in powdered sugar and served alongside a steaming cup of chicory cafe au lait. Ahhhhhh….bliss.
To get my boys excited about the trip, we told them about the area and of course about the food. And to properly convey what they can expect, I whipped up a batch of beignets. This dough is very easy to make and I like to chill it overnight in the frig for easy handling. It can go straight from refrigerator to counter to be rolled and cut into squares, no second rise required. Just hot oil and a bag of powdered sugar and you're minutes away from fried dough heaven. These are best eaten fresh and warm, but we were still eating them the next day for breakfast and I didn't hear any complaints.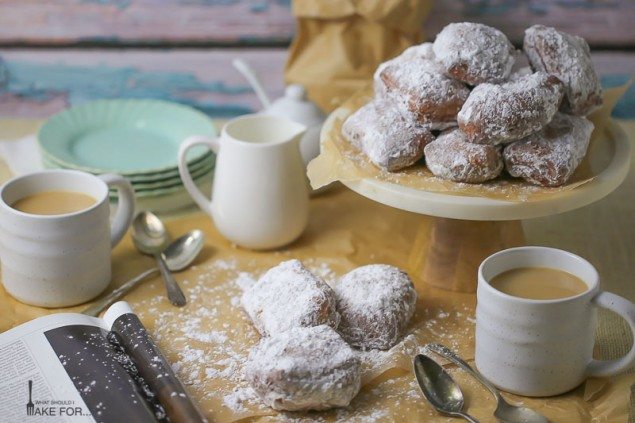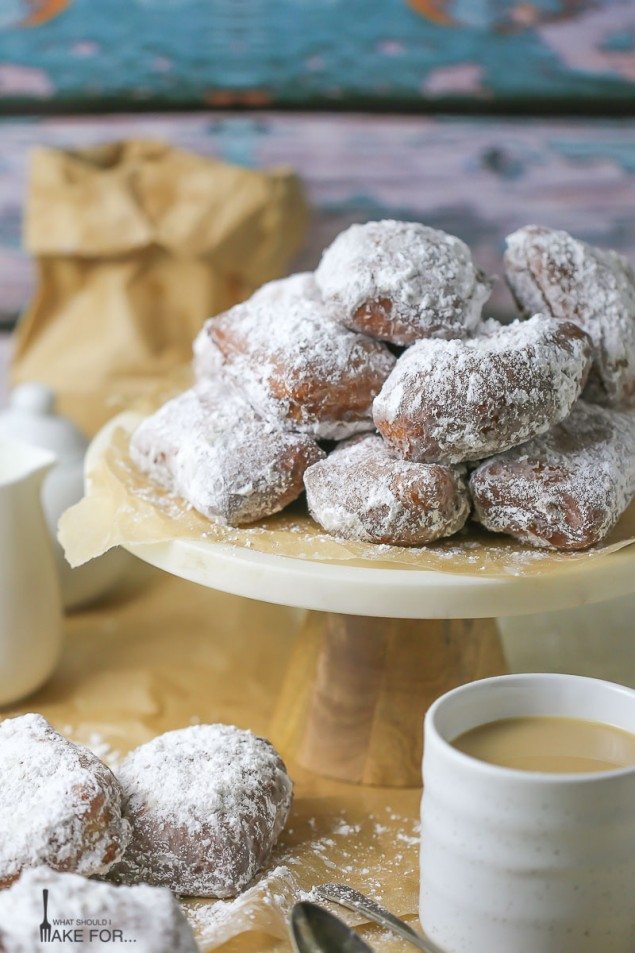 Needless to say, a couple beignets in and they were sold. We're coming for you NOLA and I'm packing forks.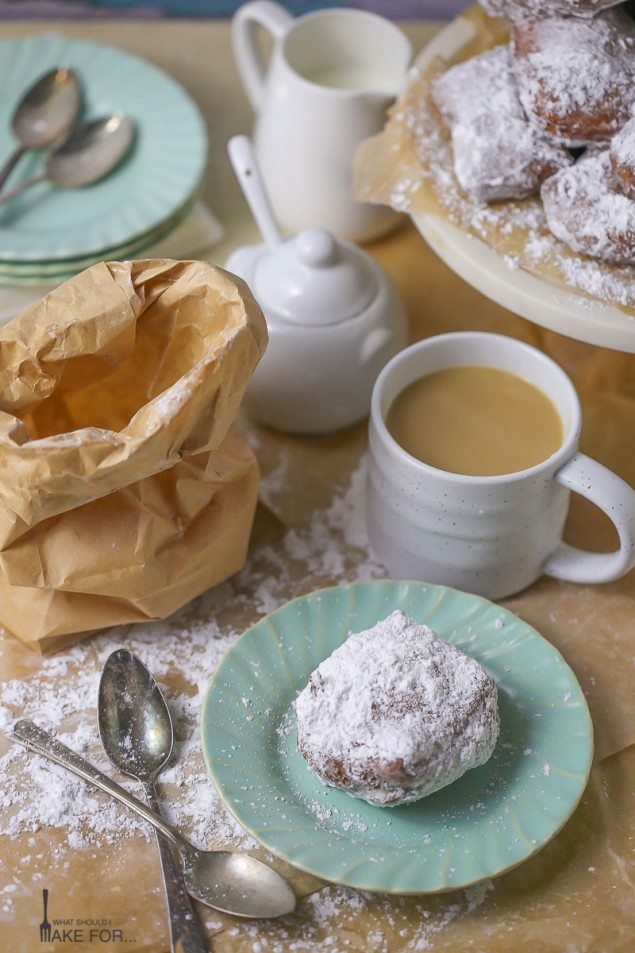 Classic New Orleans-Style Beignets
Served warm and with a heavy dusting of powdered sugar, these New Orleans-inspired beignets are the perfect treat with a cafe au lait.
Ingredients
¾ cup whole milk
2 tsp active dry yeast
2 cups all purpose flour
¼ cup sugar
1 egg, beaten
¼ tsp kosher salt
2 Tbsp unsalted butter, softened
½ tsp vanilla extract
Vegetable oil for frying
1 - 2 cups confectioners sugar
*brown paper bag
Instructions
Heat the milk over low heat to 105 - 110 degrees.
Whisk in the yeast and let stand for a couple mins until it begins to activate and froth.
Combine the flour, sugar, egg, salt and butter in the bowl of a stand mixer and beat with the paddle attachment until combined.
Pour in the milk/yeast mixture and vanilla and beat until just combined. Switch to the dough hook and knead the mixture for 3-4 mins. Mixture will be smooth, but still tacky.
Rub a little vegetable oil in a large bowl and turn the dough into the bowl, turning once to coat.
Cover tightly with plastic wrap and place in the refrigerator to chill overnight.
Fill a heavy bottomed pot with about 2 inches of vegetable oil. Fit the pot with a deep fry cooking thermometer and heat oil to 375 degrees.
While the oil heats, remove the dough from the refrigerator and turn it onto a well-floured surface.
Roll the dough into a rectangle, ¼ inch thick. Use a sharp knife to cut into 15 - 2 inch squares.
Line a baking sheet with paper towels and pour 1 cup confectioners sugar into the brown bag. Set aside.
Once the oil is up to temperature, carefully slide three squares of dough into the oil. Fry until golden brown on one side and using a spider strainer or a slotted spoon, turn the beignets to the other side to brown. Beignets will be done in about 3 mins.
Remove and drain on the lined baking sheet and then shake in the confectioners sugar in the paper bag. Repeat with remaining dough.
Serve warm, with additional confectioners sugar if desired.