Although it might come as a surprise, Worcestershire sauce has gluten in it but this concoction allows you to make gluten-free Bloody Marys.
By Natasha Steinberg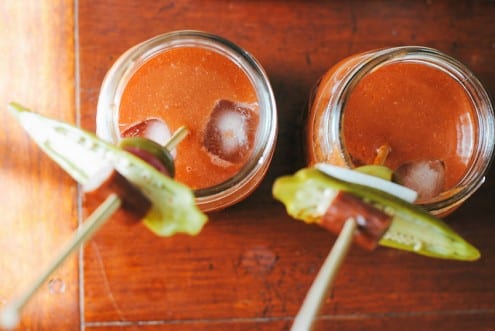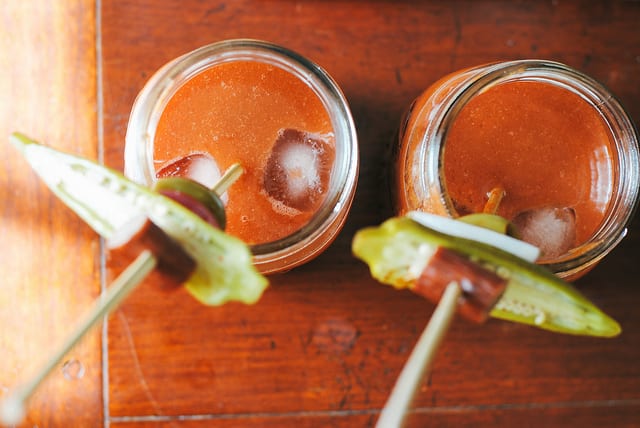 Bloody Mary
Although it might come as a surprise, Worcestershire sauce has gluten in it but this concoction allows you to make gluten-free Bloody Marys.
Author:
Natasha Steinberg
Ingredients
zest of 1 lime
juice of 2 limes
zest of 1 lemon
juice of 3 lemons
12 fresh tarragon leaves
1 tsp ground celery seed
2½ Tbsp horseradish
2 Tbsp whole grain dijon mustard
2½ Tbsp hot sauce
2 Tbsp black olive brine
2 tsp angostura bitters
Pinch caraway seeds
46 fl oz tomato juice
1½ tsp kosher salt (or to taste)
1½ tsp freshly ground black pepper (or to taste)
Garnishes
pickled okra, halved
radishes, quartered
green olives
salami
1½ oz vodka per serving or 9 - 12 oz. vodka total (adjust as necessary for individual preference)
Instructions
Place all ingredients for the mix in a blender in the order listed. Blend on high until all ingredients are pulverized and thoroughly combined.
Transfer to an airtight container and refrigerate until ready to serve.
In 12 - 16 oz cup, combine 1½ oz vodka and approximately two cups of mix (or enough to suit your tastes). Add a few cubes of ice and garnishes on a toothpick or skewer.