Cilantro Marinated Pork with Romesco Sauce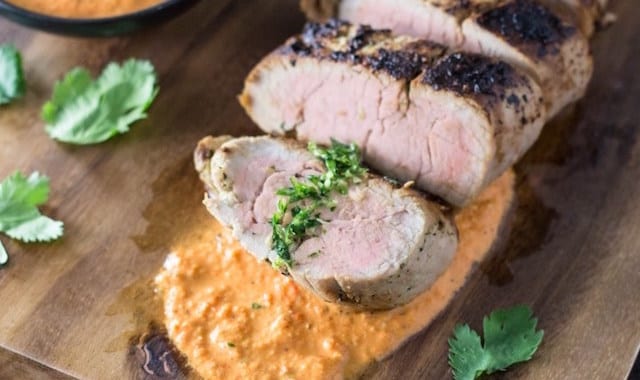 Marinated and served with a cilantro gremolata, this tender roasted pork is a perfect pair to peppery romesco sauce.
By Sabrina Russo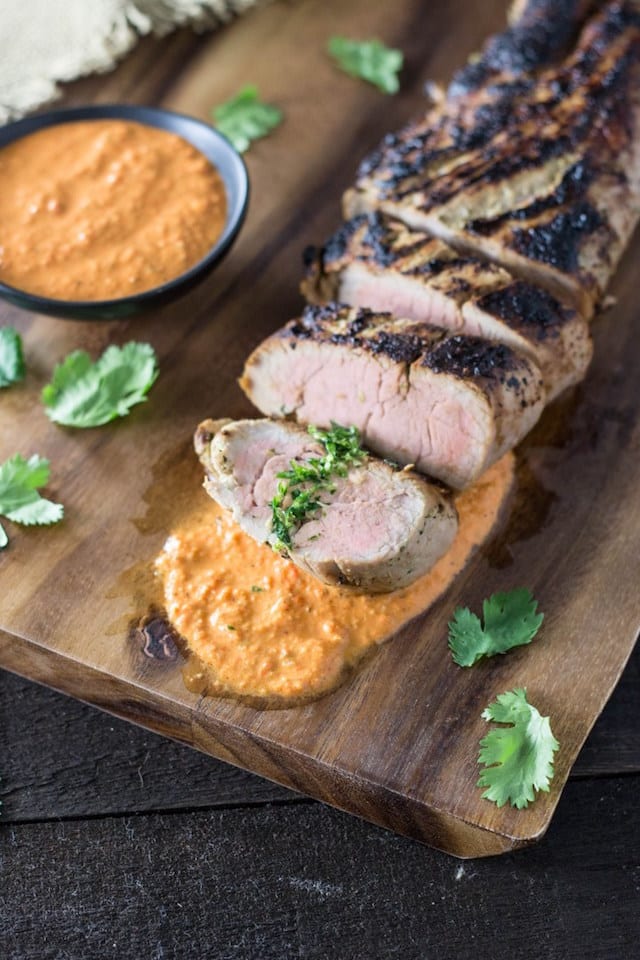 This juicy pork tenderloin is marinated in a combination of cilantro, jalapeño and lime, which complements the sauce perfectly. I like to sear the pork in a pan before roasting it in the oven to create a flavorful, crispy exterior, similar to what you get by grilling the meat.
Red bell peppers, tomato, garlic and almonds are some of the key ingredients in my romesco sauce. This smokey, slightly sweet and acidic sauce pairs wonderfully with pork.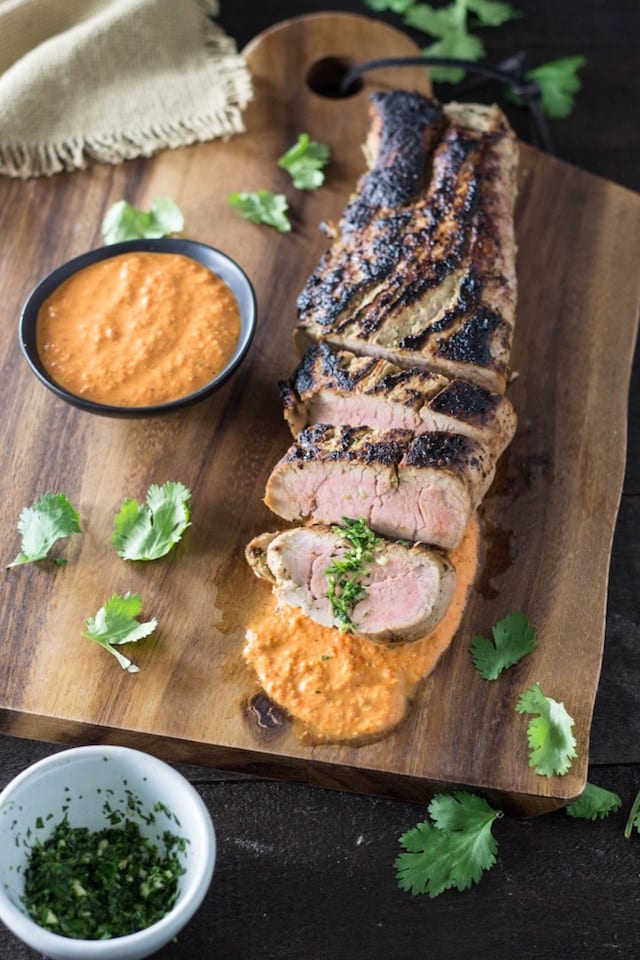 I like to top off this dish with a cilantro-lime gremolata for freshness and to echo some of the flavors in the marinade.
Click here for the Romesco Sauce recipe.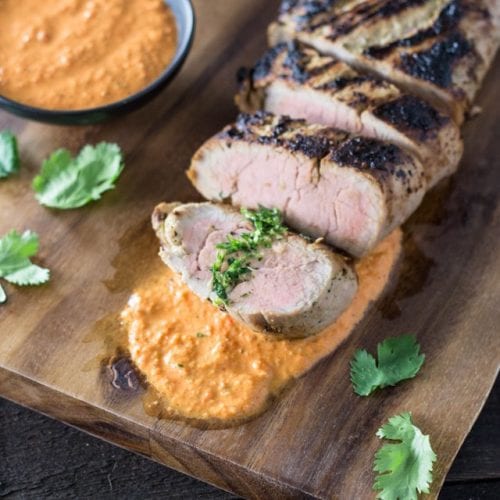 Cilantro Marinated Pork with Romesco Sauce
Sabrina Russo
Marinated and served with a cilantro gremolata, this tender roasted pork is a perfect pair to peppery romesco sauce.
Ingredients
For pork & marinade
1

pork tenderloin

about 1.5lbs

½

C

cilantro leaves and tender stems

loosely packed

1

jalapeño

chopped (remove seeds, if desired)

1

clove

garlic

crushed

Zest and juice of 1 lime

2

T

vegetable or canola oil

plus more for cooking

1

T

light agave nectar or honey

1 ½

tsp

kosher salt

plus more for cooking

½

tsp

fresh cracked pepper

plus more for cooking
For romesco sauce
See the recipe in the link above.
For gremolata
¼

C

cilantro leaves and tender stems

finely chopped

Zest of 1 lime

1

clove

garlic

minced

Drizzle of extra virgin olive oil

Small pinch of salt
Instructions
For marinade, blend cilantro through pepper in a food processor until smooth. Add pork and marinade to a large ziplock bag, and marinate at least 2 hours or up to overnight.

While pork is marinating, prepare the sauce. Preheat oven to 350°F. Arrange bread cubes and almonds on a baking sheet. Toast in the center of the oven for 5-8 minutes, or until almonds are fragrant and bread is dried out and golden, stirring half way through. Set aside.

Preheat the broiler. Arrange peppers (cut side down), tomato (cut side up) and garlic on a baking sheet. Broil 2-3 minutes, flip garlic, and broil another 2-3 minutes or until softened and garlic skin is lightly browned. Set garlic aside. Rotate pan, and continue to broil tomato for 4-6 minutes or until softened and charred. Set aside. Broil peppers an additional 2-3 minutes or until all skin is well-charred. Transfer peppers to a brown bag, seal and allow to steam for 10-12 minutes. Meanwhile, peel garlic, and peel and chop the tomato. Peel and chop peppers. Discard skins. Using a food processor, finely grind bread and almonds. Add peppers, tomato, garlic, 2 tablespoons of vinegar, agave and spices. Blend until smooth. Stream in olive oil while blending, until incorporated. Taste and season with additional vinegar, salt and/or pepper, if desired. Refrigerate sauce until ready to use.

Remove pork from fridge and allow to come to room temperate for 30-60 minutes. Preheat oven to 400°F. Heat 2 tablespoons of vegetable oil in a large, oven-proof sauté pan over medium-high heat. Remove pork from marinade, pat dry and season with salt and pepper. Sear pork for 2-3 minutes on the first side, or until well-browned, flip and sear another 1-2 minutes. Transfer pan to the center of the oven. Roast 8-12 minutes; or until the thickest part of the meat registers 135-140°F (if you prefer a pink center) or 140-145°F (if you prefer meat closer to medium, only slightly pink). Rest 10-15 minutes.

Meanwhile, prepare the gremolata. Mix all ingredients together in a small bowl. When ready to serve, slice pork into ½ inch thick slices. Serve with sauce and top with gremolata. Enjoy.
Sabrina Russo
My Three Seasons represents the 3 key factors that are most important to me in cooking. #1 Seasonal ingredients #2 Proper Seasoning (don't skimp on that salt!) #3 Cooking like a Seasoned chef (technique is everything). My name's Sabrina. I live in NYC. I'm a registered dietitian with professional cooking and food styling experience. Come cook with me.