To the Bolognese, the shape of tortellini was inspired by the female navel. One story, hailing from the 17th century, claims that tortellini was created by a cook who molded the pasta in the navel of a Bolognese woman.
By Kathy Bechtel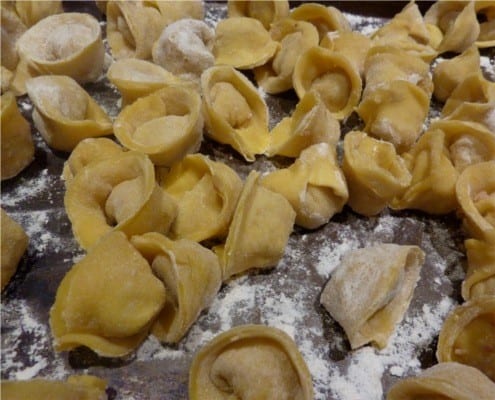 Christmas is fast approaching, and my studies into the authentic cuisine of Northeastern Italy focus on the foods that are traditionally served during this holiday season. As a resident of the US, I have long believed that Italians all celebrate Christmas with the well-publicized Feast of Seven Fishes. My research, however, leads me to conclude that this is more of an Italian-American creation, rather than true authentic Italian, however enjoyable it may be! So I thought this season I'd read up on and explore a few of the truly bona fide regional Christmas dishes of Northern Italy.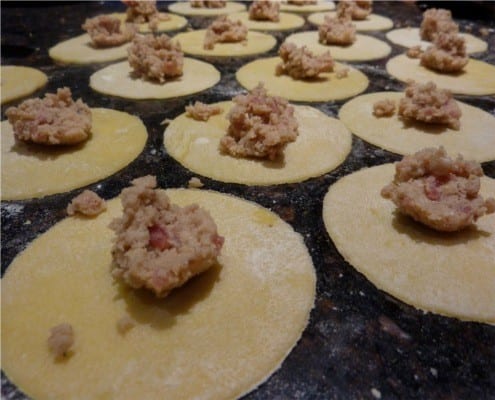 One of my go-to books here is Waverley Root's classic "The Food of Italy", where I found this great quote, which he attributes to the Gazzetta di Bologna about 100 years ago: "Christmas should be celebrated in Christian fashion, that is to say by eating until you burst, drinking until your head spins, and in general loading down the human machine with choice wines and edible of all sorts, varieties and origins. But precede everything with a great dish of tortellini. Without tortellini there can be no Christmas in Bologna."
To the Bolognese, the shape of tortellini was inspired by the female navel. One story, hailing from the 17th century, claims that tortellini was created by a cook who molded the pasta in the navel of a Bolognese woman. In 1925, the play "The Man Who Invented Tortellini" was shown at Teatro del Corso in Bologna, in which a cook who is smitten with the young wife of his employer makes a pasta dish inspired by the shape of her navel, and manages to have them served to her at a banquet.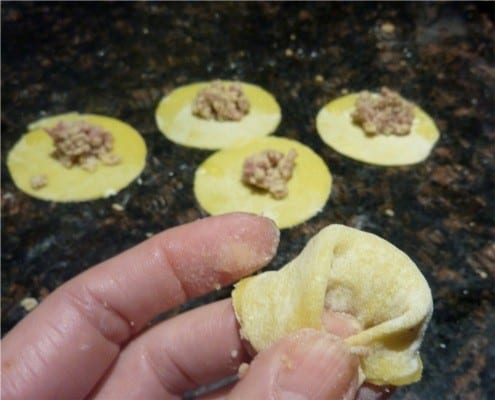 Root mentions observing women making tortellini in a pasta shop, and that they produced about 6,000 tortellini an hour. Today, most Italians no longer make pasta at home, especially the labor intensive stuffed pastas. On our tours in Italy we discover many local shops that offer a beautiful selection of freshly stuffed pastas of all shapes, flavors and sizes. These are an unbelievable delicacy, much better than the packaged varieties we find in our supermarkets here, and a real treat when you have the opportunity to enjoy the real thing.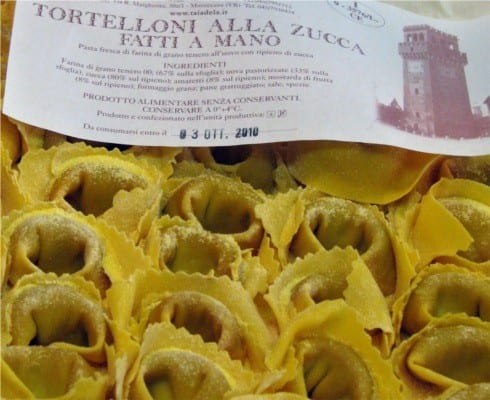 To make my own, I referred to Lynne Rossetto Kasper's book, "The Splendid Table", a wonderful reference on the cuisine of Emilia-Romagna. Both Kasper and Root relate that the most traditional tortellini of the region have been stuffed with a mixture of meats and parmigiano-reggiano cheese, and are served simply in a beef broth. I based this recipe on the Pasta all'Uovo and Tortellini in Broth from "The Splendid Table."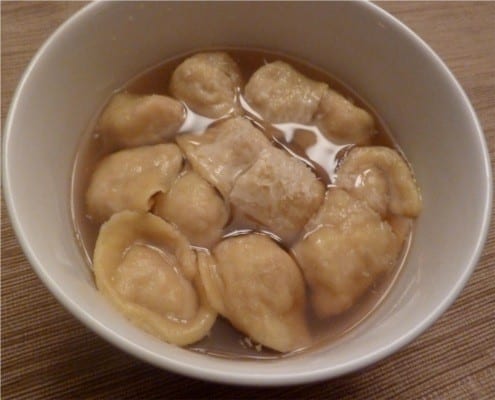 I only had duck eggs to use in this pasta, which made for a particularly luxurious end product. As duck eggs are significantly larger than chicken eggs, I assumed I would use less duck eggs than chicken, so I started with the amount of flour that Kasper specifies, and used 3 duck eggs rather than the 4 chicken eggs. I was very surprised when I only used about 1/2 of the flour. The duck eggs are higher in protein and fat, and contain much less water than chicken eggs. The resulting pasta was very elastic, and easy to work with. This was extremely helpful when I discovered when I went to roll out my pasta into sheets that both my mixer pasta attachment as well as my manual machine were at my other home. So I was forced to be truly traditional, and resort to a rolling pin.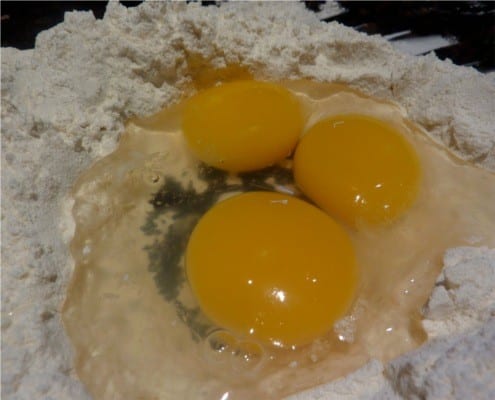 Christmas in Bologna, Italy - Tortellini in Brodo
Christmas in Bologna, Italy - Tortellini in Brodo. Traditional recipes from our Italiaoutdoors tours of Northeastern Italy.
Ingredients
Pasta all'Uovo d'Anatra - Pasta with Duck Eggs
2 cups (200g) all-purpose unbleached flour
3 duck eggs or 3 extra-large chicken eggs
1 beaten egg (of any type) for egg wash
Tortellini alla Bolognese - FIlling
2 tablespoons (30g) unsalted butter
3 ounces (85g) ground pork
3 ounces (85g) ground chicken
1 strip (25g) bacon, diced
2 ounces (50g) salami
¼ cup (45g) grated Parmigiano-Reggiano cheese
Pinch of nutmeg
1 egg, beaten
Tortellini in Brodo
1 quart (1l) meat or chicken stock
Kosher salt and freshly ground pepper
Grated Parmigiano-Reggiano cheese
Instructions
Place the flour on your counter in a mound. Make a well in the middle.
Add the eggs. Using a fork, lightly beat the eggs.
Gradually start incorporating the flour from the sides of the well. Eventually the sides of the well will collapse, at this point use a pastry scraper to work the rest of the flour into the dough.
Knead the dough for about 10 minutes, working a bit more flour into it when it gets a bit sticky. The dough should be very smooth, silky, and very elastic.
Take a sharp knife and cut the dough in half; if any air bubbles are visible in the dough, continue to knead it for another minute or so.
If using a rolling pin, divide the dough into quarters, and roll out one quarter at a time, keeping the remainder covered with plastic wrap so it does not dry out. The goal is to stretch the dough, rather than flatten it. When you are finished rolling, the sheet should be so thin that you can see through it.
Taking a 1¾ inch cutter, or a small glass, cut the sheet into circles.
Place approximately ½ teaspoon of filling in the center of each circle, and brush a little of the beaten egg around the outer edge of half of the circle.
Fold the circle in half, and pinch the edges closed. Then take the corners on the bottom of the semi-circle, and pinch them together.
Place the tortellini on a floured sheet pan when completed.
Tortellini alla Bolognese - Filling
Melt the butter in a saute pan over medium-high heat.
Add the pork, turkey and bacon, and saute until cooked through, breaking up the meat with a fork or a potato masher.
Transfer the meat to a food processor, and add the salami. Pulse until finely ground, but not pureed.
Transfer to a bowl and add the cheese, nutmeg and egg. Season with salt and pepper.
Tortellini in Brodo
Heat the meat stock in a large saucepan and bring to a boil. Season with salt and pepper.
Drop in the tortellini and cook a minute or two. Check one for doneness by tasting. They should be tender, but still have some 'bite', al dente.
When done, ladle into small bowls and serve with grated Parmigiano-Reggiano cheese on the side.
Kathy Bechtel
Kathy Bechtel's obsession with food and cooking began as a teenager. After years following a traditional career path as a telecommunications engineer, she left to attend culinary school and wine training, and is now combining her passions for food and wine, the outdoors, and travel as owner and Culinary Tour Director of Italiaoutdoors. In this role, Kathy leads small bicycle, skiing and walking tours that explore the authentic regional cuisines, local products and undiscovered wines of Northeastern Italy.