PARTNER POST: Explore new and surprising ways to incorporate potatoes into your favorite recipes.
Take a bite of Mexico City's pamboza sandwich stuffed with potatoes, chorizo, lettuce, cheese and a douse of guajillo sauce.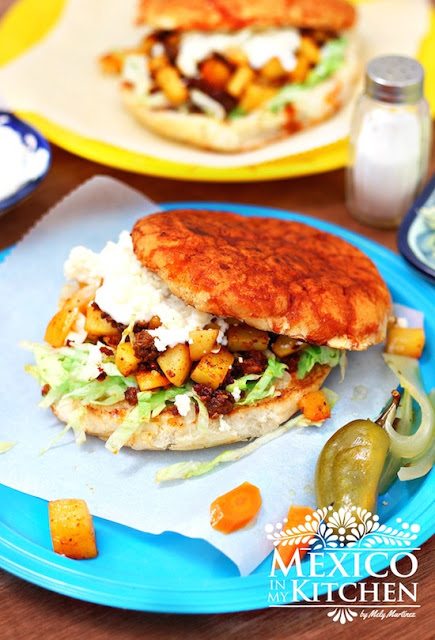 In Mexico City, a "Pambazo" is a sandwich made of a particular type of bread stuffed with potatoes and chorizo and then drenched in a guajillo sauce, served with lettuce, cheese, and cream. There are other sandwiches with the same name in other parts of the country, like in the State of Veracruz, where the sandwich is filled with refried beans, ham, and even chorizo and pickled chipotle peppers. This particular bread, also called "pambazo", is very similar to a Kaiser roll, but dusted with flour and without the seeds.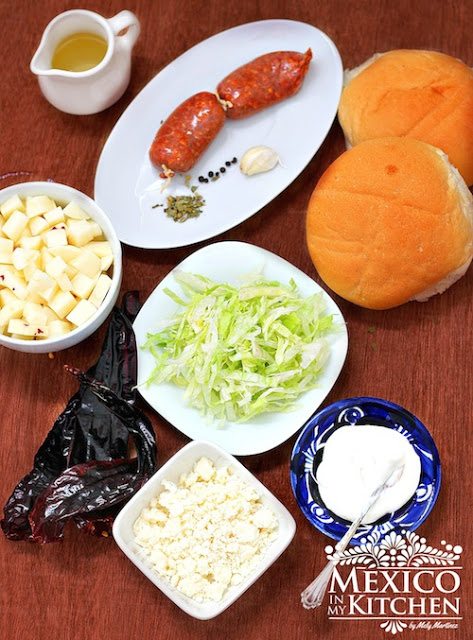 Some of the research I did found that the name comes from colonial times, when the bread could be said to delineate the social classes. Since bread made with white, refined flour was mostly consumed by the higher classes (like viceroys, bishops, etc.), the commoners ate bread made out of brown flour. This cheap bread was thus very popular, and was called "pan bajo", or "lower bread".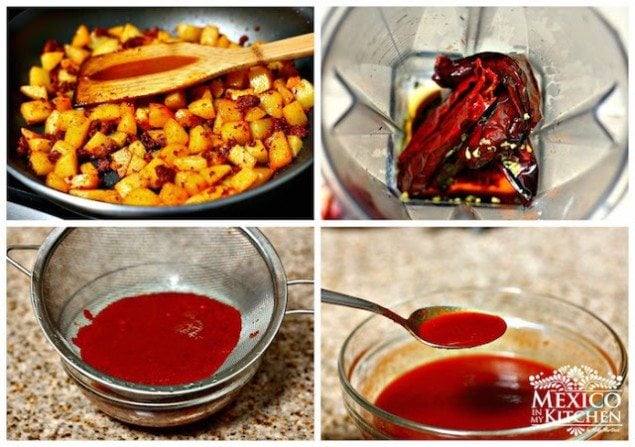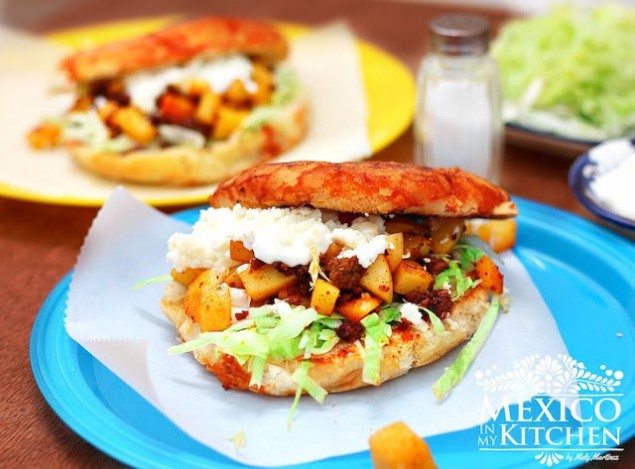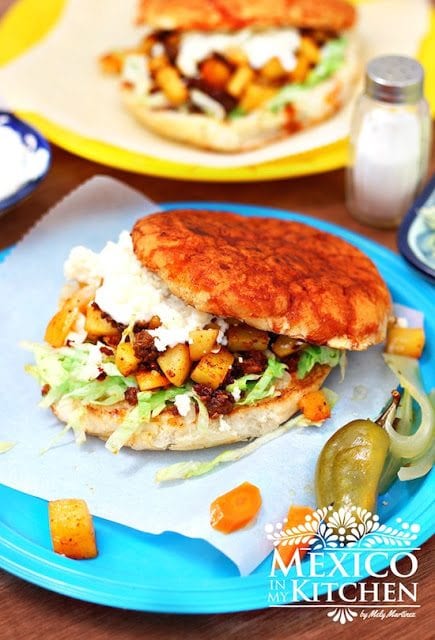 Mely Martínez
Ingredients
2 ½

cups

of diced red potatoes

3

guajillo peppers

seeds, and veins removed

2

chorizos

3 oz. each

2

tablespoons

vegetable oil

1

garlic clove

8

black peppercorns

1/2

teaspoon

Mexican oregano

4

Teleras or Kaiser rolls

sliced lengthwise

1 ½

cup

of shredded iceberg lettuce

¼

cup

crumbled cheese

2

tablespoons

Mexican cream

Salt to taste
Instructions
Place the diced potatoes in a saucepan with hot water and cook at medium high heat. It will take about 10-12 minutes for the potatoes to be cooked.

Place the guajillo peppers in a bowl with hot water to soften while the potatoes are cooking.

In the meantime, cook the chorizo in a skillet at medium-high heat. It will be ready in about 8 minutes.

By this time the potatoes should be ready, so remove them from heat and drain. Next, stir them into the skillet with the chorizo, and keep cooking for three minutes. This is just enough time to allow the flavors to blend and the potatoes to get a little more tender. Set aside.

Place guajillo peppers, 1 cup of soaking water, garlic clove, and pepper corns into a blender. Process until you have a smooth sauce. Strain and place in a bowl.

Heat a griddle and add a 1/2 tablespoon of oil. Place the sliced rolls upside down and brush their tops all over with the Guajillo salsa. Flip the rolls so the tops get a little warm and crispy. This step will be about a minute per side. Repeat the process with the rest of the rolls, adding oil to the skillet as needed.

To assemble the Pambazo, place some chorizo and potatoes on each toasted roll, then top with the shredded lettuce, cream, and cheese. Serve with a hot salsa or pickled jalapeños. Enjoy!
Notes
If you don't find the teleras, you can easily use Kaiser rolls or another roll with a slightly hard crust that won't crumble. The reason I didn't call for actual pambazos for the bread in the ingredients is because I know they can seldom be found outside of Mexico.
You will need a strainer and a pastry brush for this recipe.
Mely Martínez
Hi! I'm Mely Martínez, a Mexican school teacher, home cook and food blogger. I moved to the United Stated about 10 years ago, after living in Mexico my whole life. Now I love to share home-style recipes of authentic Mexican Food.