To keep chocolate chip cookies soft and chewy in the center, pull them from the oven just as the edges reach a golden brown color.
By Liz Swartz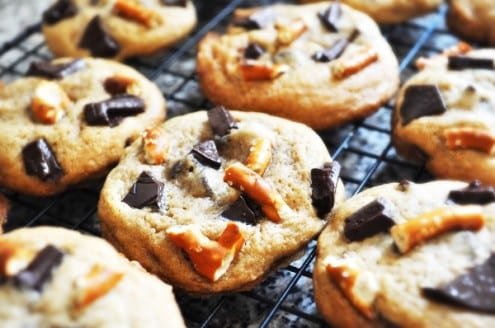 Let's cut right to the chase. We all know there are several different types of chocolate chip cookies. There are thin and crunchy ones, mushy soft ones, and these: crispy around the edges and so perfectly soft and chewy in the center. These are the best. No one argue with me cause it's my blog and I get to say whatever I want.
That's why I started a blog, you know.
Just as important as the consistency of the cookie is the quality of the chocolate. I used the best bittersweet chocolate I could afford and broke it up to place on top. To make it extra chocolatey and not extra expensive(y), I bought Nestle semi-sweet chocolate chips for inside the batter. As for the pretzels, I went with Utz buttery ones. The only thing that can make a baked good better is more butter.
Another very important part of baking the perfect cookie (in my opinion) is knowing when to pull them out of the oven. Typically, my instinct is to wait until things are browned on top. For the perfect crispy outside and chewy middle, you have to take them out when they reach a golden brown color only around the edges. The middle will seem undercooked. That is ok! When it cools it will be perfect. I promise.
Chocolate Chunk Cookies with Pretzels
To keep chocolate chip cookies soft and chewy in the center, pull them from the oven just as the edges reach a golden brown color.
Ingredients
¾ cup butter, cubed and softened
¾ cup granulated sugar
¾ cup firmly packed dark brown sugar
2 large eggs
1½ teaspoons vanilla extract
2¼ cups plus 2 tbsp all-purpose flour
1 teaspoon baking soda
¾ teaspoon salt
8 oz. of Nestle semisweet chocolate morsels
1 8 oz. bar of best quality semi sweet chocolate you can afford, broken up into small pieces
2 cups coarsely crushed pretzel sticks
Instructions
Preheat oven to 350°. Beat butter and sugars at medium speed with a heavy-duty electric stand mixer or hand mixer until creamy (about 2-3 minutes). Add eggs and 1½ tsp. vanilla, beating until completely blended.
Combine flour, baking soda, and salt in a small bowl; gradually add to butter mixture, beating just until blended. Use a spatula to stire in the chocolate chips. Roll tablespoonfulls into balls and place 2 inches apart from each other on a buttered baking sheet.
Bake at 350° for 10 to 14 minutes or until edges have browned. Move to wire racks, and cool completely. Or don't. Eat them hot and mushy if that's your jam. (Sometimes that's my jam).
Lizzy Wolff
Lizzy Wolff, creator of Sugar + Butter, loves to make you drool on your keyboard. It's a real thrill for her. For more recipes, click 'website' below.