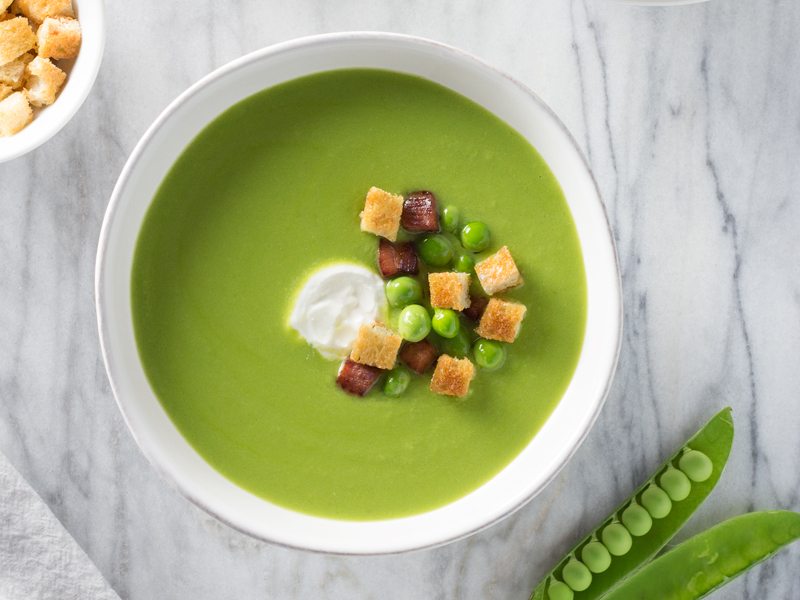 This chilled pea soup is so simple and clean tasting. Pancetta, croutons, raw peas and creme fraiche are the perfect toppings to compliment this soup.
How many of you have gotten a chance to eat some fresh peas this spring? Or some pea soup?
I absolutely love fresh peas. To be honest though, I actually used frozen peas to make the soup itself. You can obviously use all fresh peas, but considering the amount of shucking time and amount of peas you'd need, frozen peas are far more practical. I save the fresh, raw peas for on top, as a garnish.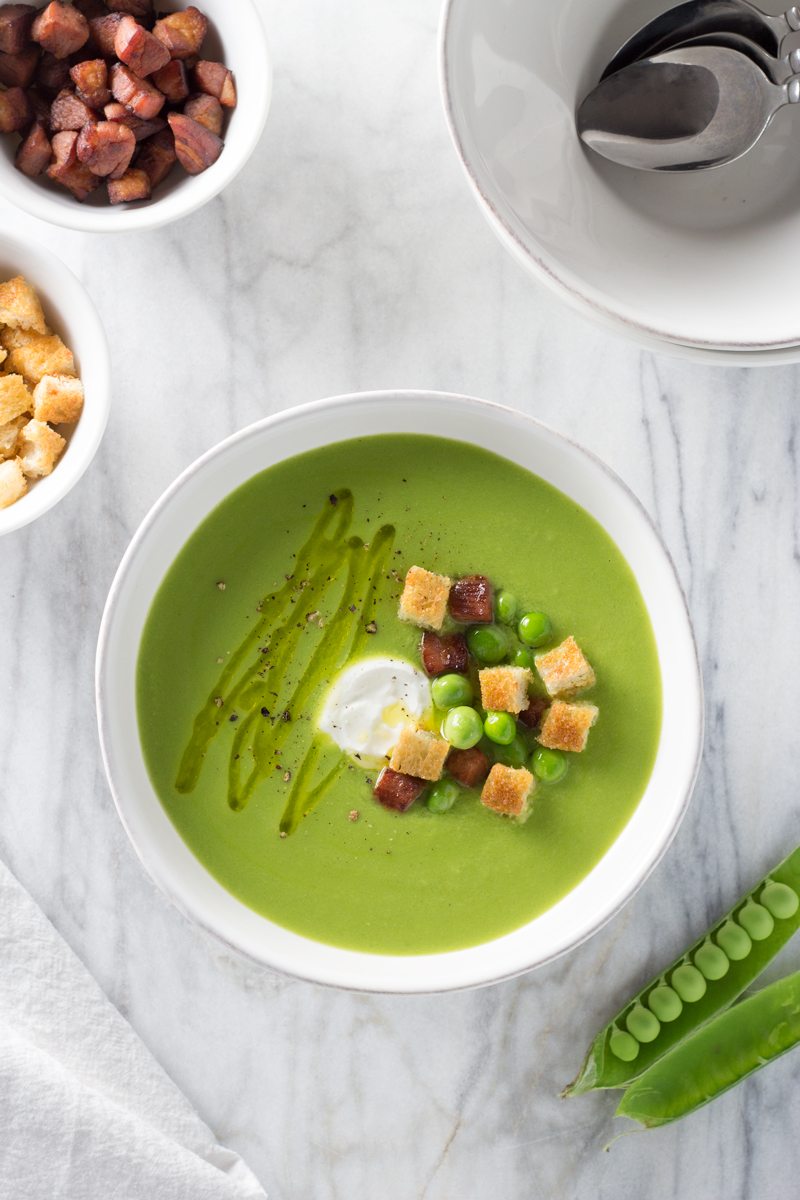 The soup itself is so simple and clean tasting. The ingredients are olive oil, onions, peas and water. That's it. No broth, no butter, no cream. You don't need them! The toppings help compliment the soup, and that's all the flavor and interest you need.
Speaking of the toppings, my photos might be slightly deceiving. In actuality, I pile them on high. The fresh peas, pancetta and croutons are all heaped on in generous amounts. Don't forget the dollop of creme fraiche, drizzle of olive oil and crack of black pepper. Yes, you need them all.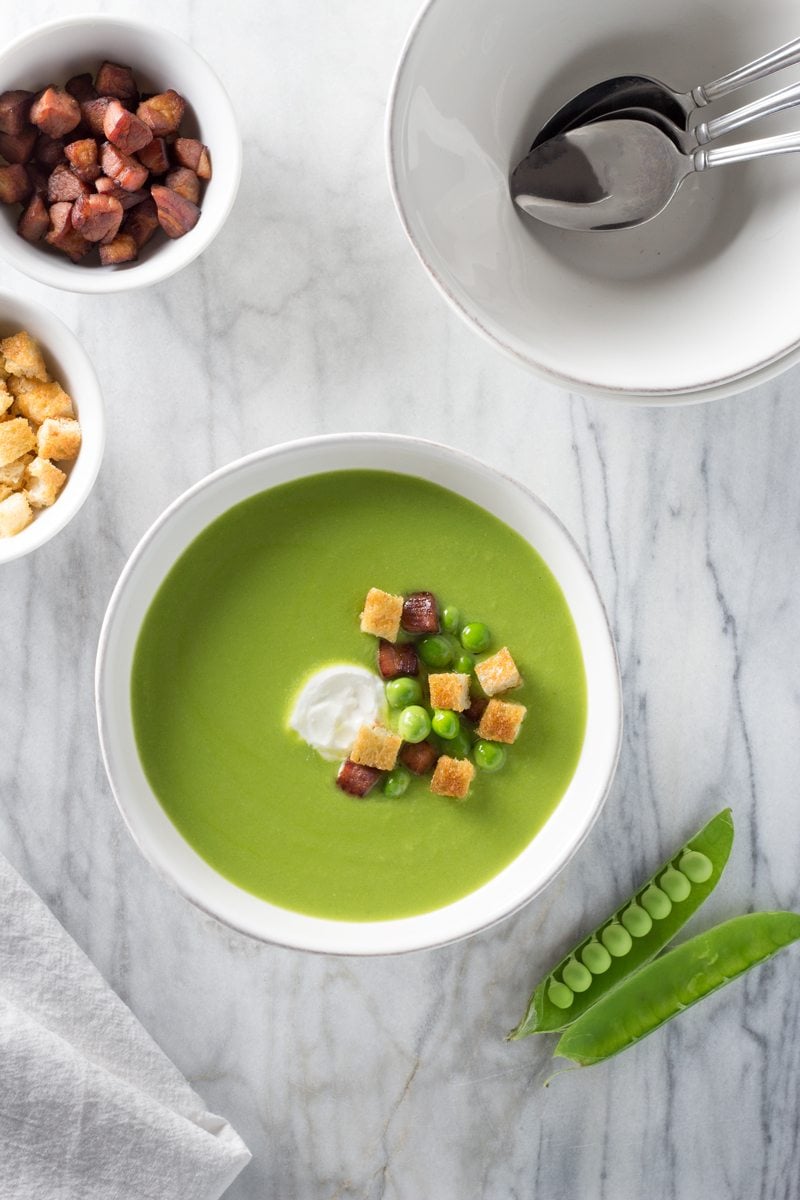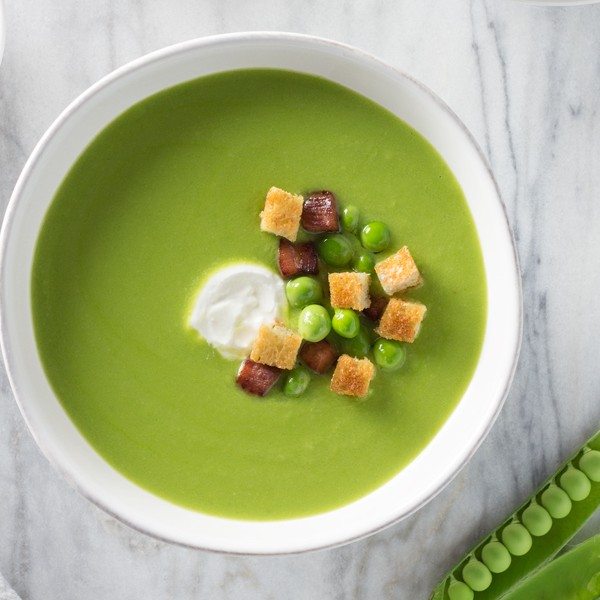 Chilled Spring Pea Soup with Pancetta & Croutons
Ingredients
1

large onion

¼ to ½

cup

extra virgin olive oil

4

cups

frozen peas

defrosted

2 ½

cups

water

Kosher salt

to taste

6

oz

pancetta

cut into ½ inch cubes (can substitute bacon or prosciutto)

4

oz

white bread

Pullman or Italian loaf, crust removed, cut into ½ inch cubes*

12

oz

fresh peas

shucked**

Extra virgin olive oil

as needed

Crème fraiche

as needed

Kosher salt

to taste

Fresh cracked pepper

to taste
Instructions
Warm a Dutch oven or large pot over medium heat. Add ¼ cup of oil and onions to the pot. When onions start to sizzle, reduce heat to low. Season with salt. Gently sauté onions for about 30-45 minutes, stirring occasionally, until lightly caramelized, with little to no color. As the onions cook, add an additional tablespoon or two of oil, as needed, to allow them to gently stew in the oil without browning.***

Once the onions are sweet and caramelized, add the peas. Season with salt and sauté for about 1 minute. Add water and bring to a boil.

Transfer to a blender or Vitamix, and puree until smooth. Taste and adjust seasoning, as needed. If you do not have a Vitamix, strain the soup through a fine sieve after blending. Cool the soup to room temperature and refrigerate for at least a couple hours, or until chilled. You may prepare and chill the soup several days in advance. If you prefer to serve the soup hot (it's very good this way too), keep it warm while preparing the toppings.

After the soup is refrigerated, add pancetta to a cold, nonstick pan. Turn heat to medium and reduce to low to medium-low after pancetta starts to sizzle. Cook, stirring occasionally, until browned and crispy on the outside and slightly chewy in the center, 20-30 minutes. Transfer to a paper-towel lined sheet to drain.

While the pancetta cooks, prepare the croutons. Warm a nonstick pan over medium heat. Add 1 tablespoon of oil and bread cubes to pan. Season with salt and toss to combine. Once bread starts to sizzle, reduce heat to medium-low and cook, tossing occasionally, until browned and crispy throughout, about 15-25 minutes. Transfer to a bowl and allow to cool at room temperature.

Allow the chilled soup to sit at room temperature for about 10-15 minutes before serving. It should be chilled, but not too cold. Right before serving, season the fresh peas with salt and toss in just enough oil to coat. To plate, distribute soup among bowls, scoop in a dollop of crème fraiche, top with a large spoonful or two each of peas, pancetta and croutons, drizzle over oil, and season with pepper. Enjoy.

NOTES: *Substitute gluten free bread, if desired. **You may also substitute 6oz (1 cup) of frozen peas for the fresh peas. If using frozen peas, defrost them and sauté in olive oil for about 1 or 2 minutes, or until just warmed through. Season with salt. ***A half cup of oil may sound like a large amount, however, it provides the soup with flavor in addition to facilitating slow caramelization of the onions.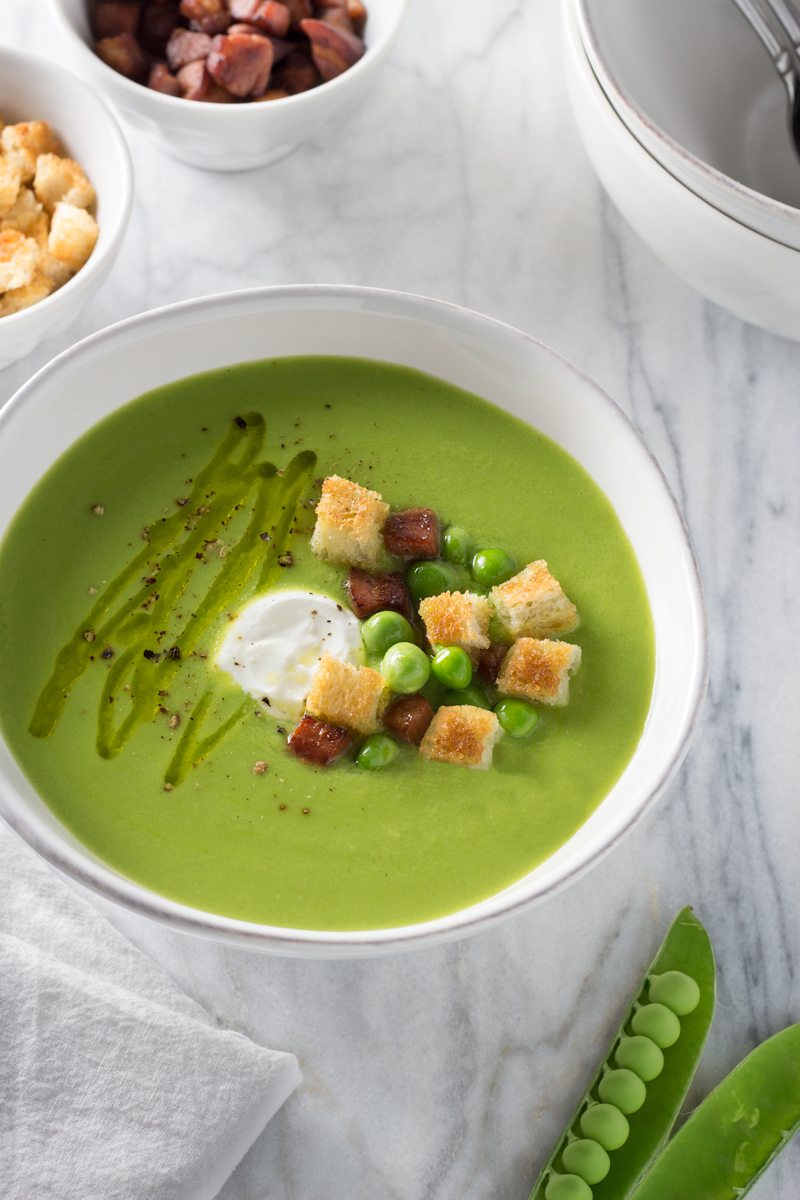 Sabrina Russo
My Three Seasons represents the 3 key factors that are most important to me in cooking. #1 Seasonal ingredients #2 Proper Seasoning (don't skimp on that salt!) #3 Cooking like a Seasoned chef (technique is everything). My name's Sabrina. I live in NYC. I'm a registered dietitian with professional cooking and food styling experience. Come cook with me.