Perfectly seared scallops with a zesty chili lime butter and a creamy pea puree is an easy dish that is sure to impress.
By Emily Clifton
If you like scallops, few things are as delicious as a perfectly seared, crisp exterior. The trick is to develop a deep golden brown crust without overcooking the center and it's a lot easier than you might think.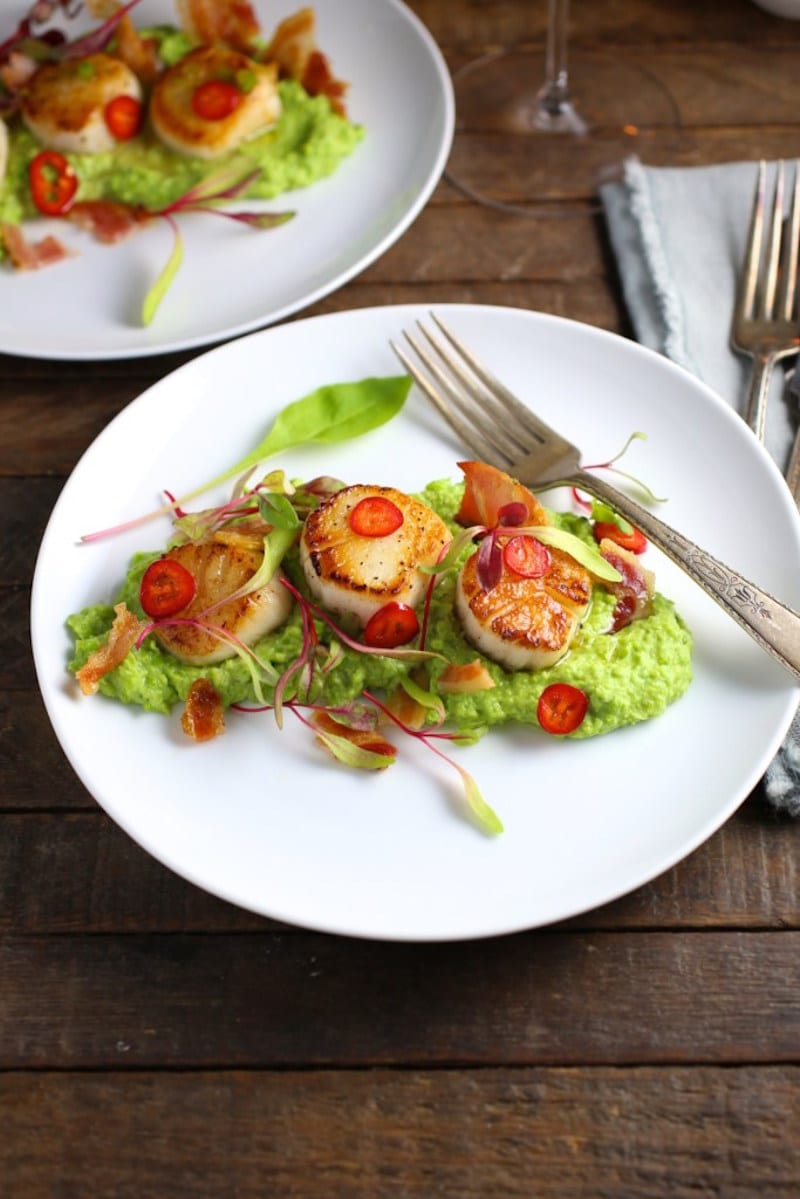 TIPS ABOUT SEARING SCALLOPS:
The most important thing of all is to buy the right kind. "Dry" scallops, also called "day-boat" are the only kind that will ever develop that deep brown crust. That's because "wet" scallops, the kind available in most grocery stores, are treated with sodium tripolyphosphate (STP), a chemical that's safe to consume, but water-logs the scallop making it impossible to sear. Ask your fishmonger if the scallops are "dry", if he doesn't know, try somewhere else.
The other very important thing is to choose the right pan. My favorite is cast-iron because you can get it incredibly hot. A good, heavy-bottomed stainless steel skillet will also work well. Avoid non-stick pans because you just can't safely get them as hot as you need. Make sure the pan is large enough to fit the scallops in a single layer with a bit of room between them. Too small a pan will encourage the scallops to release moisture, instead of sear.
Once they're in the pan, don't move them around and don't try to turn them until that deep brown crust has formed. Once you flip them, turn off the flame and let the residual heat in the pan finish the cooking. They should be opaque all the way through but not hard and rubbery.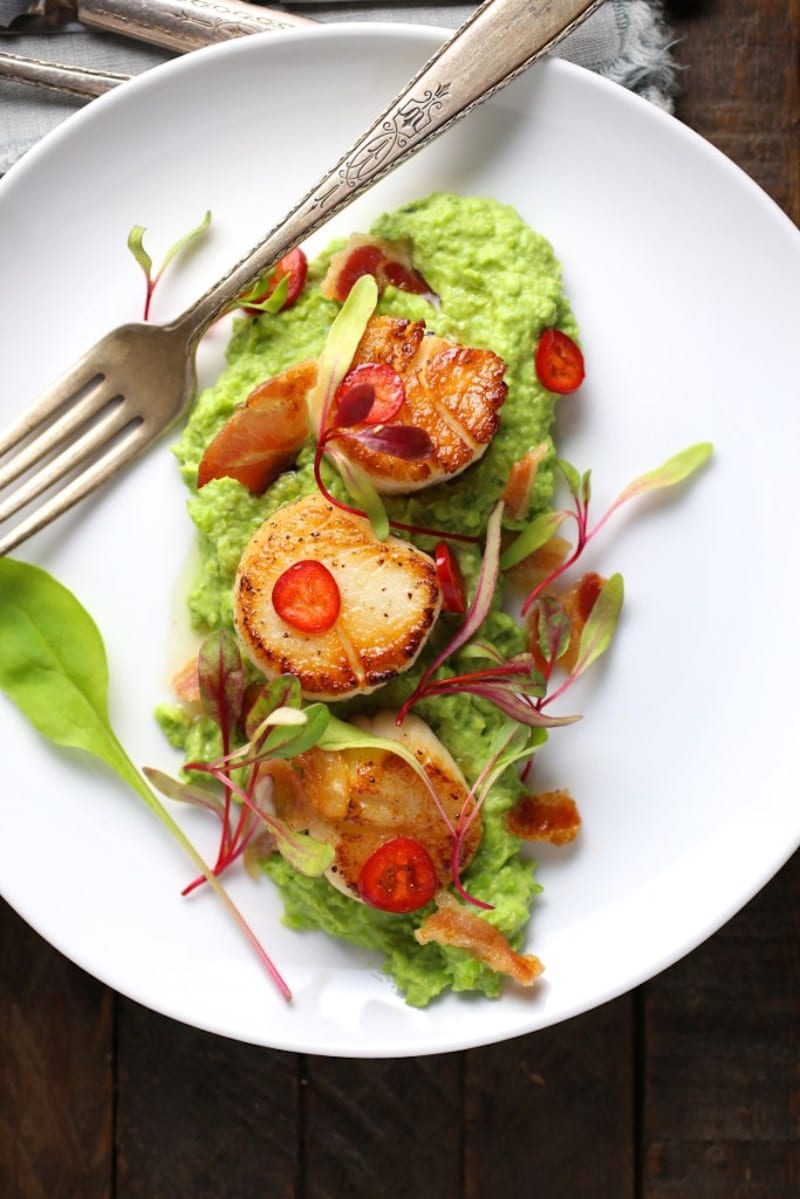 We made a simple purée of peas, rich mascarpone cheese (cream cheese makes a fine substitute) and fresh mint. Then crumbled over some salty, crisp pancetta (prosciutto and bacon are also great options).
See Also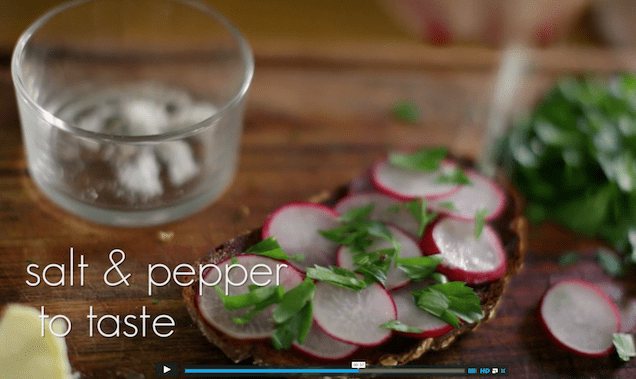 Then drizzled over a little butter flavored with fresh chili and lime juice.
Print
Chili Lime Butter Scallops with Pancetta
Perfectly seared scallops with a zesty chili lime butter and a creamy pea puree is an easy dish that is sure to impress.
Author:

Emily Clifton

Prep Time:

10 minutes

Cook Time:

15 minutes

Total Time:

25 minutes

Yield:

4

mains, 8 appetizers

1

x
Category:

Main
12

large dry-packed fresh sea scallops (about

1

lb.)

1

13 oz bag frozen peas (about

2½ cups

)

6 oz

mascarpone (or cream cheese)

15

mint leaves

2 tablespoons

grapeseed or other neutral oil

6

thin slices of pancetta (or prosciutto)
Coarse kosher salt and freshly cracked black pepper (to taste)

3 tablespoons

unsalted butter

1

hot pepper (jalapeño or serrano, seeds and ribs removed, finely chopped)

1

lime (zest and juice)

1

red jalapeño chili (very thinly sliced. for garnish (optional))
Instructions
Preheat oven to 375ºF / 190ºC.
For the pea puree: Place the frozen peas into a small saucepan with enough water to cover. Bring to a boil and simmer over medium heat for 3-5 minutes until the peas are hot. Drain the peas well and place in a food processor with the mint and mascarpone. Pulse the mixture for about 1 minute until it's smooth, but still has a bit of texture. Season with salt and pepper to taste and set aside.
For the crispy pancetta: Lay out the pancetta in a single layer on a baking sheet covered with parchment paper. Place in the preheated oven for 10-12 minutes until crisp and brown. Remove to paper towel-lined plate and break apart into shards when cool enough to handle.
For the Jalapeño-Lime Butter: In a small saucepan melt butter, then add chili and lime zest and juice and stir together. Season with salt to taste. Set aside.
For the scallops: With a paring knife or your fingers, remove the small nub or "foot" from the edge of each scallop. Pat scallops completely dry and season on both sides with salt and pepper.
Heat a cast-iron skillet large enough to hold the scallops without crowding over medium-high. When pan is very hot, add oil (the oil should be nearly smoking). Add the scallops in a single layer with a little room between them and let them sear until they develop a deep brown crust, about 3-5 minutes. Don't try to turn them until the crust forms. Turn off heat and flip scallops. Let the residual heat cook the other side. They should be just firm to the touch but not rubbery, 3-5 minutes.
To serve, place a dollop of the pea puree on each plate and top with the scallops. Drizzle over a spoonful of the butter and crumble half a slice of crispy pancetta on top of each scallop. (For appetizers, place small dollops of pea puree on a platter and top each with a scallop).
Emily Clifton
I love to cook and learn about food. I was born and raised in New York City and I was exposed to a lot of different food cultures as a kid though I was weirdly picky. I hated mashed potatoes but I loved kim chee. Hated fish, loved escargot. I said I was weird, don't judge me. My mom is a great cook but I definitely don't have any "passed down from grandma" types of recipes. Both my grandmothers were horrible cooks. I mean really, truly bad. I give my mom a lot of credit for knowing that string beans are not actually supposed to be gray. In real life I'm a film/TV editor which just might be the most fun job in the world. Occasionally it can be the most annoying job in the world which is why I really appreciate it when I get to take a break and do my other favorite things which is cook, take photographs and write.