Chicken and Spinach from Italo-Argentinean Star Chef Paulo Airaudo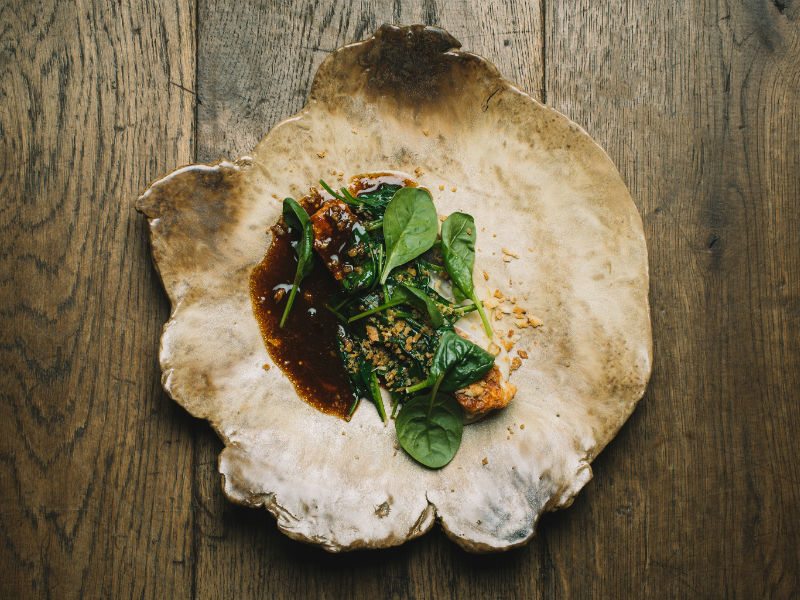 As preparations for his new and rapidly evolving venue in San Sebastián, Michelin-accoladed Chef Paulo Airaudo works non-stop on dishes for the new menus that will delight the foodie destination from spring 2017.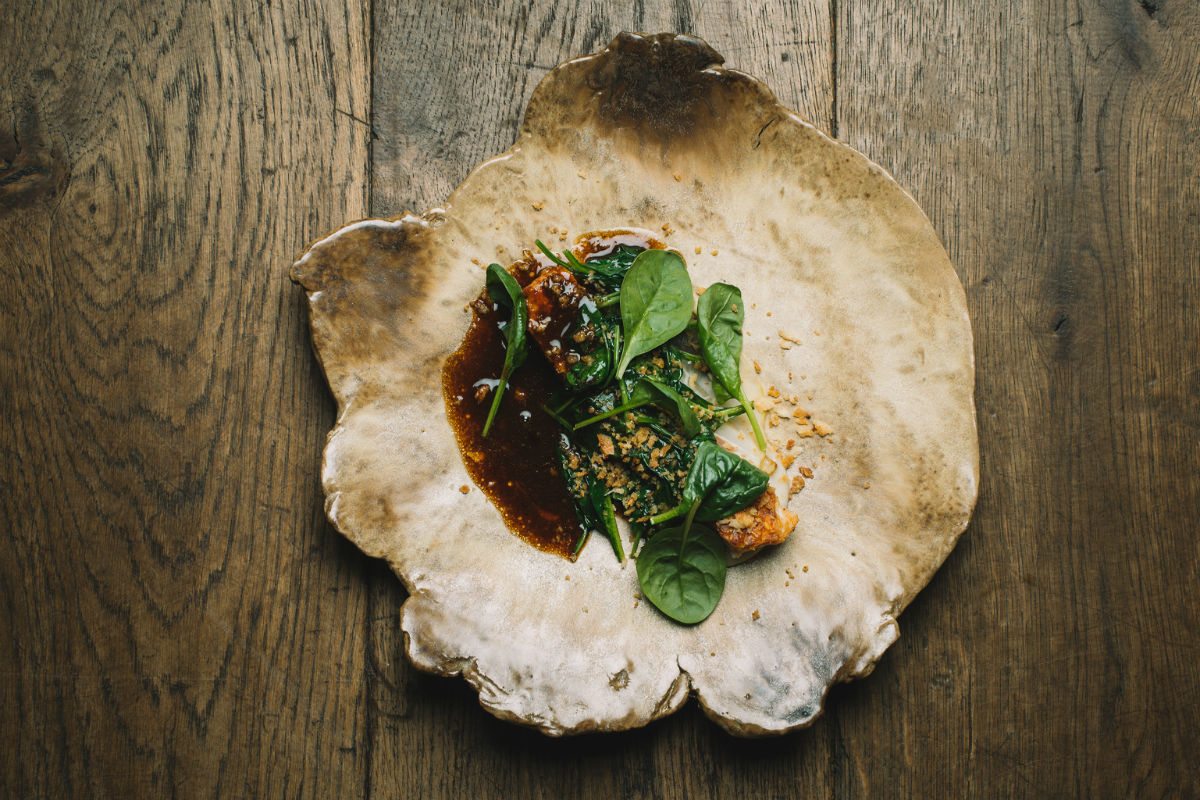 With a traveler's soul – and background – Paulo will in his new restaurant located in the foodie capital of the Basque Country, create an elegant yet approachable cuisine made by all the experiences collected through all his culinary trips, collaboration dinners and food discovery travels.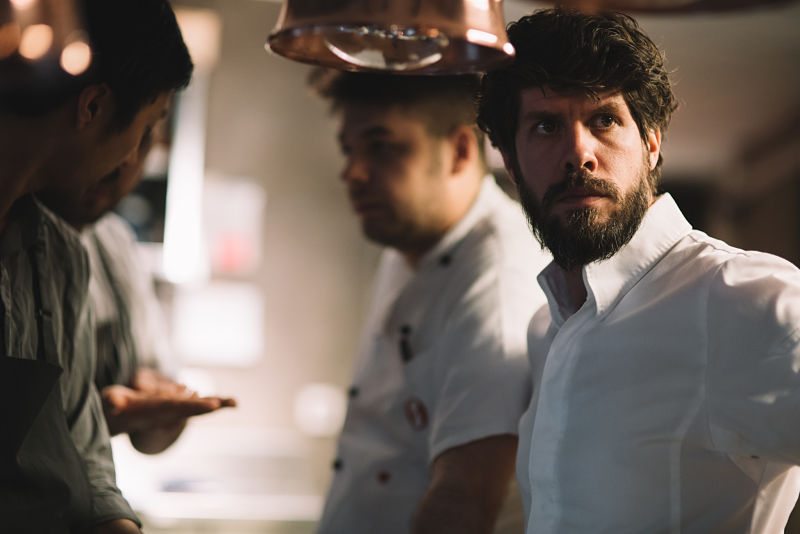 Italo-Argentinean Star Chef Paulo Airaudo.
The following recipe is just but an example of what awaits in his new restaurant.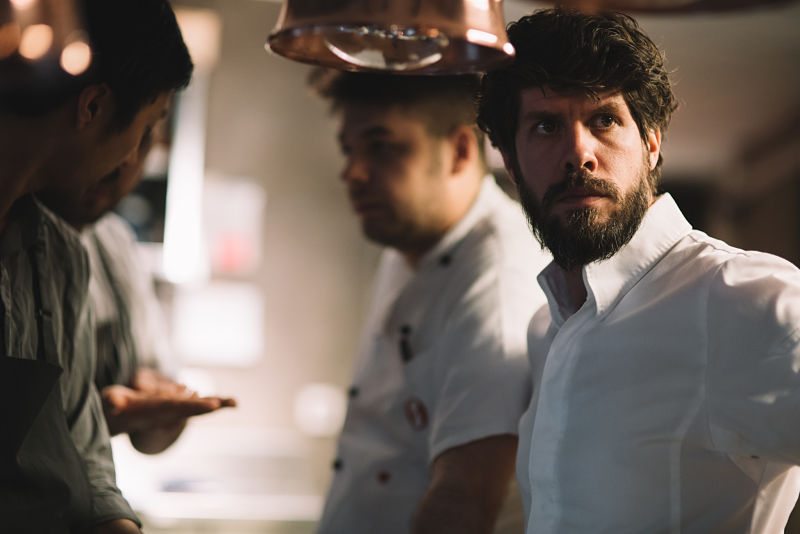 Ingredients
CHICKEN BREAST
210

gr

Chicken breast

10

gr

Butter

3

gr

Fresh Thyme
CHICKEN SAUCE
350

gr

Chicken Wings

60

gr

Chicken thighs

85

gr

Butter

45

gr

Sliced Shallots

85

gr

Sliced Mushrooms

170

gr

White wine

216

gr

White chicken stock

125

gr

Brown chicken stock
CHICKEN CRUNCH
35

gr

Chicken skins

37

gr

Panko breadcrumbs

10

gr

Salt
CELERIAC PUREE
360

gr

Celeriac

150

gr

Milk

150

gr

Water
PICKLED CELERIAC
60

gr

Water

50

gr

Vinegar

15

gr

Sugar

2.5

gr

Salt

1

gr

Pepper corn

0.5

gr

Coriander

60

gr

Celeriac thin sliced
OTHER
60

gr

Fresh spinach

10

gr

Vegetable stock
Instructions
CHICKEN BREAST
Place the chicken breast in a vac bag with the butter in thyme, cook in water bath at 62 ºC for about 20 minutes. Let rest for 5 minutes.

In a pan at medium heat, add some clarified butter, place the breast skin down, and hold until is golden crispy.

Let rest for another 4 minutes.
CHICKEN SAUCE
Roast wings in oven until golden and drain the excess of fat. Sweat the shallots and mushrooms.

Mix all the liquids and bring to a boil.

Add the chicken wings and the shallots & mushrooms, let boil for 20 minutes. Let rest for 30 minutes and pass through a fine chinoise.

Roast the thighs in oil until golden.

Reduce the sauce until the desired texture, add the thighs and refresh for 4 minutes. Let rest for 20 minutes.

Pass through a fine chinoise again, and set aside.
CHICKEN CRUNCH
Bake the skins between two oven trays for 20 minutes at 180 ºC.

Break it down on a pestle & mortar and add the toasted panko and salt.

Reserve.
CELERIAC PUREE
Slice the celeriac very thin.

Mix the water and milk and bring to boil, add the celeriac and cover the pan with film, cook for 30 minutes.

Drain it and keep the liquid; put the celeriac in the blender, adding liquid in the case is necessary.

Season and reserve.
PICKLED CELERIAC
Mix all the ingredients except the celeriac and bring to a boil for 2 minutes. Let it cool down, pass through chinoise.

Mix 60 gr of liquid and the celeriac in a bag and close.

Let in fridge for 3 hours.

Sauté 40 gr of the spinach in a little bit of butter and vegetable stock. Season and reserve.

Dress with salt & pepper 20 gr of fresh spinach, reserve.
Presentation
Slice the breast in half.

Make a quenelle of celeriac puree, place the breast on the side.

Add two slices of celeriac, place the saute spinach, and on the top the fresh spinach.

At last the chicken crunch.

Finish with the sauce.