Kitchen Deconstructed – A Visit with Grand Wailea's Chef Mike Lofaro at Humuhumunukunukuapua'a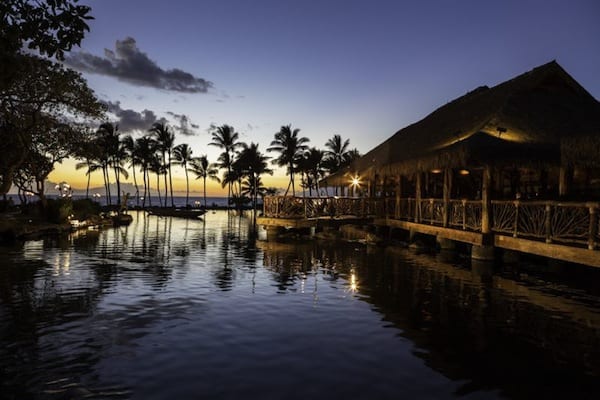 An interview with chef Mike Lofaro on simplicity, fresh products and hating winter.
By Michelle M. Winner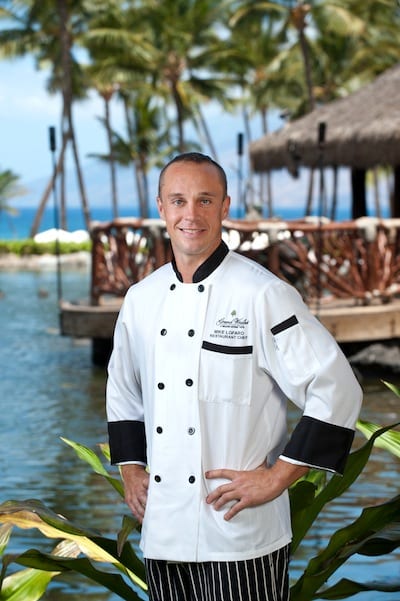 Chef Michael Lofaro has an easy way about him. A far cry and a pleaseant change from the stereotypical screamers  you see on T.V. He says his philosophy is easy too, " I use simple, balanced flavors."
A bit of an island hopper, he's come to Maui from the kitchen of Mill's Tavern in Providence, Rhode Island as executive chef where he developed seasonal menus, managed service training, food costing and purchasing, and orchestrated daily kitchen operations. It was during his tenure that Mill's Tavern received the distinguished Mobil Four Star Award. He has an impressive background including a stint under Chef Michael Mina.
Humuhumunukunukuapua'a is the official state fish of Hawaii. And for this beautiful thatched restaurant built- out over a man-made lagoon filled with local fish and sharks swimming around, a perfect name. Locals just call it Humu's.
Honest Cooking got the iron-man chef to slow down for a moment to share a bit about himself and this lovely restaurant at the Grand Wailea Resort known for its fresh seafood, beautiful Wailea sunset dining and gracious service.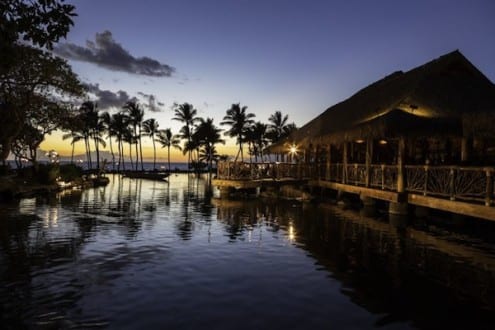 HC: What is your favorite item on Humu's menu?
ML: "Would have to say the Ahi Tartare. It pretty much encompasses all the things I like to incorporate into a dish and best represents my style I guess, acid, a spice, some herbs and something unusual that really works well with the dish; in this case galangal."
HC: What do you like about Hawaii ?
ML:"I love the lifestyle the most. Coming from a small island the small town feel is really my thing. The weather obviously, I am a complete outdoor person. To be honest It reminds me of where I grew up and I don't have to deal with the winters at all which I can't stand so it's my paradise for sure!"
HC: What do you do on your time off ?
ML: "Right now I am focused on doing some ironmans, my first one coming up in June. Racing outrigger canoes as well. Most importantly hanging out with my kids and wife; quality family time."
HC: What do you cook on time off?
See Also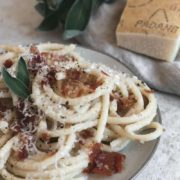 ML: "Anything and everything that can be grilled, the family and I love to grill on the weekends. Fish that we catch or steaks mostly."
HC: What is the most interesting thing you have learned from the locals in your kitchen at Grand Wailea?
ML: "Don't make them mad! Nnah….kitchens in general are psychologically harsh environments in a lot of ways. Here we are very family oriented and take care of each other all the time. We all have a greater job to do than just our own on a daily basis."
HC: Your vision for the sustainable farm produce you use, initiatives, recycling etc?
ML: "Obviously I would like to see more environmentally friendly programs take effect in the state , making recycling easier more encouraged and eventually enforced for everyone. Less garbage being buried in the ground and reef being destroyed would be nice! Farming-wise, its nice to see the majority coming back around on 'where my food comes from.' I try to source as many of my ingredients locally as I can and I am always looking to increase my overall percentage from local sources. At the end of the day it's all about finding the balance between quality, supply, and diversity of the products I can get here. Being a small rock in the middle of a big ocean, agriculture laws etc.. can make this aspect of the job very interesting at times! "
Go to the recipe section "Appetizers"  for  Chef Lofaro's Ahi Tartare and his Kampachi recipes fom Humu's.
Michelle M. Winner
Michelle was born with a fork in her hand. As a culinary travel writer and confirmed foodophile she delights in the world-wide discovery of new flavor profiles, spices, salts and herbs. Based in one of the world's foodie meccas; Portland, Oregon, not far from "Pinot Noir Heaven" Michelle shares culinary travel and chef's recipes. Her photography has appeared in Saveur Magazine and she has contributed culinary travel articles to Forbes online, WSJ online, Business Insider, Condé Nast Digital Media, Islands magazine and many others. A confirmed globetrotter, she still keeps her bags packed and fork in hand (well . . . except through airport security.)