Chef Jamie Lynch Takes Over the James Beard House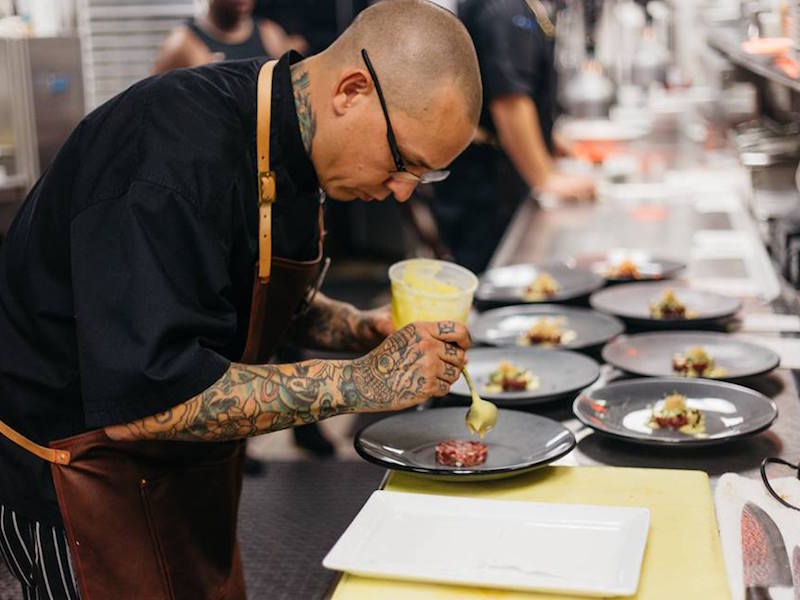 Jamie Lynch wins over stomachs and hearts during the James Beard House Dinner with Charleston-inspired masterpieces.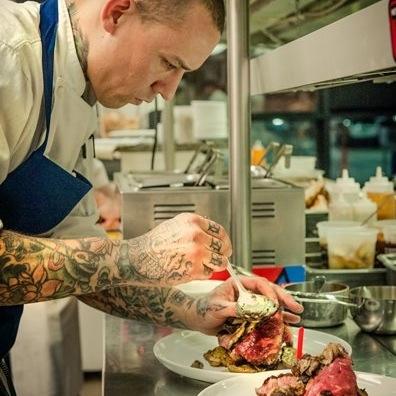 A contestant on the upcoming season of Top Chef, Chef/partner Jamie Lynch brings a sophisticated Southern vibe to the acclaimed 5Church restaurants in Atlanta, Charleston, and Charlotte. I was fortunate enough to join him and his team, from 5Church's Charleston outpost, during his short visit to his hometown, New York City at a marvelous event at the Bread House entitled, "Take me to Church."
Experiencing for the first, both, the world renounced James Beard House, as well as Chef Jamie's exquisite cooking, was almost too much for my senses to undergo.
For those that don't know The Beard House has been open since 1986 and hosts only the supremely exceptional Chefs. The dinners featuring selected, acclaimed chefs who prepare tasting menus in the Beard House kitchen, which diners can pass through and observe.
Tickets at the James Beard House cover the cost of food and a unique dining experience. Dinners are prepared by culinary masters from all regions of the United States and occasionally from all parts of the world. However, all alcoholic beverages are provided on a complimentary basis and are not included in the ticket price.
Dinner guests commenced in the sun room with an array of hors d'oeuvres like King Crab with Bloody Mary gelée and smoked salt, beet-cured fluke with cucumbers and caviar before moving on to entrees in the main dining room.
Sautéed Skate with Root Vegetables Parisienne and Blood Orange Grenobloise Sauce paired with a delightful Weingut Josef Leitz Rosé 2015 from Germany which has officially become my favorite rose!
Prior to the dinner received the menu and there was one thing on the menu that jumped out at me in not the best light…Wood Pigeon Roulade with Cauliflower, Sake-Braised Turnip, and Wild Mushrooms. Coming into the dinner I had a mix of nerves and excitement running through my blood stream.
Harshly said, but us New Yorkers we joke around that pigeons are rats with wings. Chef Jamie Lynch a New York Native would have understood the joke. However, he continues to surprise his audience by jumping over the obstacles. Serving me a dish that I wouldn't give a second glance to at any normal restaurant and yet he mesmerizes my palate with such a unique choice. The pigeon meat melts perfectly under the slice of my knife.
Chef Jamie Lynch cooks for a living but does it as a labor of love. This can be seen through his many accomplishments, starting with him attending the New England Culinary Institute in Burlington, Vermont where he was awarded a degree in Culinary Arts. Upon graduation, Lynch was offered a position by New York Times' four-star Le Cirque 2000 Restaurant in The Palace Hotel. He went on to gain experience at culinary heavyweights Aureole, Café Boulud and Tocqueville before moving to Charlotte in 2002 to pursue his dream and open 5Church. Lynch has garnered many accolades such as being voted Best Chef in 2013, 2014 and 2015 in Charlotte Magazine's "Best of the Best" Awards. He currently serves as the Executive Chef and Partner at 5Church Group, overseeing all three restaurant locations in Charlotte, N.C., Charleston, S.C., and Atlanta, G.A
Shout-outs to anyone who has the opportunity to eat Chef Jamie's food, take it. Make the trip I am taking in a few months to Atlanta, Charleston. His food is addicting and not to be missed if only to try his dessert which is mind-blowing on their own.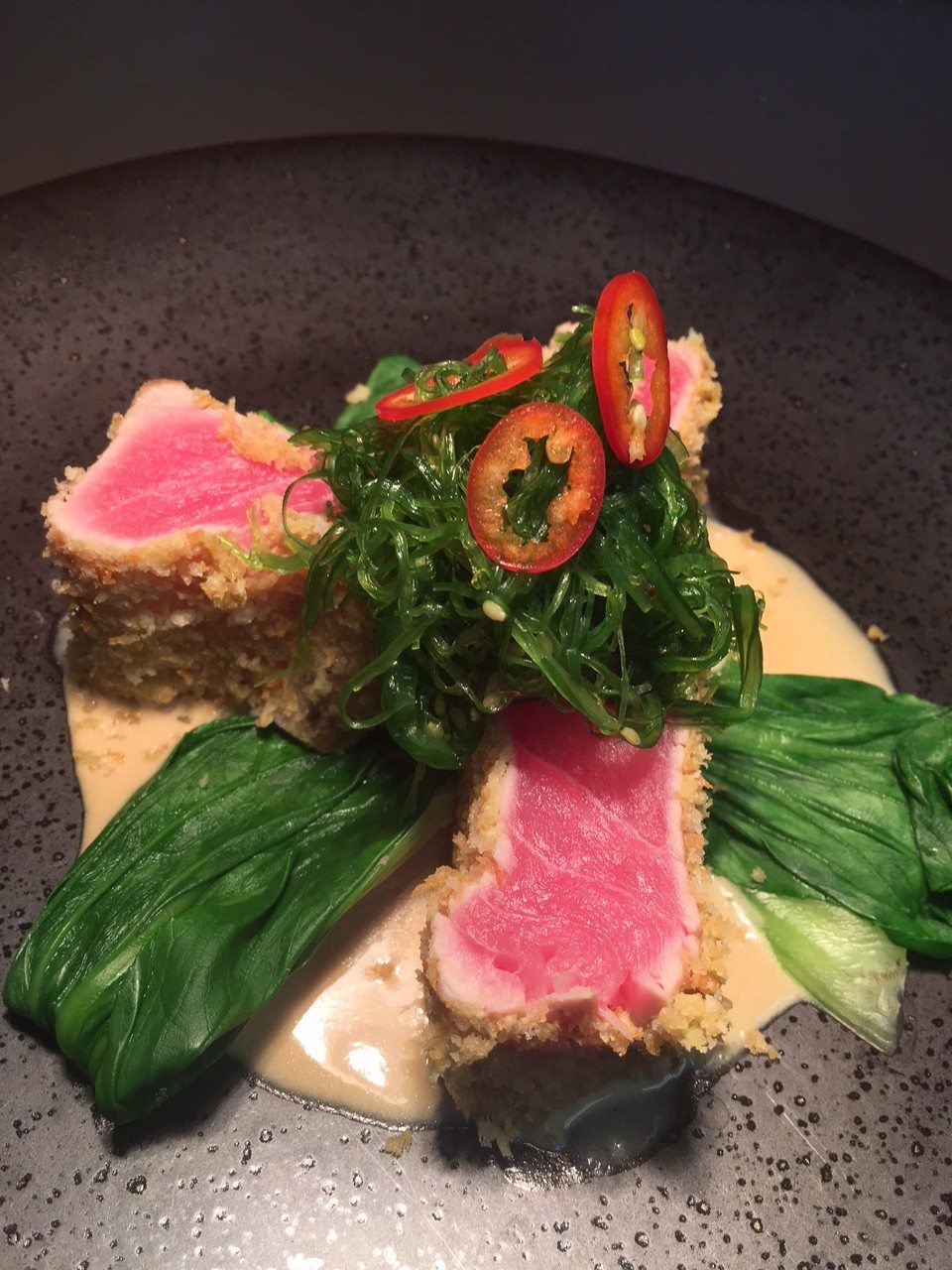 Wasabi Crusted Tuna, Gingered Bok Choy, Seaweed Salad, and Miso Emulsion
Wasabi-Crusted Tuna
4ea  4oz blocks of fresh yellow fin tuna
4 tbsp Dijon mustard
1 tbsp wasabi paste
1 cup toasted panko bread crumbs
Salt and pepper to taste
2 tbsp grape seed oil
Method:
Combine the Dijon and the wasabi and whisk until incorporated. Season the tuna on all sides. In a very hot sautée pan over high, heat sear the tuna in the oil for only 30 seconds per side. Remove from the pan to plate. With a pastry brush liberally apply the Dijon mix to all sides of the fish. Then dredge the fish in the breadcrumbs. Slice the fish into three even pieces.
Gingered Bok Choy
4 heads bok choy, quartered and washed well
1-inch knob ginger, peeled and grated
1 tbsp butter
Salt and pepper to taste
Method:
Melt the butter over medium-high heat in a sauté pan. Add the bok choy and toss in the butter for a couple minutes. Add the grated ginger, salt and pepper and a couple tablespoons of water to steam and glaze the boy choy.
1 cup marinated seaweed salad (can buy from Asian supermarket)
Miso Emulsion
1 shallot
1/4 C chopped fresh parsley
2 sprigs thyme
3/4 c white wine
1 1/2 T miso paste
3/4 C heavy cream
2 tsp honey
1/5 lb unsalted butter
Sachet:
Whole white pepper
Whole black pepper
Whole coriander
1 bay leaf
Start by sweating the shallots on medium heat. Make sachet and add to shallots. Deglaze with white wine. Reduce white wine by half, then add miso paste and heavy cream. Reduce mixture by 1/3, then bring to a steady simmer. Once at a simmer, add butter a little at a time while whisking. Once completely incorporated, strain through a fine strainer or Chinoise and season with salt and white pepper to taste.
Ready to plate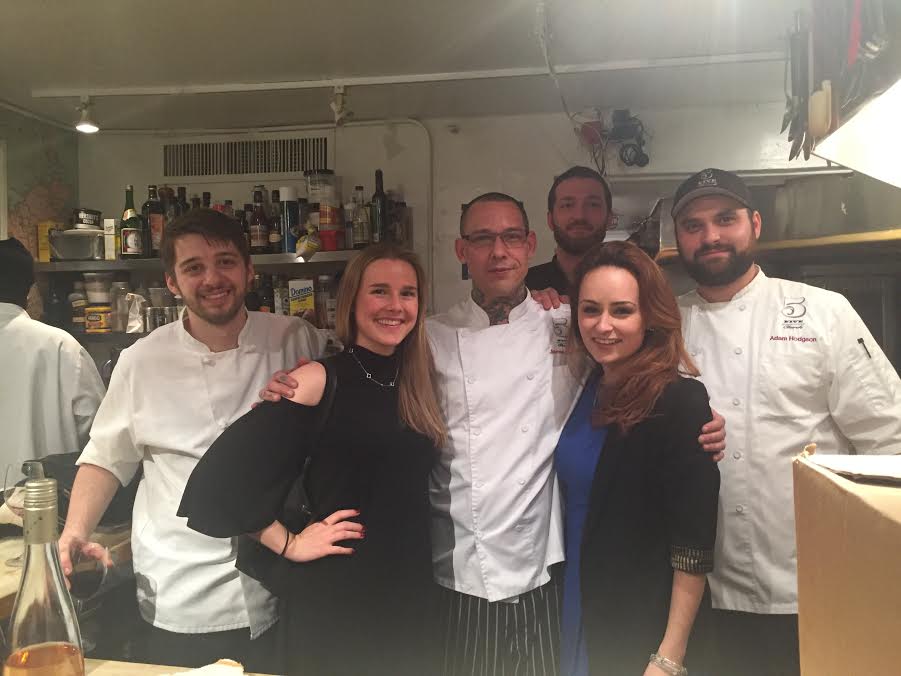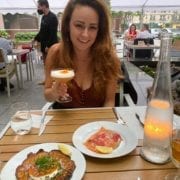 Izabela Jay
Izabela is passionate in the beauty and grace in the simple things in life. Graduating from John Jay College and two study aboards under her belt, she can't get enough out of life and traveling. After completing a Masters Program in Art Therapy, Izabela continues to have a passion for searching for the next food trend and trying the next unique next pairing for ingredients & flavors. She hopes you will join her on her journey to explore cultures and intensify the wanderlust that the palate hungers for.