A new twist on the classic cheesecake and brulee that provides an outstanding taste and thorough enjoyment.
By Maralyn Hill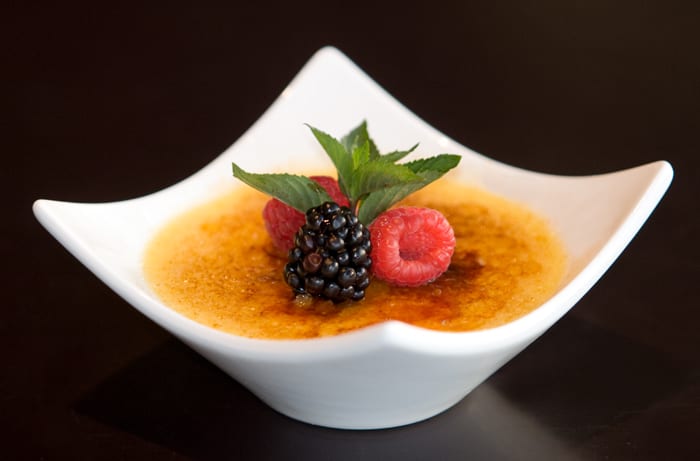 This classic twist on a combination of cheesecake and brulee works magic with the taste buds. It was featured on the fall menu of The District American Kitchen & Wine Bar. It's delicious and I'm sure some creative rendition will replace it starting January 1.

A twist on the classic cheesecake and brulee to provide an outstanding taste, enjoyment, and memory.
Author:
Chefs from The District American Kitchen & Wine Bar
Ingredients
• 2 ¾ cups of heavy cream
• 7 ounces of sugar
• ¾ cup of egg yolks
• 1 vanilla bean
• 8 ounces of cream cheese
• ½ pint of blackberries
• ½ pint of raspberries
• ½ pint of blueberries
• Mint leaves for garnish
Instructions
Heat the heavy cream, vanilla beans, and sugar.
Once the cream is hot, add the cream cheese and stir until it is melted.
Then temper in the egg yolks and slowly stir them in.
Remove custard from heat and strain through a sieve to remove lumps and vanilla bean.
Wash and clean berries.
Place them in the bottom of six 8 ounces oven-safe ramekins and ladle over the custard.
Place ramekins in a water bath and bake in the oven at 300 degrees for 30 minutes or until set.
Remove from oven and refrigerate for at least five hours or overnight. Remove the cheesecake brulee from the refrigerator at least 30 minutes before browning the tops with sugar.
Divide half a cup of granulated sugar over the six ramekins and spread evenly on top of each one.
Using a torch, melt the sugar and form a crispy top. Garnish with extra berries and mint leaf.