PARTNER POST- Create the perfect holiday cheese board spread with Castello's selection of expertly crafted cheeses. It's sure to bring extra joy to this wonderful time of the year. Find inspiration here.
Make a cheese board for your holiday (and anytime, really) gatherings that is portable and deliciously stacked together on a skewer.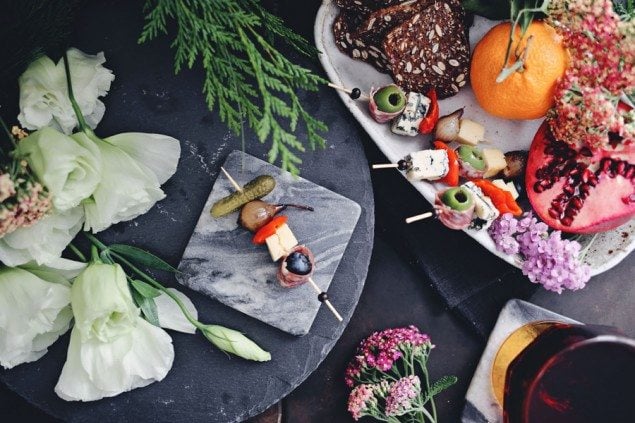 Does this really need to be the season to be TOTALLY STRESSED OUT?
This state of frazzled has got to stop. We need to stop worrying about what cheeky present to give at the white elephant exchange (it doesn't matter), visiting the mall parking lot (period!) and start spreading the JOY! And I'm not sure there's anything more joyful than inviting friends and family over for a low key holiday happy hour. Which yes, to some sounds stressful, but it doesn't have to be a 4 course meal or last all night kind of overwhelming deal.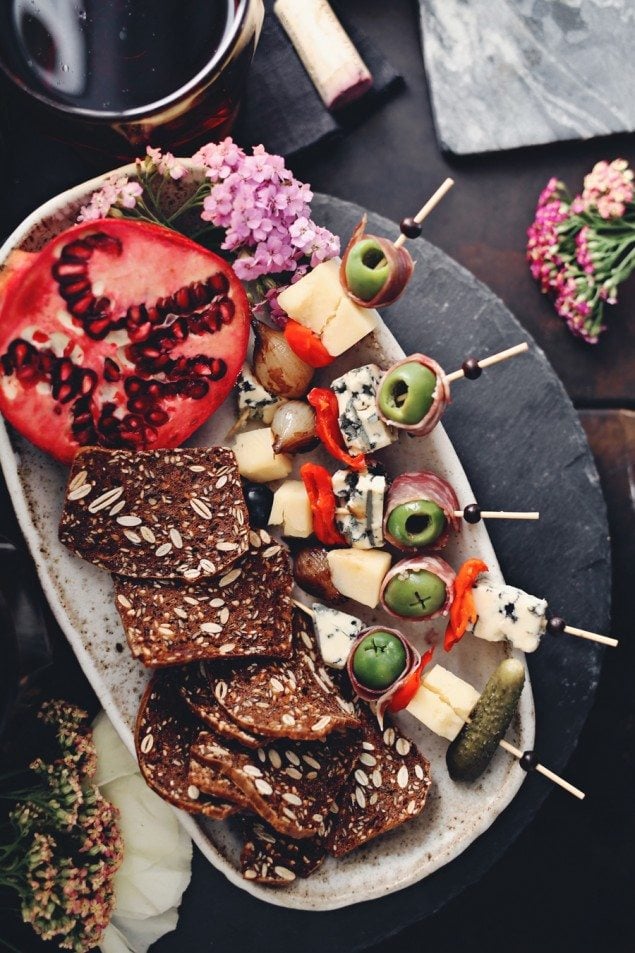 Here's my thought: Everyone loves small bites, everyone loves the ease of eating in a party situation (wine glass + full plate + needing fork +standing up = anyone uncomfortable yet!?) … aaand most importantly the host loves having as little dishes as possible to stay on top of during/after the festivities. Ah!
I propose that we deconstruct the situation – literally. We're making the cheese platter hand held, portable and even more delicious than anyone could arrange on their own paper plate. If that's not sounding like equal opportunity joy in the holiday party going/entertaining realm, than I don't know what could.
So get yourself armed with some quality olives, picked accoutrements, seasonal fruits, meats and cheese…not to mention some simple yet chic wooden cocktail picks…and you're about to blow some holiday party minds.
But first…we make onions sing…in balsamic.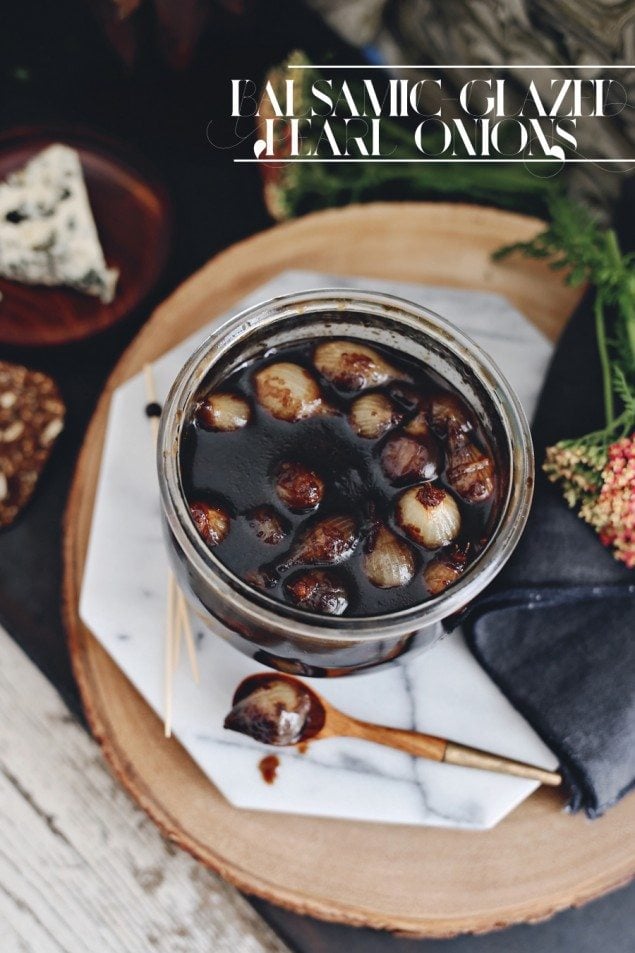 Print
1 cup

assorted pearl onions (white, yellow and/or red)

2 tablespoons

olive oil

1 cup

balsamic vinegar

1/2 cup

water
Instructions
In a pot of boiling water, add pear onions and allow to boil for 3 minutes. Remove with a slatted spoon and submerge into a bowl of ice water until cool and then peel. Add olive oil to a pan on medium heat and sauté onions until slightly golden, about 5 minutes. Add balsamic and water to pan, reduce heat and allow onions to simmer for 15 minutes. Place onions and any remaining liquid into a clean sealable jar and store in the refrigerator for up to 1 week.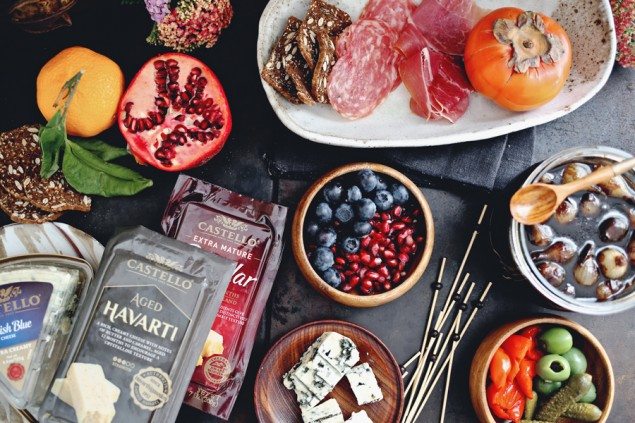 Anything you might find on a typical cheese platter – savory items such as olives, cornichons, pickled peppers. Charcuterie meats such as prosciutto and soppressata. Sweet elements such as blueberries, persimmons, and your homemade balsamic onions. And of course a variety of Castello cheeses to really make all the flavors come together – we used a hard cheddar, creamy havarti, and a vibrant blue.
Cut your selection of cheeses into small bite sized cubes, arrange on a cocktail pick with different combinations of savory and sweet items. Get playful by wrapping the charcuterie meats around olives and/or fruits. You really can't mess this combo up – really!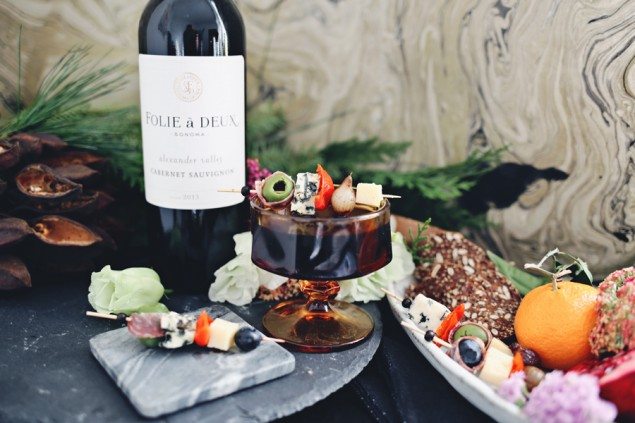 See Also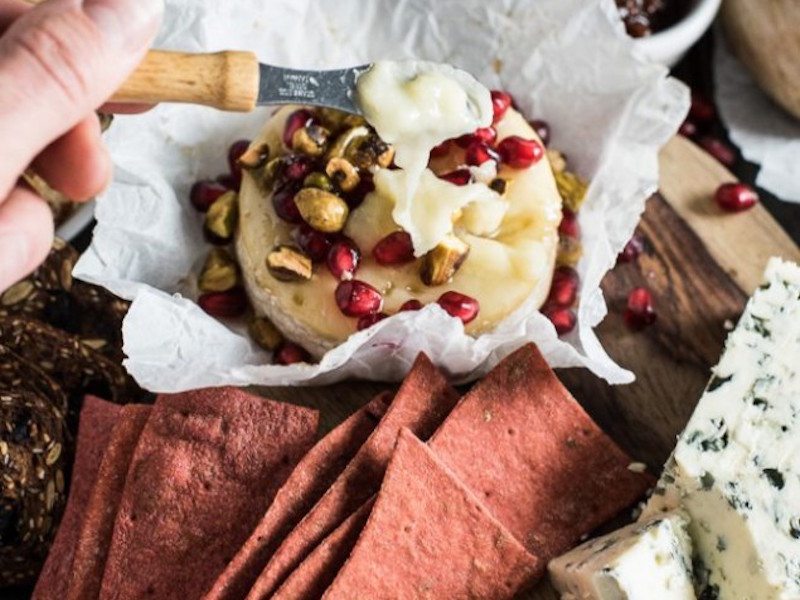 Obviously the only thing better than a savory (or sweet!) cheese and charcuterie cocktail pick is the accompaniment of fine wine and a robust cracker. We've paired our deconstructed appetizer with a selection of silky red wines from Folie à Deux and gorgeous fruit and grain crisp crackers by Lesley Stowe Raincoast.
Yum x 3 = joyful success.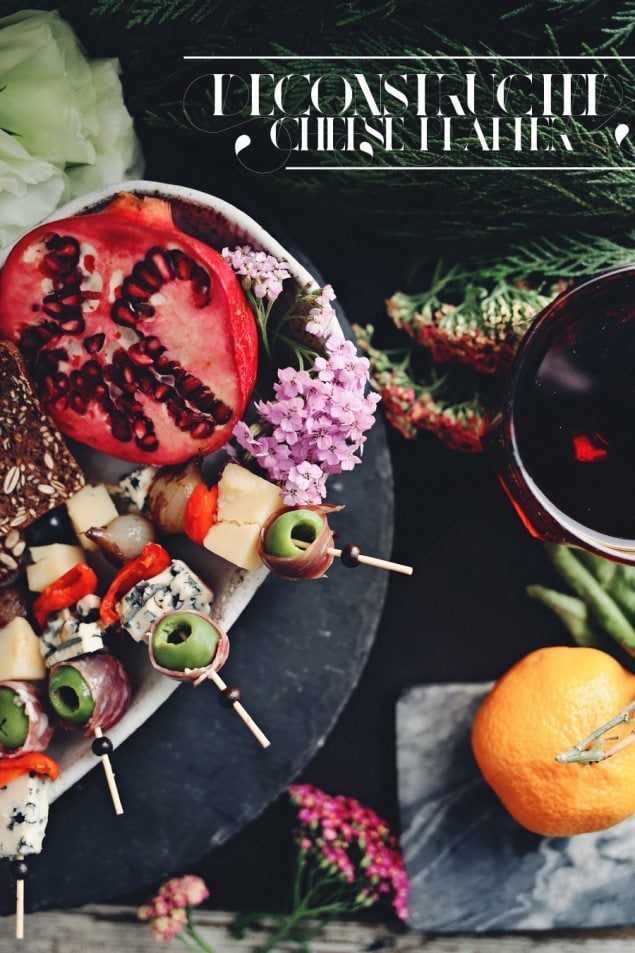 Are you starting to feel the joy of entertaining? The no stress, playfulness that comes with the holidays?? I hope so!
Not only do these Balsamic-Glazed Pearl Onions make for the perfect accent to any cheese platter (or cocktail), they also make for a great host/hostess gift. So whether you're party thrower or a party goer – these little onions (and deconstructed cheese platter) have a place for you this holiday.
You're set! That's it! Let's do this.
Looking for more cheese board spreads and inspiration? Try this butternut squash and cranberry recipe. It's perfect on a crostini with blue cheese!