Hop a flight and you can be in Honolulu, sand between your toes and drink in hand by sunset while celebrating Julia Childs 100th birthday.
By Michelle M. Winner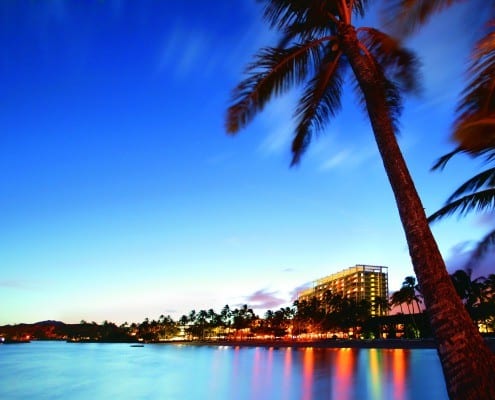 When you get down to it Honolulu  "the gathering place " on Oahu is more  cosmopolitan  city than sleepy  island town.  The  people of Hawaii have always been great travelers, and being the furthest  island  archipelago  from a major land mass does not thwart  the  inhabitants' appetite for fine cuisine and wine from all over the world, especially France. So with great  anticipation by the Honolulu culinary community ( every foodie event is usually welcomed with  a jubilant hue and cry in Hawaii) and to celebrate Julia Child's 100th birthday,   "A Tribute to Julia Child  and  Mastering the Art of French Cooking" is being held  the entire month of August at The Kahala Hotel and Resort on Oahu's Gold Coast.  The August 1st – 31st celebration of French regional cooking  is a tribute with special dinners, a  foodie festival and cooking classes by Hawaii's brightest chefs as part of the planned festivities.
Chef Hirabayashi creates the French classic Beef Bourguignon in honor of Julia's 100th birthday.
The Kahala's culinary focus for August  is on Julia's recipes in their restaurants and  include an  August 12th   James Beard  Foundation Benefit Dinner.  Special guest Mitchell Davis Ph.D. , Executive Vice President of the James Beard Foundation will  share his personal anecdotes of Julia Child while a contingent of fine local chefs present a multi-course dinner headed up by The Kahala's  Executive  Chef  Wayne Hirabayashi and Pastry Chef Michael Moorhouse.  Julia's lips were never far from a wineglass so naturally each course will be  paired with wine. Tickets for  event are $325 per person  and you may purchase online at  www.kahalaresort.com or call  808-739-8779.
Note : You may wish to book The Kahala Hotel's special package 'Dinner and a One Night Stand.'  Stay August 12th at  The Kahala  and receive two reserved  seats tickets to the James Beard Dinner.  A 20% savings on both  room and dinner at $999 for mountain category room, you may upgrade to oceanview. But after all of that wine you'll be off to dreamland in  less time that it takes to boil an egg,  so who needs a view?

August 18th The Kahala presents  another opportunity to celebrate  Julia with the  Wine andFood Festival. Kahala's  Chef Hirabayashi designed a menu combining the diversity and specialties of the many regions  in France.  Here is a peek at what 's coming : Chef  Chai Chaowasaree of Chai's Bistro is doing Kauai Prawns, Chef  Jon Matsubara of Azure recreates the classic Beef Bourguignon, a Duck Confit Tart by Chef  Goran Streng of Tango Cafe, Hale Aina Catering' s Chef Kalani  Lincoln pairs a Honey Soy Duck Breast with Papardelle, and Chef Ronnie  Nasuti of  Tiki's  Bar  & Grill will  present Julia's favorite dessert " Ile Flottante".  All courses  will be paired  with  French and California wines selected  by Master Sommelier Patrick Okubo of Youngs Market. Festival is from 7 to 10 PM with 6 PM admission toVIP Preview ticket holders.  General tickets are  $100 in advance and VIP are $150.  Use contact info above.
So what are you waiting for ? Hop a flight and you can be in Honolulu, sand between your toes  and Diamond Head rising up behind you with drink in hand by sunset.  As Julia was fond of saying " Life itself  is the proper binge."