Carly DeFilippo checks out Calliope in the East Village, a French bistro with a no-nonsense approach to sustainability in restaurant cooking.
By Carly DeFilippo
One of the (only) downsides of having lived in Paris is that my friends assume I'm an authority on French food in New York. Truth be told, I'm a "when in Rome" kind of eater, and rarely fall upon NYC eateries that resemble the fresh, creative and elegant preparations I grew to love in France. Instead, I typically find fussy, heavy cuisine – a fault I assign not so much to the chefs, but moreso to American diners' expectations of "French" food.
That said, every once in a while – and often when I am least seeking it – I discover a restaurant that so utterly embodies the food of France that it bypasses nostalgia and heads straight to simple pleasure. No restaurant in New York has done this more for me than the recently opened Calliope, in the East Village.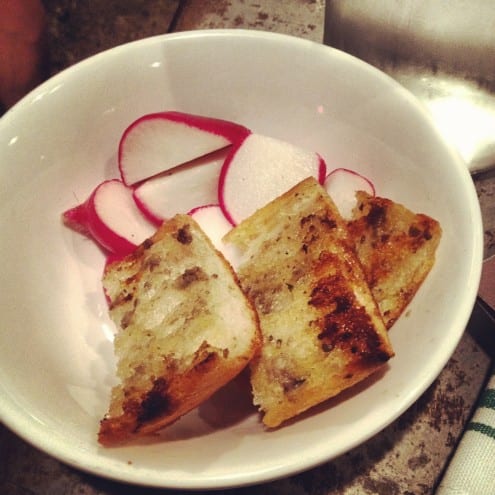 A few weeks before Calliope opened, I saw chef Ginevra Iverson speak at a panel about the Farm Bill, where I was impressed by her no-nonsense views on sustainability in restaurant cooking. I thus came to her restaurant expecting something akin to Northern Spy Food Co (which I also love), but discovered a more subtle approach to seasonal eating. In fact, it resembled the perspective of the Parisian chefs I know: that we should eat seasonably because it tastes better, requiring no further, self-conscious examination of edible ethics.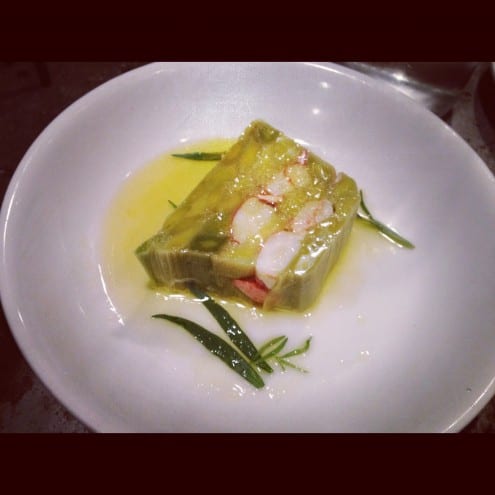 The food at Calliope was beautiful, from the anchovy toasts (saltily paired with peppery raw radishes) to the warm, home-baked madeleines we received as a goodbye treat. But no dish was more visually stunning than my favorite, the leek and lobster terrine. Here, the noble leek (which is so often cooked to smithereens) was allowed a bit of al dente. The lobster was a clean complement with its meaty flesh, tarragon added herbal complexity, and a crunchy dose of sea salt sealed the textural deal.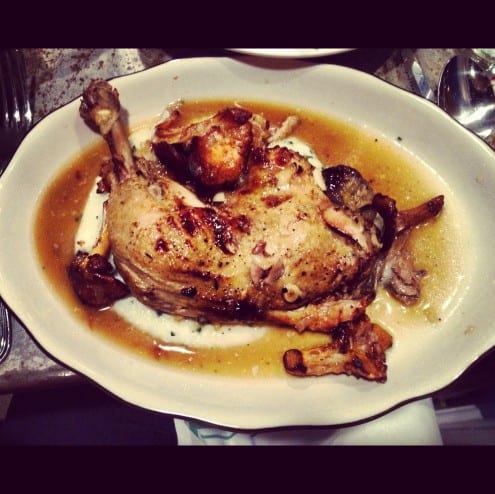 We followed the terrine with the tomato tart, an uniquely red and intensely flavorful use of this omnipresent fruit. Also impressive was the elegant, golden-crusted roast chicken with chanterelles, a dish that harkened back to the true French classics. On the other hand, the less typically French rabbit pappardelle was not a flavor or textural combination I enjoyed, though the rabbit itself was very well cooked and Pete Wells seems to have appreciated it. As for the sides, the chard and sorrel gratin was rich, but less so than expected – a perfect definition of modern French cuisine.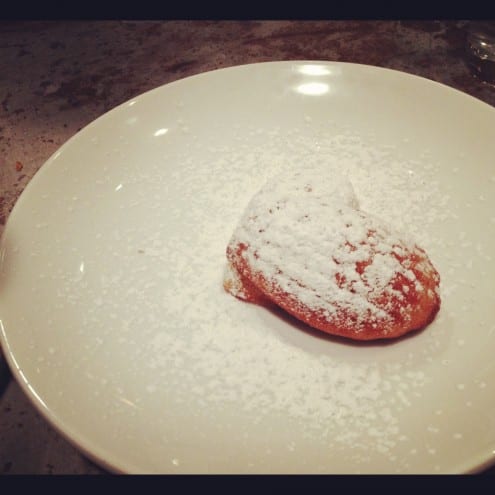 Calliope
84 East Fourth Street
(212) 260-8484