Butternut Squash Risotto with Fried Sage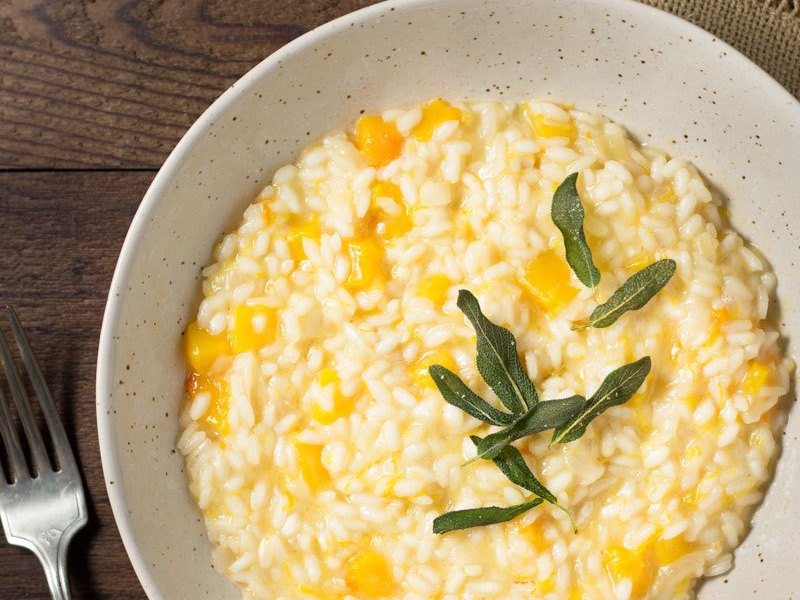 A warming bowl of risotto is just right for this time of the year.
This butternut squash risotto starts off with crispy, fried sage. I use the fragrant oil that the sage fried in to cook the rest of the risotto. The base of the risotto includes plenty of sweet, onions and butternut squash, of course.
The most important part of this recipe is the method of cooking the risotto. I read so many recipes and watched just as many videos on how to make risotto. One good thing about working for an Italian chef, is it helped me realize there's another way to make risotto. My new favorite way.
See Also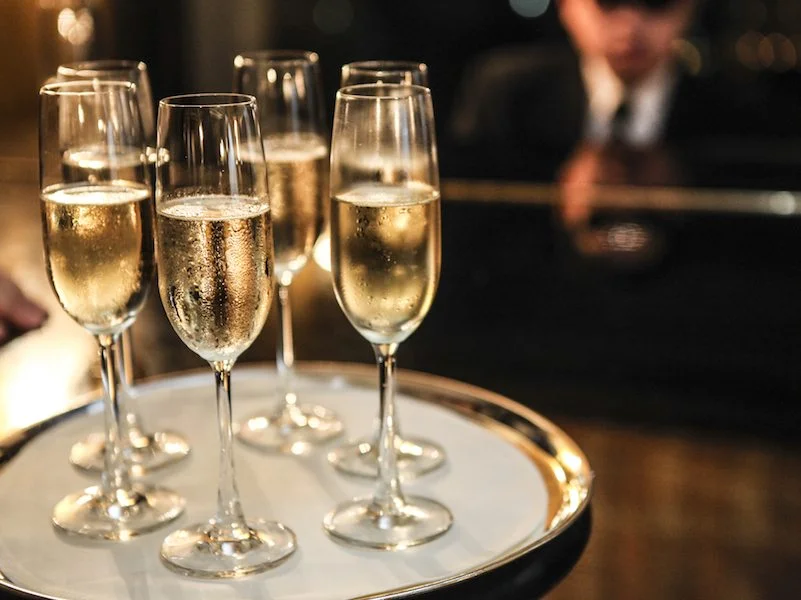 Instead of constantly adding stock and stirring the rice throughout the whole process, I added stock in slightly larger increments and saved most of the stirring for the end. Well, that's a bit of an understatement. Once the rice is cooked properly, I added in the butter, cheese and a bit more stock and shook the pot while stirring vigorously. You have to put in a little muscle at the end until the rice is bound and super creamy. Whether you make butternut squash risotto, mushroom, seafood or any other variety you like, I hope you try out this tried and true method.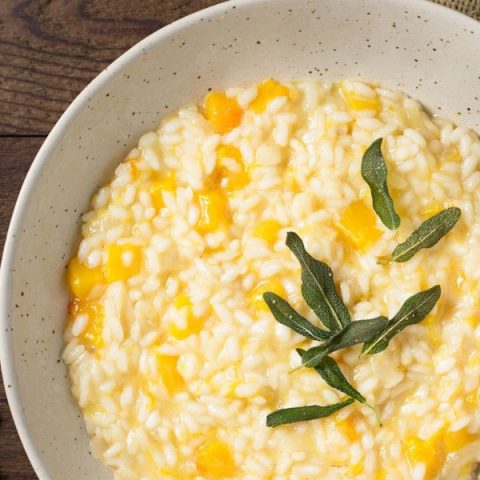 Butternut Squash Risotto with Fried Sage
Ingredients
3

tbsp

extra virgin olive oil

4

tbsp

butter

divided

20-25

small sage leaves

½

medium onion

finely chopped

1

heaping cup butternut squash

cut into ½ inch cubes

1

cup

arborio rice

½

cup

dry white wine

3-4

cups

chicken or vegetable stock

or as needed

¼

cup

freshly grated parmigiano reggiano cheese

Kosher salt

to taste
Instructions
Warm oil over medium heat in a small pan. Fry sage about 30-45 seconds, or until crispy, turning half way through. Cook in batches to avoid over-crowding pan. Drain on paper towels. Season with salt.

Add stock to a pot, bring to a boil, reduce to low and cover until ready to use.

Transfer "sage" oil to a medium-sized pot. Warm over medium heat, add onions and season with salt. Sauté about 10-15 minutes or until softened and beginning to lightly caramelize. Lower heat to medium-low, when needed, to avoid over-browning.

Add 2 tablespoons of butter, followed by the squash. Season with salt. Sauté about 10-12 minutes, or until somewhat tender, but not fully cooked through. Control heat to avoid browning.

Add rice and toast about 3-4 minutes.

Pour in wine and boil until reduced to about 2 tablespoons. Bring stock back up to a gentle simmer.

Add in a couple ladlefuls of stock or enough to just cover the rice.

Stir every 5-6 minutes, adding additional stock as needed. Cook for a total of 14-18 minutes or until tender with a slight bite.

Off the heat, add cheese and remaining 2 tablespoons of butter. Stir vigorously while quickly rotating the pan in a circular motion. Add additional stock as needed and continue to stir until mixture is creamy and emulsified. Taste and adjust seasoning, as needed. Transfer to serving dishes and garnish with fried sage. Enjoy.
Sabrina Russo
My Three Seasons represents the 3 key factors that are most important to me in cooking. #1 Seasonal ingredients #2 Proper Seasoning (don't skimp on that salt!) #3 Cooking like a Seasoned chef (technique is everything). My name's Sabrina. I live in NYC. I'm a registered dietitian with professional cooking and food styling experience. Come cook with me.