Lake Como is a quieter culinary destination in Italy. Try Chef Micheles delicious burrata and squid pasta in your home.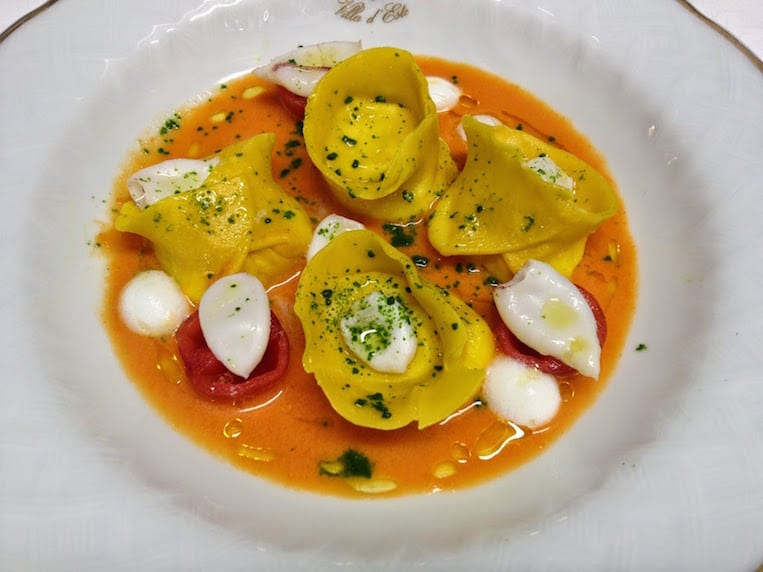 Learn more about traveling to Lake Como here.

Burrata Stuffed Tortelli from Villa D'Este, Lake Como Chef Michele Zambanini
Lake Como is a quieter culinary destination. Stay at the renovated Villa D'Este for comfort and exquisite food.
Author:
Chef Michele Zambanini of Villa D'Este
Recipe Type:
Primi, Pasta
Ingredients
Your favorite recipe for fresh pasta dough
Filling
gr 250 ( 9 oz) burrata cheese
gr 20 ( 1 oz) extra virgin olive oil
salt and pepper
Sauce
2 medium size squids
Gr 100 ( 3 ½ oz ) chickpeas of Spello
1 garlic clove
Extra virgin olive oil
Dry white wine
Fish stock
Salt and pepper
Instructions
Filling
Chop the Burrata cheese with a knife. Add the olive oil, salt and pepper to taste.
Assembly
Roll out the pasta as thick as desired, then cut in discs of 8 cm each side.
Place stuffing in the center and close.
Sauce
Soak the chickpeas in water for a couple of hours then cook them in salted water.
In a pan sauté in olive oil the garlic very thinly sliced and the squids cut in small pieces.
Sprinkle with white wine, let it evaporate and add fish stock.
Cook for a few minutes until fish stock is almost evaporated.
Place the sauce in the center of the dish, add tortelli and garnish with chickpeas.