Shrimp and grits is a Southern favorite which has been adapted in this recipe to feature the Northeast favorite, buffalo sauce and blue cheese. It's crispy shrimp tossed with spicy, buttery buffalo sauce, and corn grits with plenty of salty, crumbly blue cheese.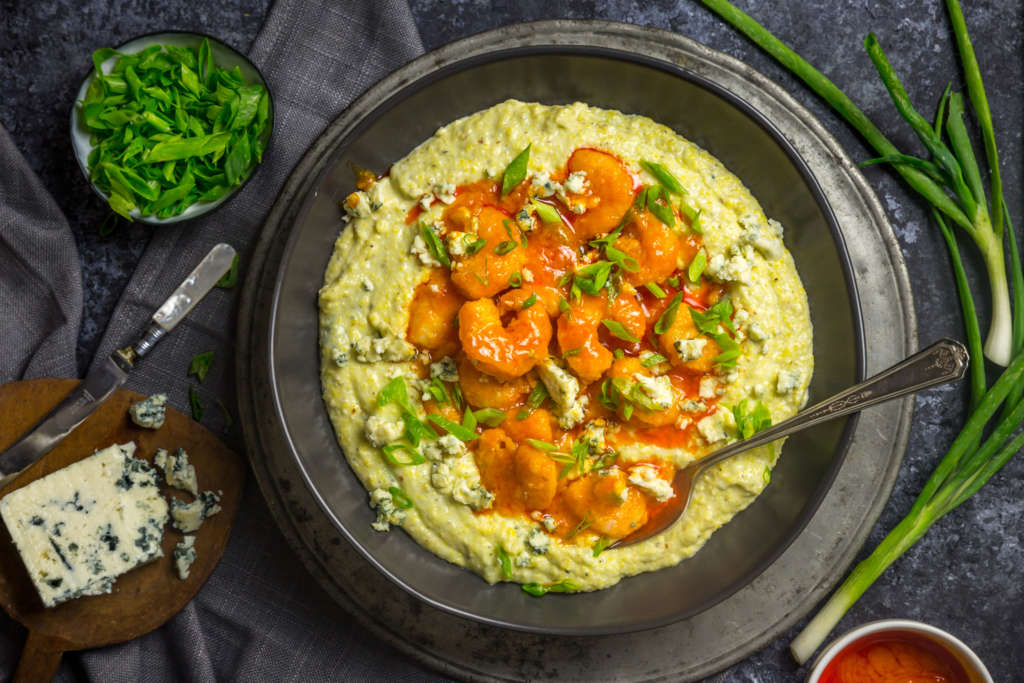 We'll admit it: we don't get out of New York State very often. Our combined day jobs and blogging responsibilities have us tied down to the homestead most of the year, and, let's face it, NY is so damned big, and we're barely halfway up the Hudson, so it takes half a day's drive to get anywhere that's not here. We do jaunt across to Connecticut every couple of months to do a warehouse shop run and marvel at their exotic blue highway signs before coming straight back, but that's about it. A couple of winters ago, we made a concerted effort to break free of our routine, and almost at random decided to drive down to Maryland. It was there that we fell in love with (a non-traditional version of) shrimp and grits.
Grits themselves are very plain and often served by themselves (what's up, Cracker Barrel) are literally just coarse pablum. The cooking process doesn't create any crispy fond, so the texture doesn't add much interest either. But here's the thing – add a salty, creamy cohort like blue cheese, and you're elevating it to co-star status.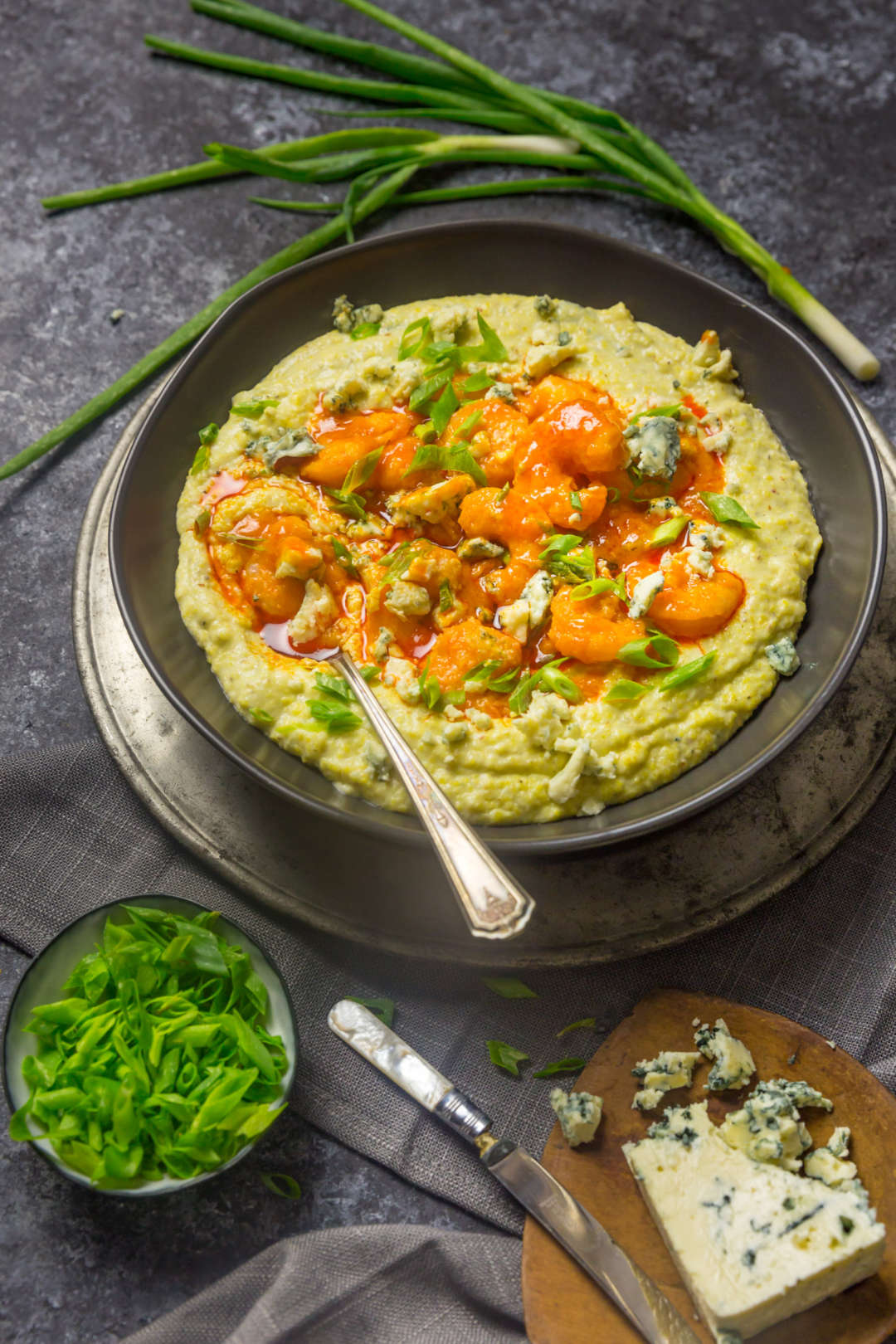 Shrimp and grits, as a Southern tradition, can be found on the breakfast menu, but on our time off in Chesapeake Bay, our restaurant offered them as an appetizer – Two large tempura fried shrimp, drizzled with a spicy, vinegary sauce, perched on a spoonful of creamy cornmeal. We ordered several. The phrase essentially became the euphemism for staying at the hotel for the evening. "Shall we go out and find another restaurant, or stay for the shrimp and grits?" (Yes, we stayed.)
We decided to simplify the method and turn the dish into a satisfying main course: Crispy, pan-fried shrimp, coated with buttery, spicy Buffalo sauce, served on a bed of ultra-creamy grits, speckled with good blue cheese. Sounds good, right? Well, it tastes even better.
In terms of preparation, there's no difference between grits and polenta. Of course using "quick-cooking" grits will get dinner on the table faster, the slow-cooking variety really does have so much more sweet corn flavor so that's what we recommend. Look for coarse yellow cornmeal, stone-ground if you can get it (we usually like Wild Hive, but this time around used Farmer Ground Flour polenta; both are recommended organic New York mills), and add it to the simmering liquid (a mix of whole milk and chicken or vegetable stock). Cook and stir until the grains are soft (up to an hour, but 40-45 minutes is usual), adding liquid if needed. Take it off the heat and stir in the cheeses – mascarpone for a little sweetness and cream, and a crumbly blue cheese to add the salty kick.
The shrimp are even easier: cook up the buffalo sauce. We add garlic and a little honey to the traditional combination of hot sauce and butter. It takes just a couple of minutes to put together and it's so tasty. Keep it warm while you cook the shrimp or quickly re-heat it when you're ready.
We took the extra step of brining the shrimp beforehand in a baking soda and salt mix. This is a technique we adopted from Serious Eats, and we've done something similar with small cuts of pork: the combination ensures moisture remains during the cooking process, and as the pieces are on the small side, we need to minimize the risk of the shrimp getting tough or rubbery. In fact, the shrimp that were available the day we cooked this were on the small side, so brining them helped to ensure that they stayed the perfect, crisp texture. When you shop for shrimp for this recipe, we recommend you go for large or extra large (U26-35), though any size will work, just adjust the cooking time to the size you have.
See Also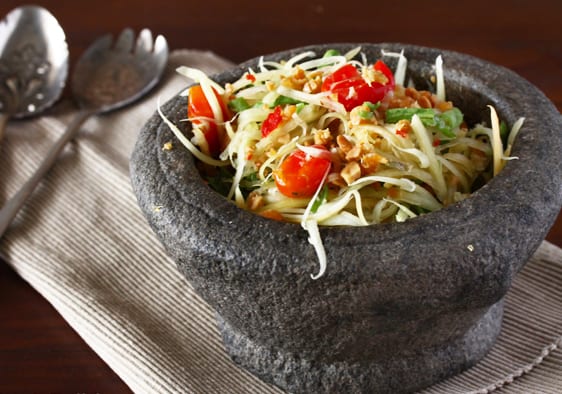 We dredged the shrimp in a mix of all-purpose flour and rice flour before shallow frying them, which gives them a delicate, crisp crust. Not too thick, but enough to hold on to the sauce. You could use all rice flour if you wanted to keep this gluten-free, or mix flour with corn starch instead if you don't have rice flour. The shrimp will only take a minute or two per side, so be careful not to over cook them. Basically if they're pink and curled, they're done. Once they're cooked, add them to a bowl and gently toss them with a few spoonfuls of the Buffalo sauce.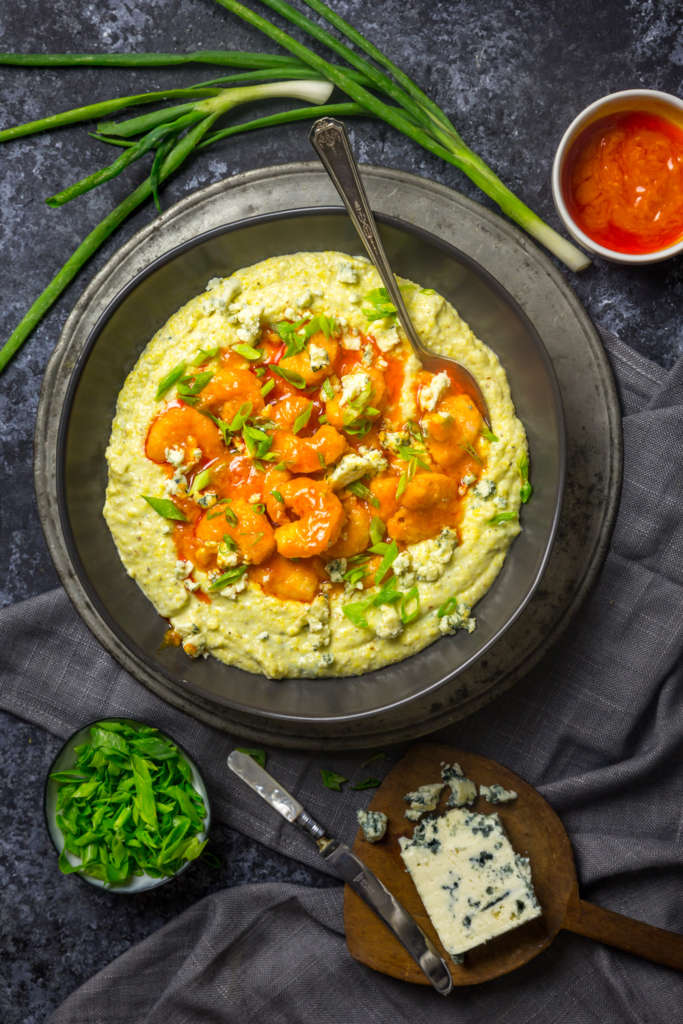 Add some grits to individual bowls (or a large serving bowl, like we did), top it with the shrimp, some more crumbled blue cheese and a a few chopped scallions. Drizzle extra sauce over the whole thing and dig in!
Click here for the blue cheese grits recipe.
Print
Buffalo Shrimp and Blue Cheese Grits
Shrimp and grits is a Southern favorite which has been adapted in this recipe to feature the Northeast favorite, buffalo sauce and blue cheese. It's crispy shrimp tossed with spicy, buttery buffalo sauce, and corn grits with plenty of salty, crumbly blue cheese.
Author:

Emily Clifton

Prep Time:

20 minutes

Cook Time:

1 hour

Total Time:

1 hour 20 minutes

Yield:

6

servings

1

x
Category:

Main
For the Blue Cheese Grits:
Click the link above for the recipe.
For the Crispy Buffalo Shrimp
4 tablespoons

unsalted butter

2

large garlic cloves (grated or minced)

½ cup

hot sauce (recommended: Frank's red hot)

2 teaspoons

honey

1

pound raw large or extra-large shrimp (peeled and deveined)

½ teaspoon

kosher salt

1/4 teaspoon

baking soda

1/4 teaspoon

cornstarch

½ teaspoon

freshly ground black pepper

½ cup

all-purpose flour (for glu

ten

free, use all rice flour)

½ cup

rice flour (or cornstarch)

½ cup

peanut (grapeseed or other neutral oil, for shallow frying)
Instructions
Make the grits, click the link above for the recipe.
To make the shrimp:
In a medium bowl, combine shrimp, ½ teaspoon salt, baking soda, and cornstarch and toss to coat. Refrigerate for at least 30 minutes and up to 1 hour.
To make the sauce: Melt butter in a small saucepan set on medium heat and add garlic. Cook, stirring until garlic is fragrant but not brown, about 1 minute. Stir in hot sauce and honey and bring to a simmer. Turn off heat and set aside.
Heat about a half inch of oil in a large, heavy skillet set on medium-high heat. Dredge shrimp in flour mixture and shake off excess. When oil is hot (test by dropping in a tiny sprinkle of flour. If it bubbles, the oil is hot) Gently add shrimp, being careful not to crowd pan. Work in batches, if necessary. Cook shrimp until crisp and just cooked through, turning once, about 1 minute per side, depending on the size of the shrimp. Be careful not to overcook. Remove cooked shrimp to a bowl and toss to coat with 3 to 4 tablespoons of warm buffalo sauce.
To serve, spoon a generous portion of grits into a warm serving bowl and top with some shrimp, a sprinkle of reserved blue cheese, and some chopped scallions. Drizzle with more buffalo sauce, as desired.
Emily Clifton
I love to cook and learn about food. I was born and raised in New York City and I was exposed to a lot of different food cultures as a kid though I was weirdly picky. I hated mashed potatoes but I loved kim chee. Hated fish, loved escargot. I said I was weird, don't judge me. My mom is a great cook but I definitely don't have any "passed down from grandma" types of recipes. Both my grandmothers were horrible cooks. I mean really, truly bad. I give my mom a lot of credit for knowing that string beans are not actually supposed to be gray. In real life I'm a film/TV editor which just might be the most fun job in the world. Occasionally it can be the most annoying job in the world which is why I really appreciate it when I get to take a break and do my other favorite things which is cook, take photographs and write.