New York – Buceo 95, A Touch of Spain Between Broadway and Amsterdam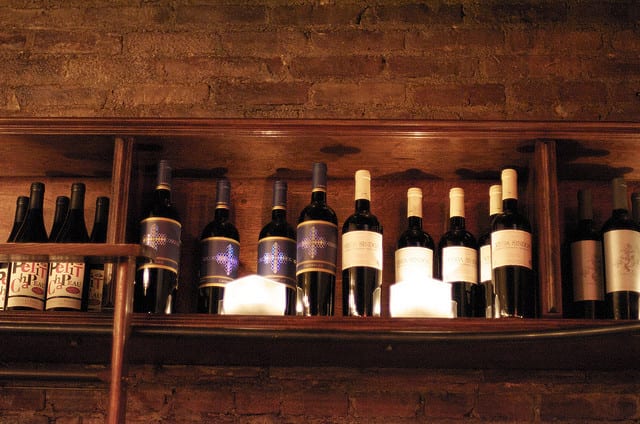 Buceo serves wine and light mediterranean fare in a small, dark, and sophisticated setting. High tables with wooden-backed barstools and votive candles fill a room centered around a bar.
By Maeve Gately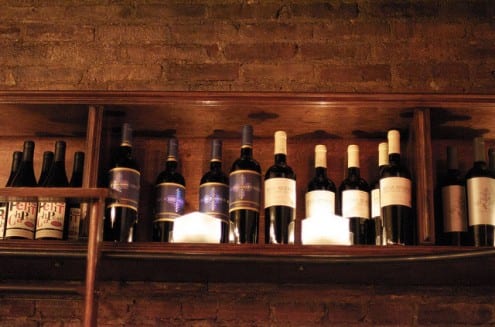 If each cuisine could have a personality, if French were aloof and sophisticated, American, young and hearty, Japanese, exotic and creative, then Tapas would most certainly take the role of the sexiest food. Small plates, often grilled, spiced, and reminiscent of the sun-soaked mediterranean, Tapas are fun to share, and bring a lightness to the meal that formal courses lack. In my opinion, there is no better place for this type of social eating than Buceo 95, an Upper West Side tapas bar on 95th street between Broadway and Amsterdam.
Buceo serves wine and light mediterranean fare in a small, dark, and sophisticated setting. High tables with wooden-backed barstools and votive candles fill a room centered around a bar. A border of  red wooden bookshelves filled with bottles of wine and more candles lines the top of the room. I have eaten there three times now, in midsummer, early fall, and most recently last week, and the eclectic Spanish have combined to make it my favorite Upper West Side locale.
Last week I came to Buceo 95 with two friends I was treating to dinner as a thank them for sheltering me during Hurricane Sandy, when most of downtown Manhattan was out of power. We started off with glasses of cava, fresh and dry, the perfect compliment to the varying flavors of our meal, and continued to sip the sparkling wine as the night went on. Our first tapas were the Piquillos Rellenos, sweet roasted red peppers wrapped around young manchego, smooth and silky with a satisfying bite, which we followed with the roasted brussels sprouts, charred and served with anjou pears, pomegranate, creme fraiche, and thyme, and the grilled asparagus with alioli.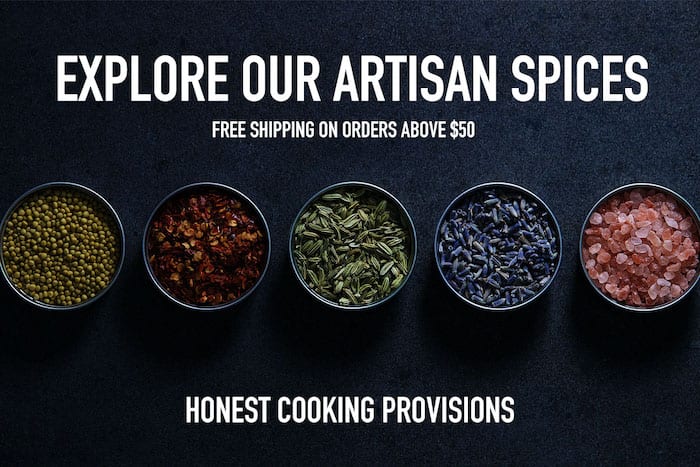 From there we progressed on to the skirt steak with cava onion marmelade and salsa verde, which was flavorful and tender but not quite as hot as I would have liked, and a cod special, which was crisp and topped with a paprika cream sauce. All of Buceo's meat is organic and local, an important concern for one of my friends who is avoiding factory-farmed meat. My favorite dish of the night was a tossup between the bacon-wrapped dates stuffed with a goat cheese emulsion, which contain in each crunchy, soft bite the perfect balance of savory and sweet, and the lamb chops, grilled with roasted fennel and a mint-anise cream.
The food at Buceo is inventive and satisfying, and the small portions of tapas fare allow you to sample a wide array of dishes throughout the meal. By the time we left, some three hours after arriving, filled to the brim with cava and tapas, no singular taste stood out in my mind. Instead, the hours of sampling, comparing tastes, sipping wine, and conversing combined to make our evening memorable, and the cab ride back downtown was filled with laughter and a Mediterranean warmth that for those brief hours made the chill of a Manhattan November seem far away.
Bueco 95
WEBSITE
201 West 95th Street New York, NY 10025
(212) 662-7010
Maeve Gately
Maeve Gately is a writer and gluten-free foodie living in New York City, where she recently moved after graduating from college upstate. By day she works at a photography magazine, and by night pursues the city's best flour-less chocolate cake. She has a passion for sparkling wine, eggs benedict, and the oxford comma. Follow her attempts to read a 4,000 page novel in the year following her college graduation at The Proust Book Club.