In just over a year, Mardi and co-founder Rebecka have turned their amateur culinary ambition into one of Brooklyn's most celebrated supper clubs.
By Carly DeFilippo – Photos by Corry Arnold & Bethany Pickard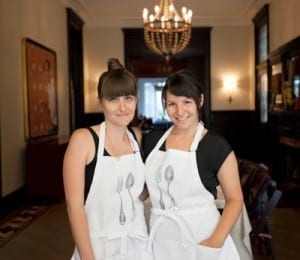 In just over a year, Mardi and her
Brooklyn Fork and Spoon
co-founder, Rebecka, have turned their amateur culinary ambition into one of the borough's most celebrated supper clubs. I was lucky enough to attend their Greatest Hits Supper at a historic mansion in Clinton Hill, where I sampled some of the duo's best dishes to date.
How did Brooklyn Fork and Spoon get its start?
Rebecka and I met through mutual friends and have always shared a love for cooking. Rebecka chronicles her delicious baked goods on her blog, and I have documented my passion for cooking for the past 2-3 years as well. With her sweet tooth and my love of all things savory, we always thought that it would be fun to collaborate on something.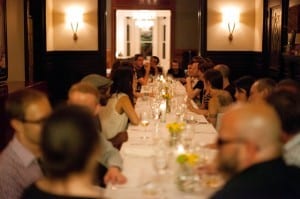 We discovered the supper club scene through a friend's site, Underground Dining NYC, and thought the concept was a perfect opportunity to join forces. But when we attempted to check out a few supper clubs ourselves, our RSVP's were often met with "sold out" emails (I now understand why). So we decided to just go for it. We organized a test run for ten of our friends, traded free dinners for website design, and crossed our fingers. Our friends provided us with some great feedback, and with a few tweaks, we announced our first supper to the public. Now, about a year and a half later, we just hosted our Greatest Hits Supper and met our 200th new face.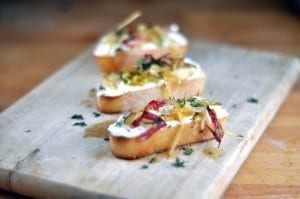 How do you think BK Fork and Spoon fits into or is different from the supper club "craze" of the past few years?
Many guests have commented that they enjoy our laid-back atmosphere, in comparison to other supper clubs they've attended, which we attribute to the crowds we attract. We also want to make our dinners affordable, despite our often high food and drink costs, so we suggest a $40 donation. The vegetarian aspect also attracts many people (even the carnivores!). Most people find us through word of mouth – previous guests or local press.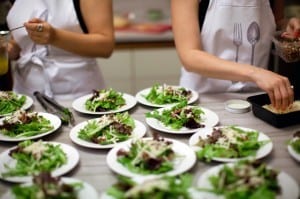 Is there an overall philosophy or style of cooking that you subscribe to?
Rebecka and I aren't vegetarians, but we both eat mostly plant-based diets. (That said, neither of us will hesitate to indulge in a cheeseburger when the craving strikes.) We're also both huge cheese fiends. I actually don't like using the word vegetarian to describe our supper club because I tend to associate the word with a lot of fake meat and soy products, which is not the kind of food we prepare.
At Brooklyn Fork and Spoon, I want to share my love for vegetables, grains and legumes and to show people how a meal can be incredibly satisfying without leaving you in a "food coma" (something that many guests have commented on and which brings a big smile to my face). I prepare all of the appetizers and main courses and Rebecka creates all of the desserts, fresh-baked bread or focaccia. We have very different cooking styles, but the meals always seem to fuse together nicely.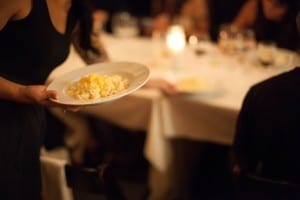 What do you wish you knew before starting your supper club?
That cooking a family-style dinner for a large group of friends is quite different from plating each dish in a restaurant format. In the beginning, sometimes timing between courses was a bit off, but it's a great new skill that both of us have since learned.
I also wish I knew that hosting a singles supper would not be as easy as it sounds. The RSVP's came pouring in from the ladies, but the guys proved to be shy, or just uninterested in an evening of food, wine and single ladies (what gives, fellas?). In the end, we reeled in some dudes, and – while there seemed to be more business networking than romantic connections – the evening proved to be a really fun experience.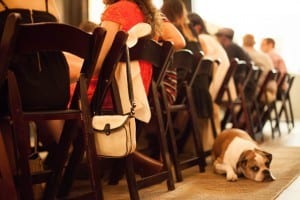 What has been the most interesting or unexpected aspect of running BK Fork and Spoon?
I would have to say the fact that we've had an overwhelmingly positive response to our dinners. We set out to do this for fun, but, before we knew it, we were being listed in Brooklyn Magazine's "Top 20 Things to Do in Brooklyn This Summer".  We now sell out suppers in minutes, and we couldn't be more grateful.
Any anecdotes from dinners gone-wrong or almost-gone-wrong?
At one of our very first suppers, one guest arrived with a less than happy look on his face. We thought he was going to ruin the entire evening, but, by the end of the night, he became the life of the party and even started a little dance party. If there's one thing we've learned over the past year, it's to keep the wine flowing. After a glass or two, the quiet ones start to open up, great conversations ensue, and new friendships are formed.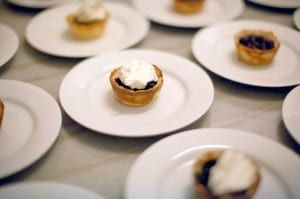 Advice for those who would like to start a supper club?
You have to love cooking and more importantly, love cooking for other people. Rebecka and I keep going simply because of our love for it. We find inspiration in meeting new people and watching new relationships form at our dinner table over a meal that we have put our all into.
What's next?
Once the cooler days kick in, we'd love to look into having a few outdoor suppers. We've done a few themed suppers (vegan, gluten-free, breakfast for dinner) and we look forward to throwing in some new twists. We'd also love to start doing some cheese and wine pairings, or perhaps some classes. If anyone is interested in collaborating or offering up their outdoor space to us, don't be shy!
Any preferred shops/markets that you source from?
We're lucky to have a great market down the street from us with tons of local produce and quinoa pasta (which I always cook with), so I often pick up much of our food from there. When I'm on the hunt for something more unusual, I'll bike over to the Greenmarket in McCarrenPark. I was desperate for red scallions for our last supper and, sure enough, I found them there.
When you do eat out, what are some of your favorite local restaurants?
One of my favorite little spots is a place in Greenpoint called EAT. It's a very small space that serves the most delicious, fresh and simple seasonal dishes. Of all the places I've eaten, it reminds me most of the foods we prepare at Brooklyn Fork and Spoon. Another favorite in Greenpoint is Calyer. Their poached parsnips with smoky yogurt and savory granola is one of the most unique and incredible plates I've ever come across.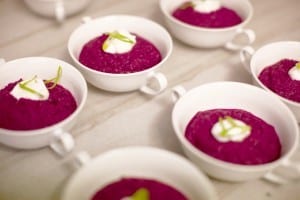 Mardi was also generous enough to share her recipe for my favorite dish that evening, a beet purée that had even the beet-haters swooning.

This vibrant, savory purée will make a beet-lover out of just about anyone.
Recipe Type:
Appetiser, Side
Ingredients
2 medium red beets
1 scallion, chopped
1 one-inch by two-inch piece of ginger, chopped
½ cup of vegetable broth
2 oz goat cheese
2 tsp olive oil
Salt to taste
Greek yogurt (to top the purée)
Instructions
Slice ends off of beets and wrap them individually in tinfoil.
Place on a baking sheet in the oven for 40 minutes at 400 degrees.
Remove the beets from the oven, peel off the skin and slice into small pieces. Let cool for a few minutes.
Add beets to food processor along with ginger, vegetable broth, olive oil and scallions. Blend until well pureed.
Add the goat cheese and salt. Blend again.
Pour mixture into bowls and top with a dollop of greek yogurt, a few extra scallions and a sprinkle of cracked pepper.
Serve warm. Enjoy!