Pam Kanavos visits Sportello, one of Boston's most talked about Italian restaurants.
Text And Photo By Pam Kanavos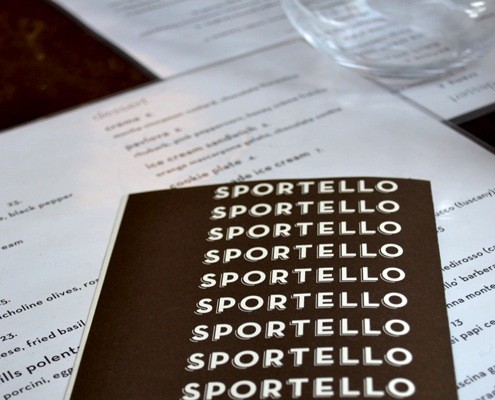 Sportello (Italian for counter service) is one of Boston's most "in vogue" restaurants, a modern interpretation of the classic dinner, and by no means a case of style over substance.
Chef Barbra Lynch's love of Italian fare is every bit casual, lively, Italian-spirited and beautifully composed, as is the dining room itself. Flavor's from capers and caraway, to Calabrian chili and fennel, infuse dishes with layers of complexity, such as spicy tomato soup served with caraway grilled cheese and fennel salad served with mozzarella, almonds and a pomegranate vinaigrette. Her most popular dishes (and my personal favorites) include the homemade tagliatelle with sauce Bolognese and fried basil and, the homemade potato gnocchi with mushroom ragout, peas, and cream. Meat dishes are also greatly executed, such as the rich, tender, pork osso buco served with white beans, artichoke mostarda and jus.
Sharing is caring; therefore, you are encouraged to share half plates of the available pasta dishes and further indulge your taste buds. The thoughtful, thoroughly Italian wine list and spirited service aids and abets you all the way to dessert, where temptation lies in the form of the deeply mocha cinnamon custard, chocolate florentine called crema and an impressive ice cream sandwich served with mascarpone orange gelato and chewy chocolate cookie.
Beware though, on your way out, or rather on your "roll" out, you will face a fantastic bakery display of Nutella banana cupcakes and peanut butter chocolate crispy bars… and unfortunately, for those skinny jeans you were planning on wearing the next day, these sweets were as phenomenally satisfying as their salty aforementioned counterparts.
SPORTELLO
www.sportelloboston.com
348 Congress Street
Boston, MA 02210-1236
(617) 737-1234
Pam Kanavos
Pam Kanavos is a Boston-based food blogger and Pastry Chef. Her Greek heritage has not only shaped her cooking, but also vastly contributed to her culinary personality. Being a lover of all things sweet and savory, Pam cooks, bakes, tastes, and luckily shares her recipes on her blog Sucrée....