The capital of Sudtirol, Bolzano is a great destination for delicious Italian cuisine.
By Kathy Bechtel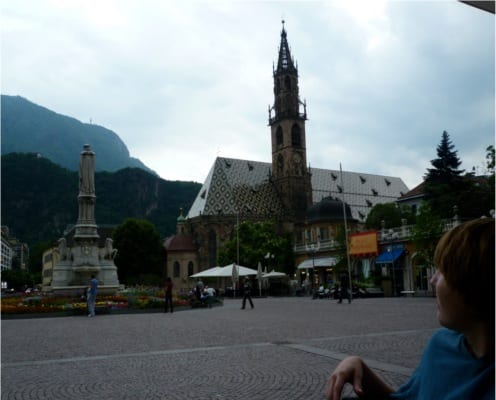 Bolzano, Italy is the capital of Sudtirol, in the Alto Adige region of Northeastern Italy. It's an easy destination to get to, with it's own airport, or a few short hours from Venice to the south, or Innsbruck, Austria and Munich, Germany to the north. It's ideal location in the heart of the magnificent Dolomite mountains make it a perfect base for an Italy ski holiday or summer bike tour.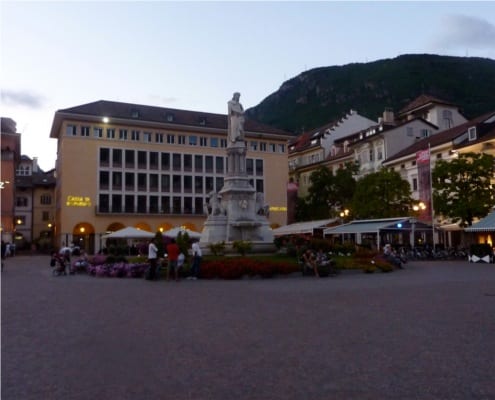 Bolzano is small and welcoming, with most of the main attractions within a short of walk. Originally a Roman settlement, immigrants arrived from Bavaria to the north after the fall of the Roman Empire, and it has been settled by German populations since then. Before World War 1, Bolzano was part of the Austro-Hungarian county of Tyrol, and became part of Italy at the end of this war. This cultural heritage is still prevalent throughout the region, from its bilingual street signs and town names, to its foods of wurst and spaetzle, to wines such as Vernatsch (Schiava) and Blauburgunder (Pinot Noir).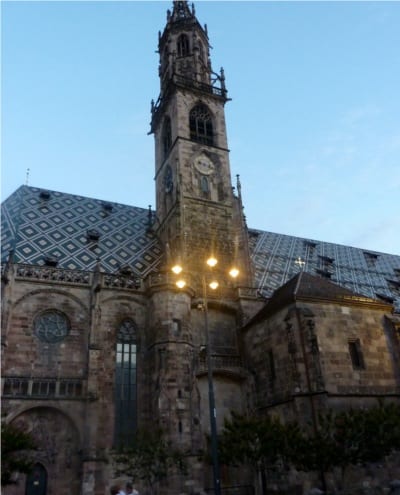 A great place to start in Bolzano is at Piazza Walthur. There, you can sit at any one of a number of cafes, enjoying a prosecco, people-watching and soaking up your surroundings – steep hills that tower over the city, and the majestic Duomo, with it's campanile dating from the 16th century. Don't overlook the small wine 'door', decorated with details of grapes and vines. Historically, the church once had the exclusive right to sell wine from this doorway.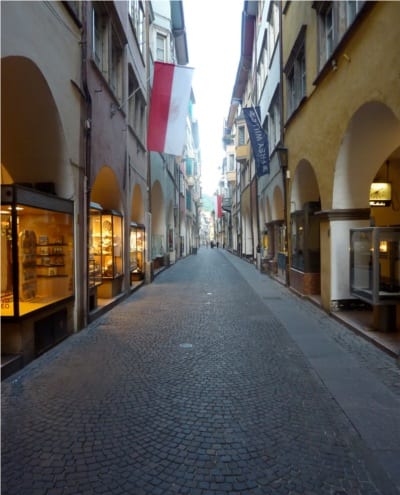 When you are ready for a bit of shopping, you can find a wide variety of shops from local handicrafts to designer clothing, all along the porticoed streets. These covered walkways make shopping a pleasant experience rain, shine, or snow. Several of the these streets end at Piazza delle Erbe, the central market of Bolzano. As a chef and insatiable foodie, this is my favorite place to shop, where I can loose myself exploring the fresh produce, local salumi and cured meats, and speciality cheeses. All of this beautiful food makes me hungry, but fortunately there are a couple of wonderful restaurants right here on the Piazza.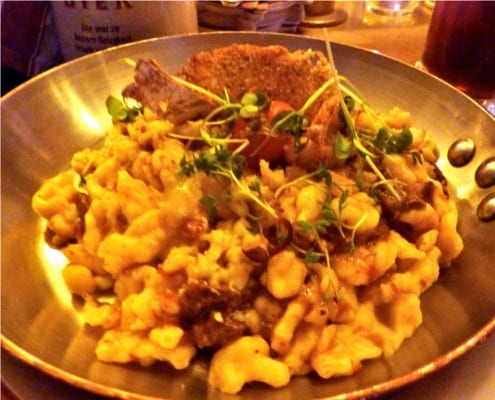 Hopfen & Co. is a what we in the US might call a brew pub. It offers an nice selection of local foods, accompanied by their homemade Bozner bier. The first floor consists of a couple of small rooms, the first one dominated by their large bar. During the warmer months, you will see most of the action at their pleasant outdoor tables. They had a dark, lager, and weiss beers, as well as a small selection of local wines, including Lagrein, Santa Maddalena and Teroldego.
The menu included some traditional sausages, including wurstel bianchi and salsicce di noremburger, and dishes like homemade gnocchi, canderli, spaetzle, goulash, stinco di maiale (pork shank), and veal liver with rice. I very much enjoyed my spaetzle, prepared with bacon and cheese, and served in a saute pan. It was accompanied by some of the best bread I've had yet in Northern Italy; a basket of assorted lighter rye breads, one with strong caraway, another with more of whole grain texture.
Right next door is another great dining destination, Vogele. A more upscale ristorante, serving a mix of traditional fare as well as more Mediterranean dishes. Antipasti included prosciutto with melon, mozzerella with tomato and grilled zucchini, and cavatelli with octopus to mixed grilled meats with sauerkraut and potatoes. Also on the menu, a variety of canderli with sauerkraut, ravioli stuffed with fish served with a prosecco crema, and tagliatelle with fresh local mushrooms.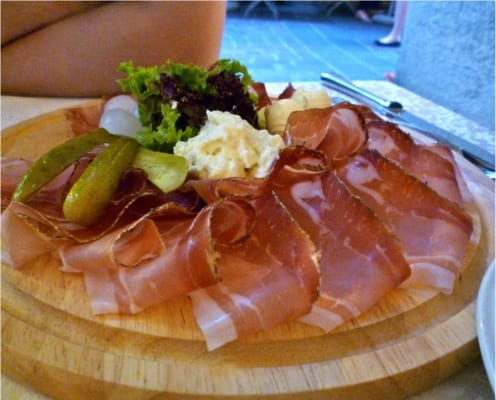 During my last visit, we began with a beautiful platter of the local cured ham, speck – a smoked prosciutto, served with horseradish, butter, and pickled onion. We enjoyed a sampler of canederli, a rounded dumpling made from stale bread crumbs and flavored many different ways. Our sampler included a beautiful beet canederli, served with a tangy horseradish sauce, a mushroom dumpling with a ragu, and a very typical spinach canederli served in a brown butter sauce. Other favorites included goulash with canderli with speck, a veal cutlet with oven fries, and a grilled orato, a white fish native to the Adriatic.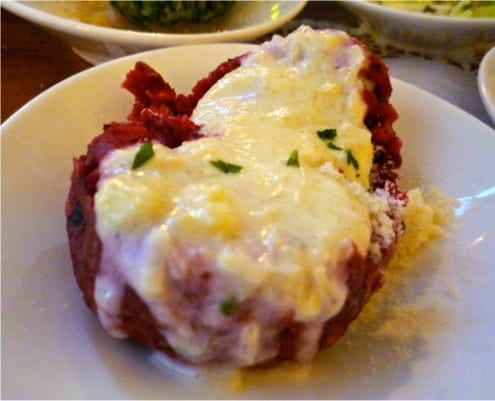 While in Bolzano, take advantage of its long history as a wine town, and visit a few local spots to try the region's specialties. One spot in Bolzano proper is Cantina Convento Muri-Gries, This facility that houses this winery and convent dates back as far as the 11th century, when the Earl of Bolzano built a stronghold in an old 'chellar' (or cellar) to protect himself from the Bishops of Trento. In the 1400s, the then ruler of Tyrol, Earl Leopold, gave the estate to a group of monks, who had lost their monastery due to a flood. The facility has been a monastery ever since, being taken over by Benedectine monks from Muri in the Swiss Alps in 1845.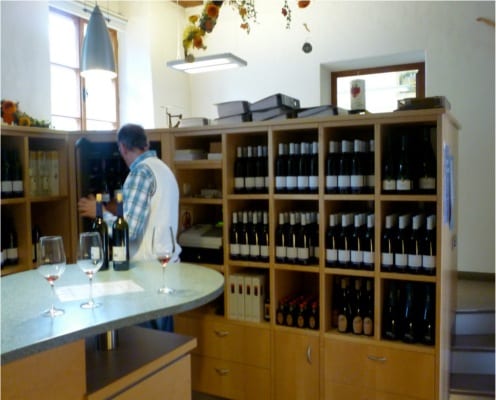 The Benedictines are a pretty serious bunch when it comes to their wines, and as the monastery entered the 20th century, there was a rededication to the production of quality wines. They started exporting their wines to the German speaking countries to the north, focusing on local varietals and styles like St. Magdalener, Malvasia, Lagrein, Kretzer and Gewurztraminer. Stop by their little tasting room to sample a few, and purchase some bottles for back home, as they are difficult to come by here in the US.
Kathy Bechtel
Kathy Bechtel's obsession with food and cooking began as a teenager. After years following a traditional career path as a telecommunications engineer, she left to attend culinary school and wine training, and is now combining her passions for food and wine, the outdoors, and travel as owner and Culinary Tour Director of Italiaoutdoors. In this role, Kathy leads small bicycle, skiing and walking tours that explore the authentic regional cuisines, local products and undiscovered wines of Northeastern Italy.