PARTNER POST: We've teamed up with Bonne Maman to bring you the best homemade breakfast and brunch recipes to show Mom you care this Mother's Day and all spring long.
Sweet, fruity, cheesy blintzes are a great morning treat for the Mom in your life on Mother's Day. But let's face it, they're equally awesome as a weekend splurge you can make for yourself!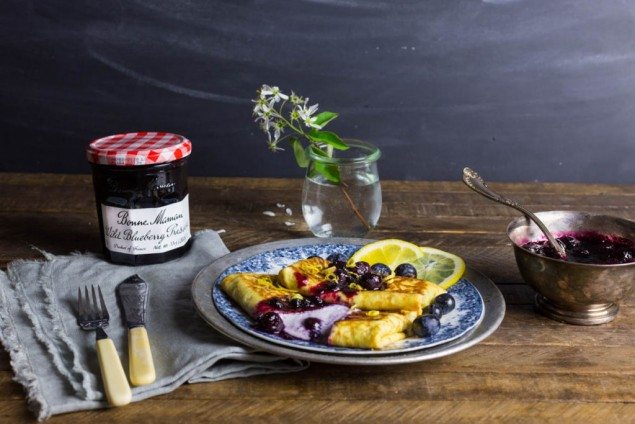 During the week, we never have time to indulge in anything luxurious – it's grab-a-slice-of-toast, open-a-yogurt, pour-a-quick-coffee time. So the weekend is when we really get to enjoy ourselves. And when it's a special weekend like Mother's Day, we really feel like going for the luxury option. These blintzes … well, let's just say, if they were on the breakfast-in-bed menu at a classy hotel, I would not look at anything else. No, not the pancakes. No, not the eggs benedict. Well, maybe the eggs benedict, but I'd ALSO order a round of these blintzes. But here's the thing – I've never seen them on a hotel menu, and maybe I'm going to the wrong hotels. but that's all by-the-by because I'm making them at home now. And yes, they are as good as they look.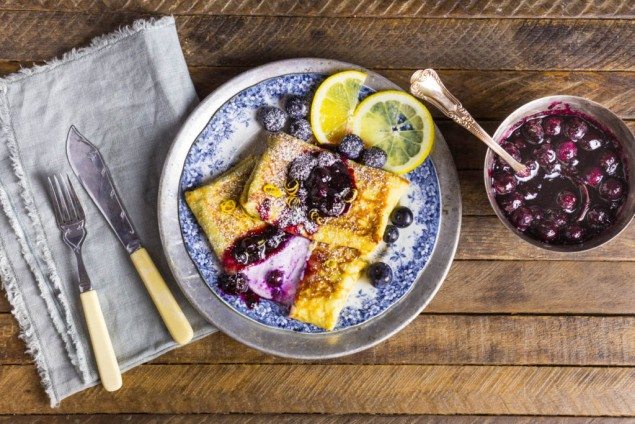 Blintzes, if you're unfamiliar with them, are basically filled crepes. They're eastern European in origin (blintz is the yiddish name for them). They're usually filled with a lightly sweetened combination of farmer's cheese, cottage cheese or ricotta, paired with a fruit topping. Here we've doubled up the fruit – mixing a little of the blueberry preserves in the blintz filling itself, and then also using it as a base of a delicious sauce.
Now, I know you're expecting this next part. This is a sponsored post, so you're just waiting for me to tell you what brand of fruit preserves we used and why we love it so much, right? Well, here's the thing. First, we only take sponsored posts from brands that we already use in the kitchen. But second, and this is 100% true, we actually only ever buy Bonne Maman jam and preserves. If you need proof, you can come to our house and I will show you the shelves of Bonne Maman jars re-purposed as storage containers. So. Much. Gingham. So yes, they're kindly paying the bills for this post, but we would have used their product anyway.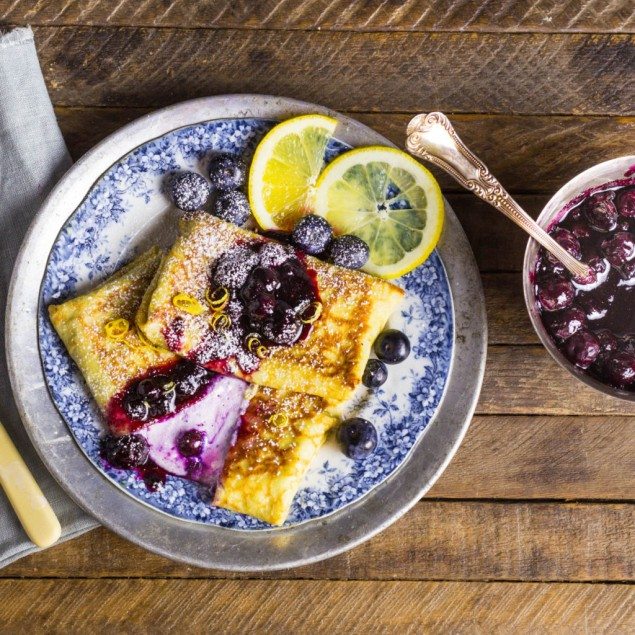 So for this recipe we wanted to use blueberries, which we both love and just happen to be in peak season right around Mother's Day. As soon as we tasted the Wild Blueberry Preserves, we knew it would make a delicious warm sauce to spoon over the blintzes. And it could not be easier, we just heated the preserves up with a few fresh blueberries, letting the blueberries warm up and soften a bit, then we added a little lemon juice and zest, and boom, heavenly blueberry syrup. Not for nothing, this syrup would be killer on pancakes or waffles, drizzled over vanilla ice cream, or even in a cocktail. Oh man, that is so happening this summer.
Alright, let's talk about the crepes. If you're at all intimidated, don't be. They're way easier than you might think. You mix together (preferably use a blender) all the crepe ingredients, just until the mixture is free of lumps, and then leave it to sit in the refrigerator for at least an hour. (This step makes the finished crepes more tender.)
To cook the crepes, we used a 10-inch non-stick pan, and found that a scant 1/3 cup of batter was perfect (if your pan is 8-inches, you'll need more like 1/4 cup. Either size pan works fine). You want a thin layer of batter that just coats the bottom of the pan when you swirl it around.
Once the batter is in it takes just a minute or so to cook the first side until it's just golden brown. Then flip and gently cook the other side for just another minute or so. Quick tip: We found the best tool for flipping these is a fish spatula (I seriously love these things). The thin edge slides under the crepe easily, without mashing it. Yes, you have to be careful using metal with non-stick pans but just be gentle and and all will be okay. Don't worry about browning them at this point because they get cooked again once they're filled (and they'll get crisp and golden brown, promise).
Make ahead opportunity #1: Once the crepes are cooked, you can stack them directly onto a plate as you go, they won't stick together. And once cooled, you can cover the plate with plastic wrap and stick the whole thing in the fridge. Then you can fill them whenever you're ready.
Okay, onto the filling which is the real star of the show. We used a mixture of whole-milk ricotta and cream cheese, because we love that creamy, sweet consistency. You can substitute cottage cheese for the ricotta, and can use mascarpone or creme fraiche instead of cream cheese. These are really adaptable. Adding egg yolks not only makes the filling a little richer, but it also helps it set just a little bit so it becomes almost like a warm, delicate pudding.
So once the crepes and filling are made, it's time to assemble the blintzes. Spoon about 1/4 cup of the cheese filling onto the lower third of the crepe, leaving a bit of space on the edges to fold. Fold the bottom edge up to cover the filling, fold the sides in, and then flip the whole thing over to seal the package, almost like a burrito.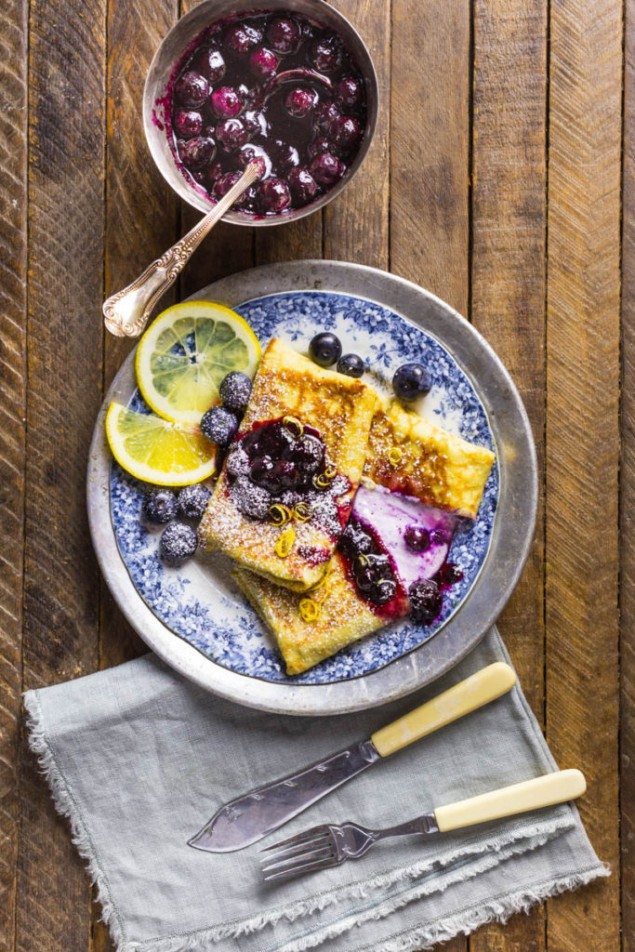 Make ahead opportunity #2: At this stage the blintzes can be refrigerated (up to 2 days) or frozen (up to a couple of months). If freezing, lay them flat, seam-side down in a ziplock bag, with parchment or wax paper between them. When ready to cook, let them defrost overnight in the refrigerator before you fry them.
Once the blintzes are filled, all that's left is to heat up a pan with a little butter, and fry them for just a few minutes each side, until they turn crisp and golden brown. Then plate, top with the sauce and serve!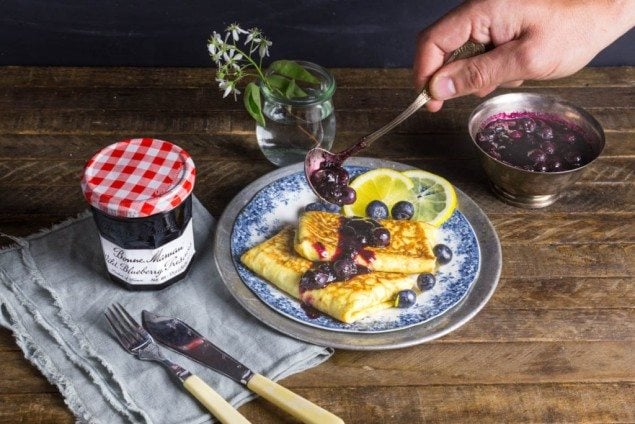 Bonne Maman is giving away a gorgeous 12-piece set of Le Creuset cookware plus many other goodies (over 1,000 prizes!) on their website. Click below to enter! Who doesn't love beautiful cookware?!
For another recipe idea, check out these strawberry muffins.
Click here for the written recipe.
Print
Blueberry and Cheese Blintzes
Sweet, fruity, cheesy blintzes are a great morning treat for the Mom in your life on Mother's Day. But let's face it, they're equally awesome as a weekend splurge you can make for yourself!
Author:

Emily Clifton

Prep Time:

1 hour 30 minutes

Cook Time:

20 minutes

Total Time:

1 hour 50 minutes

Yield:

10

-

12

servings

1

x
Category:

Breakfast
Wild Blueberry Syrup:
½ cup

6oz / 170g Bonne Maman Wild Blueberry Preserves

1 teaspoon

finely grated lemon zest

½ cup

3oz / 85g fresh blueberries

2 teaspoons

10ml lemon juice
Crêpes:
4 tablespoons

60g unsalted butter, melted and cooled slightly, plus more for brushing pan

1 cup

240ml whole or

2

% milk

4

large eggs (room temperature)

1 cup

120g all-purpose flour

¼ teaspoon

1.5g kosher salt
Cheese Filling
2 cups

17oz / 500g whole milk ricotta (or cottage cheese)

½ cup

4oz / 115g mascarpone or softened cream cheese

1 tablespoon

16g granulated sugar

2 tablespoons

40g Bonne Maman Wild Blueberry Preserves

½ teaspoon

2.5ml vanilla extract

½ teaspoon

finely grated lemon zest

2

large egg yolks
Instructions
Make Wild Blueberry Syrup:
Add preserves, zest and blueberries to a small saucepan set over medium heat. Bring to a simmer and cook until blueberries soften, 4 minutes. Remove from heat, stir in lemon juice and set aside.
Make crêpe batter:
Combine crêpe ingredients in a blender and blend on medium speed for 15 seconds, until the batter is smooth and lump-free (you can also do this with a whisk). Refrigerate the batter for 1 hour to let it rest. (Letting the batter rest gives the crêpes a better, softer texture).
Cook crêpes:
Heat a 10-inch non-stick skillet or crêpe pan over medium heat. Once heated, brush pan lightly with melted butter or oil. If batter has gotten too thick to pour easily while in the fridge, you can add an additional tablespoon or two of milk or water to thin it. Pour a scant ? cup batter into pan, just enough that it coats the bottom in an even layer when you swirl it around. Let cook, undisturbed, until the crêpe becomes a pale golden color underneath or at the edges. (It will brown more later)
Flip and cook on the other side for another 20-30 seconds, then slide onto a plate to cool. Repeat with remaining batter, brushing the skillet very lightly with additional oil or butter as needed. You can stack the crêpes on top of each other even when they're hot, they won't stick together.
Crepes can be made up to 2 days ahead. Cover the plate with plastic wrap and refrigerate, if not using immediately).
Make filling and fill wrappers: In a medium bowl, whisk all filling ingredients together until smooth. Spoon ¼ cup of the filling along the lower third of the crepe, leaving an inch on either side free. Fold the bottom edge over to just cover the filling; then fold the 2 sides in to the center. Roll the crepe again to make a package, ending with the seam side down, forming a burrito-shape.
Filled blintzes can be refrigerated for up to 2 days or frozen between layers of parchment or waxed paper for up to 2 months.
Crisp the blintzes:
Heat a little butter over medium heat in a skillet until it stops foaming. Add blintzes to pan seam-side down (don't crowd pan, cook in batches) and fry blintz until golden brown. Gently flip and brown the other side. Transfer to a plate and drizzle with Wild Blueberry Syrup and fresh blueberries, if desired.
Emily Clifton
I love to cook and learn about food. I was born and raised in New York City and I was exposed to a lot of different food cultures as a kid though I was weirdly picky. I hated mashed potatoes but I loved kim chee. Hated fish, loved escargot. I said I was weird, don't judge me. My mom is a great cook but I definitely don't have any "passed down from grandma" types of recipes. Both my grandmothers were horrible cooks. I mean really, truly bad. I give my mom a lot of credit for knowing that string beans are not actually supposed to be gray. In real life I'm a film/TV editor which just might be the most fun job in the world. Occasionally it can be the most annoying job in the world which is why I really appreciate it when I get to take a break and do my other favorite things which is cook, take photographs and write.