The Bloomfield Bridge Tavern houses some of the cheapest beer, tastiest kielbasa and nicest bartenders Rebecca Orchant has ever encountered.
By Rebecca Orchant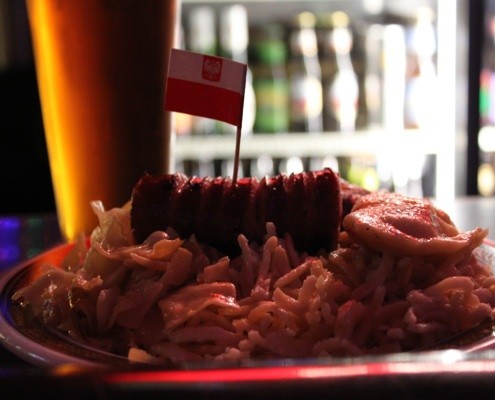 To be honest, Pittsburgh is just never a place I thought I'd go. I've never lacked wanderlust, but western Pennsylvania never really drew me in before. When some friends mentioned they had a wedding to attend in the Steel City and were looking for road-trip buddies, my Sidekick and I  volunteered, not so sure of what we'd find. I can tell you now, I'm glad I went and recommend that you do as well. Either by accident or on purpose.
After a few hours of fairly strenuous record shopping at Jerry's (basically one of the lost wonders of the world), we needed some serious sustenance in the land of the sandwich. We got a recommendation from a friend to seek out the Bloomfield Bridge Tavern for cold beers and excellent Polish food. Those are not two things you need to tell me twice about.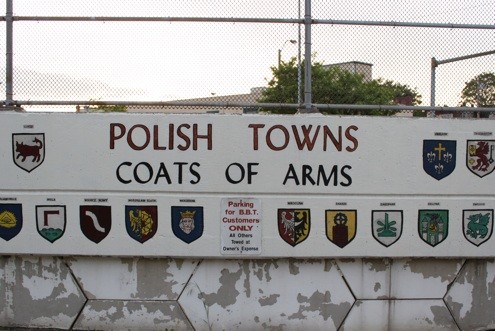 This place is quite literally under the Bloomfield Bridge, forcing you to hook a mean right immediately after the exit ramp and then figure out the back-road neighborhood maze that leads to their parking lot. It's confusing, it's nerve-wracking, there will probably be roadies shouting colorful things at each other as they load the evening's band's equipment onto the stage: it's worth persevering. Because here's the thing, like a lot of Pittsburgh itself, what looks a little rough around the edges on the outside turns out to be one of the most welcoming places ever on the inside.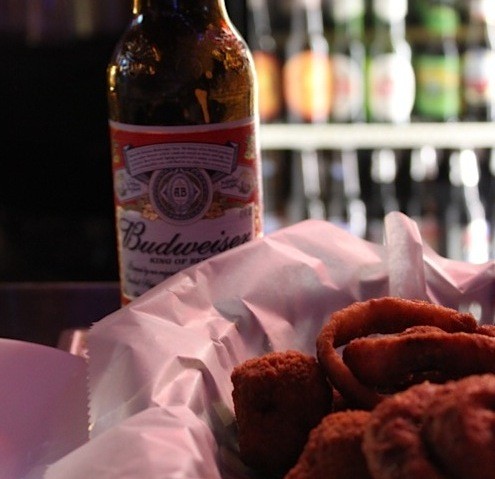 Oh, and there are pretty glorious onion rings, which we sampled along with fried mushrooms. Everything is cheap, greasy in the best way and totally satisfying. After the fry basket, we moved on to the "Red" Platter: the best kielbasa I've ever had, next to a pierogi and a bundle of stuffed cabbage all set atop buttery noodles and MORE cabbage. The staff is friendly, talkative and quick to let you taste a beer if you've never had it – which is fairly likely since they have a couple Pennsylvania locals on draft.  I wish the BBT could be my local and will now divert any road trip I can through the City of Bridges.
On weekend nights they have live bands and rumor has it that bottled beers are $1.10 on Thursday night. One dollar. Ten cents. People, I can't say enough good things about this Polish Party House. Enjoy!
Bloomfield Bridge Tavern
4412 Liberty Avenue
Pittsburgh, PA 15224-1564
(412) 682-8611
www.bloomfieldbridgetavern.com
Rebecca Orchant
Rebecca Orchant is a New Mexican ex-pat living in Brooklyn. She likes onions and pickles more than most people, stops in every diner that crosses her path and has been known to indulge in a cocktail or two. You can find more vinegar, whiskey and butter-soaked tales on her blog, Chronicles of a Stomach Grumble.