At Honest Cooking, we love streetfood from all corners of the globe, so naturally we applaud the opening of L.A.'s first curry wurst shop.
Text And Photo By Charles G. Thompson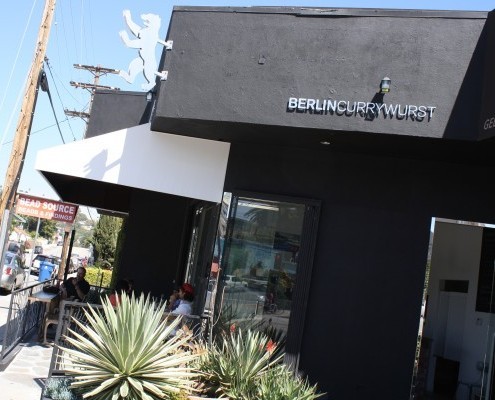 A new kind of sausage has arrived to Los Angeles: Berlin-style currywurst.  Something new, something oh-so-different to the always evolving culinary scene in Los Angeles.  Currywurst is German street food that has been around for at least sixty years.  Considered the number one street food in Germany, currywurst vendors can be found on street corners throughout the country, and most definitely in Berlin.  As Los Angeles has the bacon-wrapped hot dog vendors waiting outside bars and nightclubs to feed hungry late night hipsters, Berlin has its currywurst stands.  Many of which have become neighborhood meeting points.
Such is the case with Berlin Currywurst located in the Silver Lake neighborhood of Los Angeles.  Not a food stand but a brick and mortar shop; small in size with a few tables outside, it is sandwiched between an artisan gelato shop and a bead store.  The food is simple yet immensely satisfying.  Big on flavor, it's a mix-and-match menu.  The reason it's called currywurst is due to the red curry flavored tomato sauce that each plate of wursts is served under.  Pick your wurst (brat, bock, rinds and so on), pick your level of heat for the sauce (1 to 4), add a flavoring (garlic, chipotle, jambalaya), and fritten (French fries) if you wish, and you're set.  If beef, veal and pork are not in your diet they offer chicken and tofu wursts.  Each plate of sausages is served with German farmers bread.  Berlin Currywurst uses all-natural meat, the made-on-the-premises sauce contains organic ingredients only, and the fries are made with hand cut, organic potatoes.
Opened in February 2011 by husband and wife team Lena and Hardeep Manak along with partner Haike Buentemeyer, Berlin Currywurst already has a dedicated following.  A recent lunch of Paprikawurst (all natural pork with paprika and garlic), heat level 1, garlic flavoring, and fritten with onions was so satisfying that I can't wait to go again.
Berlin Currywurst
3827 W. Sunset Blvd.
Los Angeles, California, 90026
Phone: 323-663-1989
www.berlincurrywurst.com