SPONSORED POST: From Dijon Originale mustard to Cornichons, Maille has a rich heritage starting in 1747 that honors tradition. Check out these easy recipes that pack great flavor, thanks to Maille. BONUS: Maille is giving away a one year's supply of their delicious products! Be sure to enter below.
A healthy, vegetable-based dish perfect for the winter season. Farro, roasted beets and goat cheese are the major players, but it's really the Dijon Balsamic Vinaigrette that brings this recipe over the top.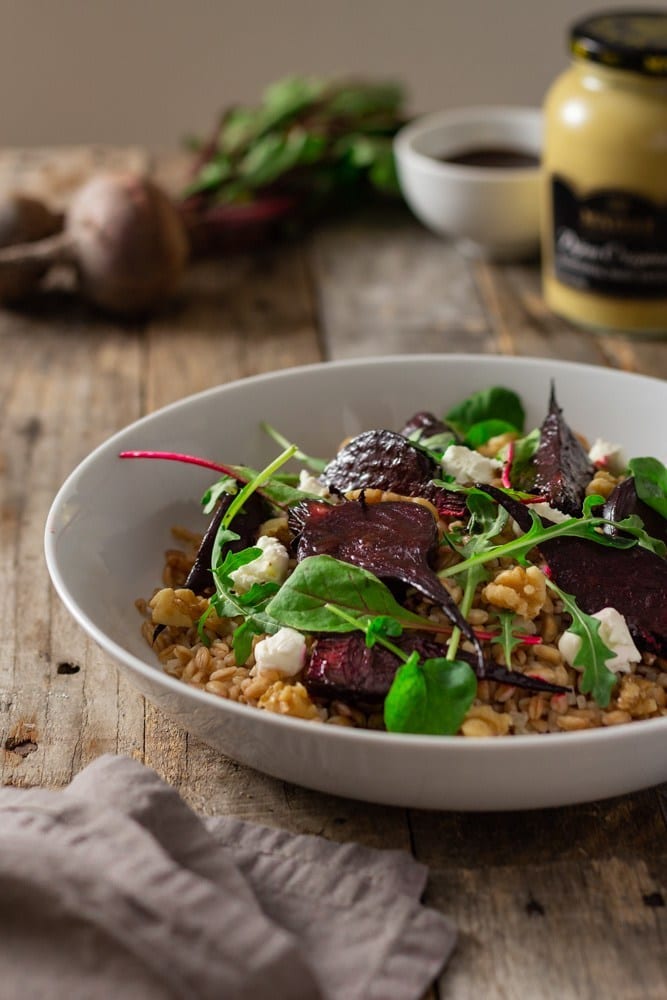 Year's Supply of Maille Giveaway!

Maille is a brand I've been using for years. If I'm suggesting that you use a certain product, it's because I really love it. The first mustard I've ever purchased from them was their Maille Old Style Mustard. This is actually a delicious whole grain mustard, which can really transform your meal from ordinary to something special.
I feel exactly the same way about Maille Dijon Originale in this recipe. Their classic Dijon is so flavorful and perfectly acidic and spicy.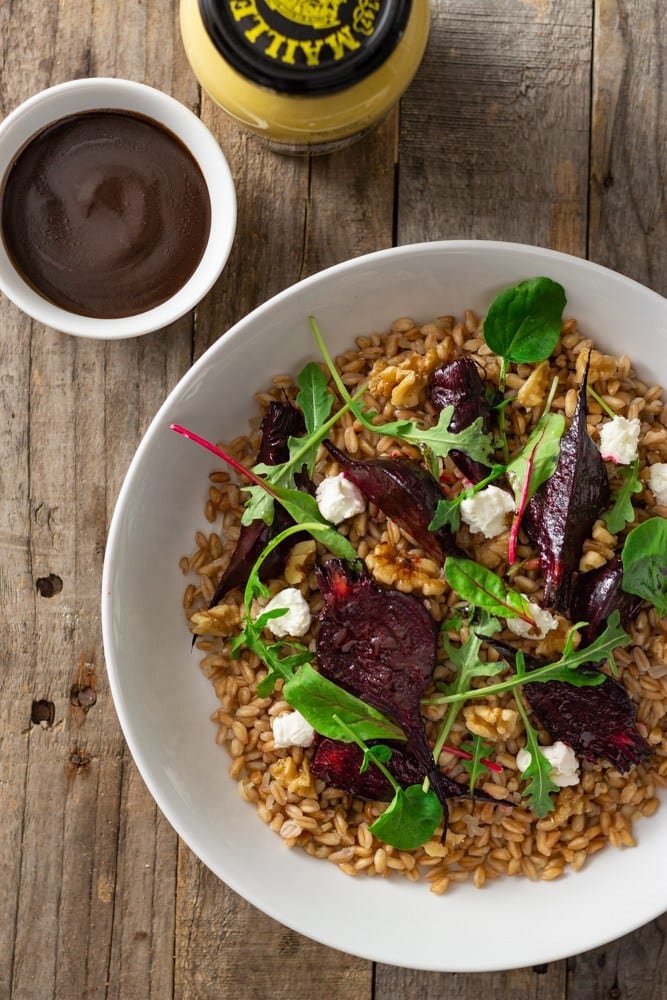 Let me tell you a little more about this recipe. If you're not familiar with farro, it's a type of wheat which is commonly prepared in Italy. I've been seeing it more and more throughout the years, and it's even available in a 10-minute cooking variety at my local store. It tastes similar to barley and has a hearty, slightly chewy texture. It's great in soups, risottos or simply boiled and sautéed with shallots as I prepared it here.
Beets and Goat Cheese are such a classic combination, which goes really well with the nutty farro. Walnuts add another nutty flavor, as well as, great crunch. Mixed greens add a little more bulk and texture to this dish. You can certainly call this a salad and serve the farro and beets slightly warm, or at room temperature, as I prefer.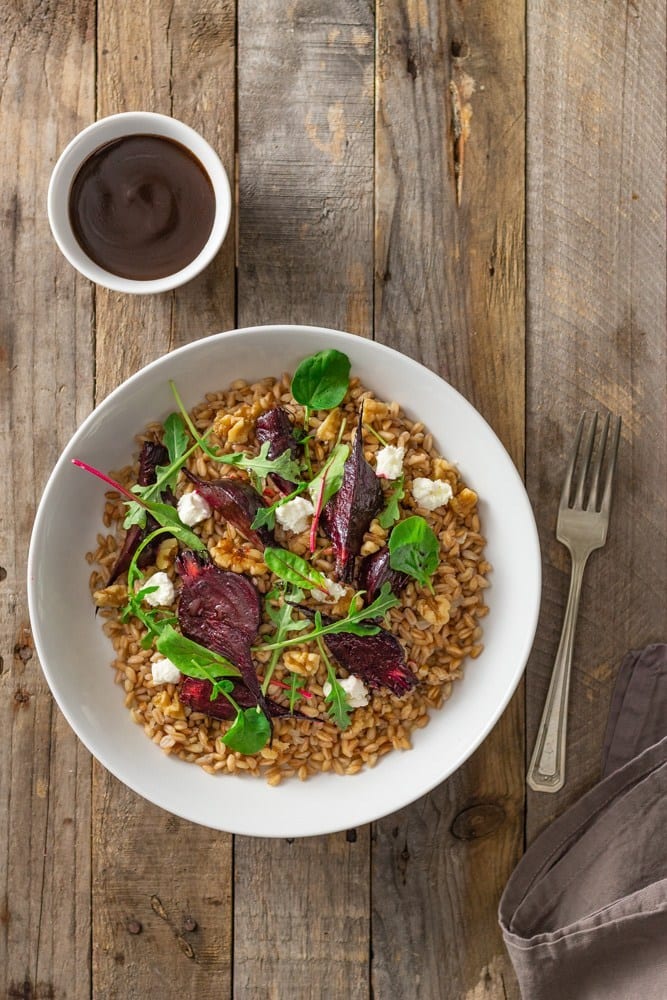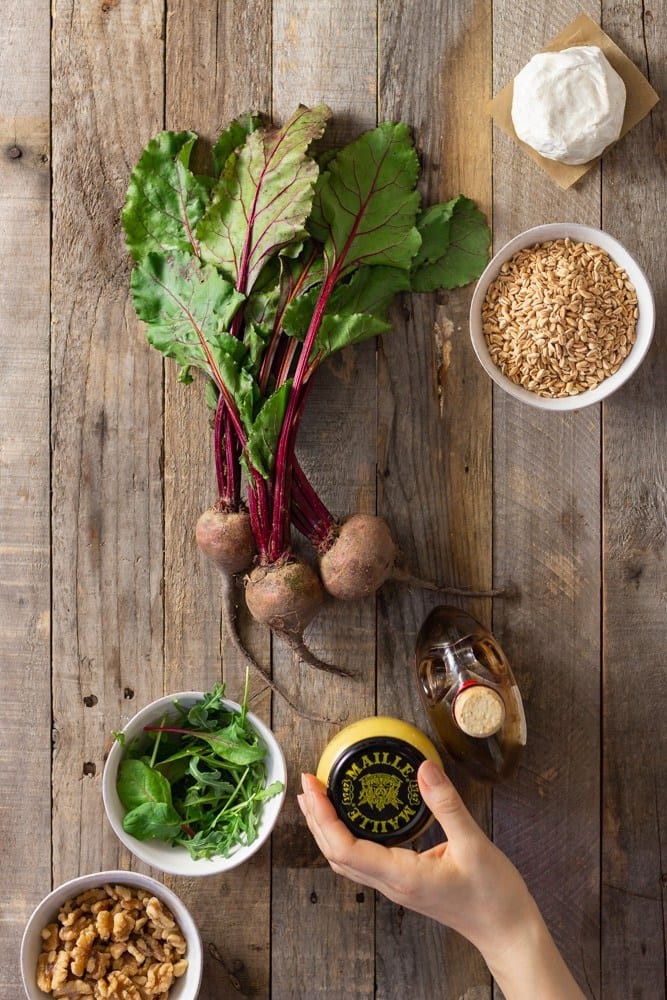 Now, let's talk more about the dressing. This dish would be nothing without it. Maille Dijon Originale spices up a simple balsamic vinaigrette and brings it to another level. That extra zing compliments the sweet beets and nutty farro extremely well. Did I mention how easy it is to make this recipe? The cooking method is super simple here, and you can bring this dish to the table in about an hour. Hope you give my Farro, Beets and Goat Cheese with Dijon Balsamic Vinaigrette a try!
One last thing to mention is that Maille is hosting a giveaway! Enter above and make sure you check out their products in your local grocery store. Best of luck!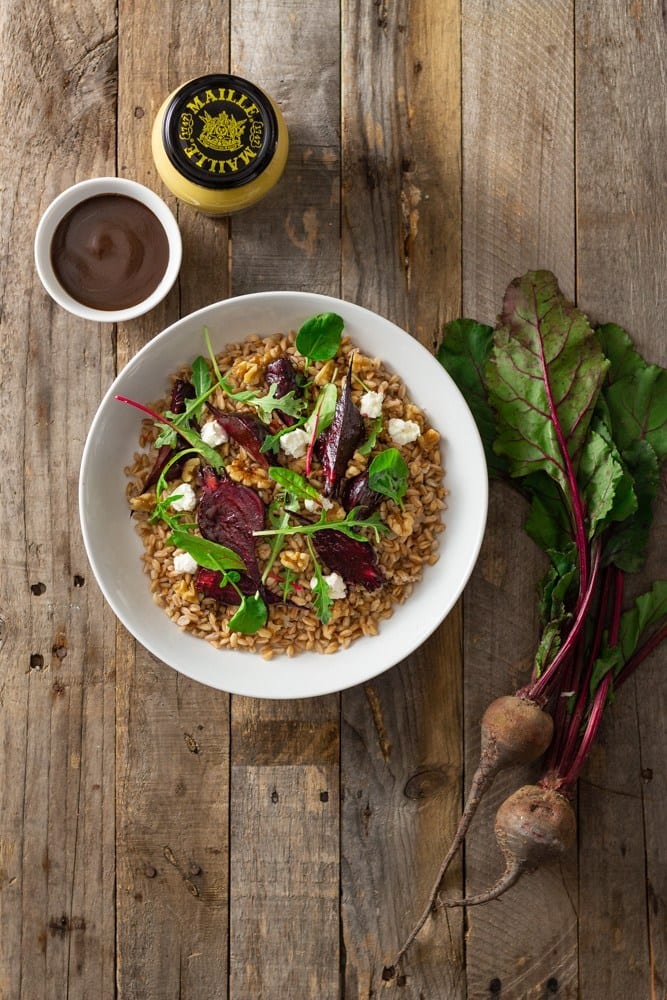 Goat Cheese and Beet Farro with Dijon-Balsamic Vinaigrette
Ingredients
1 ½ cups farro
6 medium red beets (or 12 baby beets), greens removed
1 tbsp extra virgin olive oil
1 shallot, finely chopped
Salt, as needed
Vinaigrette:
½ cup extra virgin olive oil
3 tbsp balsamic vinegar
1 tbsp Maille Dijon Originale
Salt, as needed
Toppings:
½ cup mixed greens (such as baby arugula, baby chard & watercress)
2oz fresh goat cheese, crumbled
¼ cup toasted walnuts, roughly chopped
Instructions
Preheat oven to 400F. Wrap beets individually in foil and place on baking sheet. Bake about 40-50 minutes, or until tender. Baby beets will cook in approximately 25-30 minutes. If beets are cooked through, knife will easily slide in and out when inserted.
Allow beets to cool slightly. Peel off skin and cut into halves or wedges.
While beets cook, bring a medium pot of water to a boil. Add farro and cook according to package directions or until tender with a slight bite. Drain.
While farro cooks, warm a small pan over medium heat. Add one tablespoon of olive oil, followed by the chopped shallot. Season with salt. Cook about 4-5 minutes or until tender and translucent. Stir in cooked farro and season with salt. Remove from heat and cool to room temperature.
In a small bowl, whisk together vinegar and Maille Dijon Originale. Slowly incorporate olive oil while constantly whisking. Season with salt to taste.
Toss beets in half of the vinaigrette. Reserve remaining half for topping. Allow beets to cool to room temperature while marinating in dressing.
Place farro into serving bowls. Top with marinated beets, mixed greens, goat cheese and walnuts. Top with additional dressing, as desired.