Baked – A Unique Neighborhood Bakery in Red Hook, Brooklyn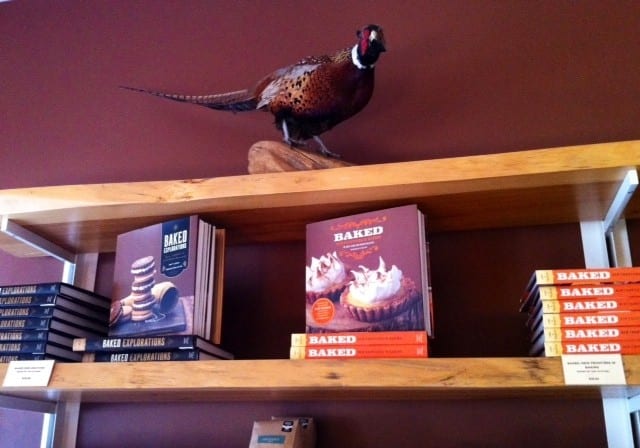 Sprinkled along Van Brunt Street, Red Hook, are a variety of hip restaurants, art galleries and Baked – a unique neighborhood bakery.
By Nanette McLain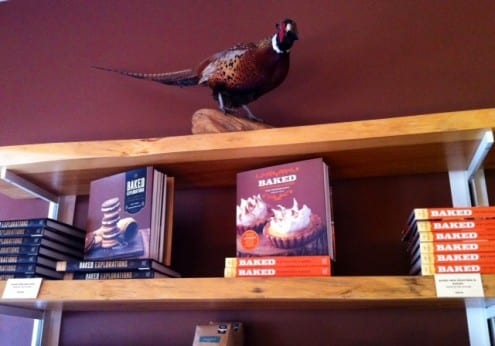 The Brooklyn neighborhood of Red Hook is located near an old industrial waterfront.  It is a short trip from Manhattan via a water taxi ride from Pier 11.  On a hot day the cool ride across the water, which offers an exceptional view of the Statue of Liberty, is refreshing.  The cobbled streets, the mix of urban and rural and a fabulous view of the water and Southern tip of Manhattan create a peaceful day and a wonderful staycation in Red Hook.  Van Brunt Street is a main thoroughfare in Red Hook.  Sprinkled along the street are a variety of hip restaurants, a growing number of art galleries and Baked – a unique neighborhood bakery.
Antler shaped door handles welcome me to Baked.  he décor is diverse including a mounted pheasant, an opulent chandelier and a mirror with edges shaped like regal deer.  I decide to apply all vacation rules to my Red Hook staycation.  Throwing caution to the wind I plan to enjoy as many decadent desserts as I can.  I eagerly approach the case of baked goods, and the PB Crispy Bar shines through the glass. Instead of melted marshmallow it is the caramelized rice crisp as well as the ample layer of peanut butter topped with a layer of chocolate that redefines this traditional rice crispy treat.
Next up is a monster cookie.  In a motion reminiscent of childhood the Baked staff reach into the glass cookie jar and remove the monstrous cookie that is made of a mix of peanut butter, chocolate chips, oatmeal and M&M's. The wait staff hovers near the register anticipating that my purchase is near an end, but I continue to peruse the baked goods.  I am on a staycation, and there is no limit on my purchase of baked goods.  I add a red velvet cupcake to my order.  It is placed on a woven, wooden plate.  The Baked staff drop two red hots on top of the light, buttercream frosting and place it on the countertop.  So appealing I spend more time studying the various chocolate and vanilla cupcakes behind the glass case.  With two wooden woven plates on the counter awaiting me I decide that purchasing a few cupcakes to go would also be acceptable on a staycation, a souvenir from my trip.  I order three, the malted cupcake, white cake with milk chocolate frosting topped with malt balls.  The banana cupcake, undoubtedly it would have been a favorite of Elvis, banana cake with peanut butter filing, buttercream frosting and nuts.  Lastly and always a favorite is the sweet and salty, dark chocolate cake with salty caramel frosting.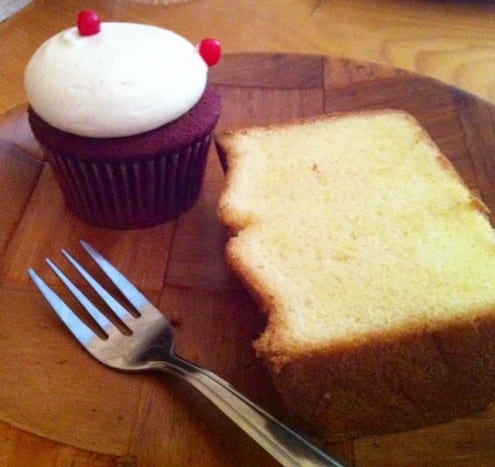 As I reach to pay I notice a neatly wrapped baked good.  Upon closer examination I see it is a nice, thick slice of lemon sponge cake.  It is unlikely I am the first customer enchanted by the small yellow cake setting on the counter top next to the register.  My internal debate is brief.  I grab a slice and place it with the rest of my purchase.  The Baked staff looks at me likely sizing up my ability to eat the feast before me.  Little do they know, this is my Red Hook staycation, and anything is possible.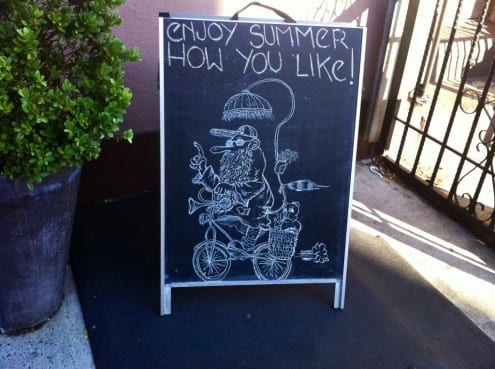 359 Van Brunt Street
Brooklyn, New York 11231
Nanette McLain
Nanette's roots are in the Midwest, but seeking adventure she left in 2005 to explore New York City eventually making it her home. Her free time is dedicated to exploring the City and the food it offers. She has a passion for something sweet recently co-authoring the travel guidebook Sisters' Guide to NYC Cupcakes.