Bagel Utopia in the East End of London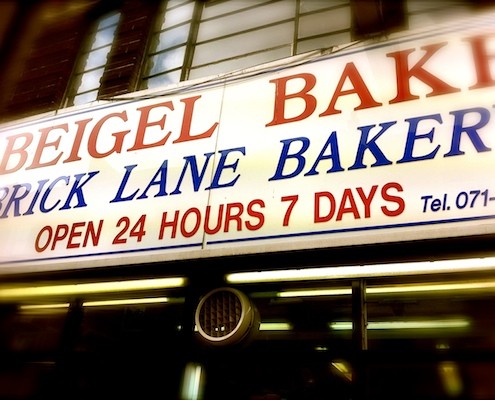 Think NYC is the only place you can get a decent bagel do you? Think again!
By Hilary Sturzaker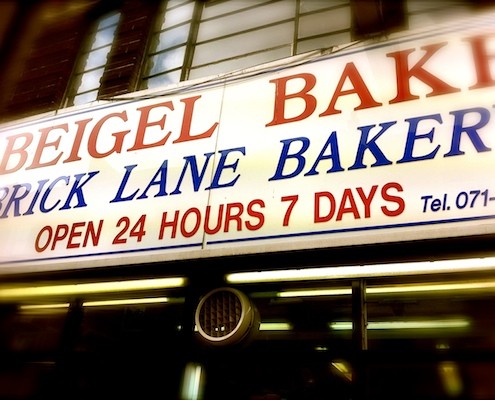 A recent article in the Guardian has inspired me to talk about bagels… or is that beigels? As regular visitors to the East End of London we always visit the Brick Lane Beigel Bake (founded over 50 years ago) for what can only be described as 'THE bagel experience'.
This isn't just about going to grab a salmon and cream cheese bagel to eat on the go, oh no, there is a lot more to bagels than that and at this hang-out you'll find out why.

This is about a constant queue 20 deep spilling out of the door, a price list made from retro magnetic letters (except these are original magnetic letters and not re-issues…), the smell of bubbling water boiling the rubbery chewy white dough, the volume of chat amongst the staff (and the customers), and it's about the limited menu.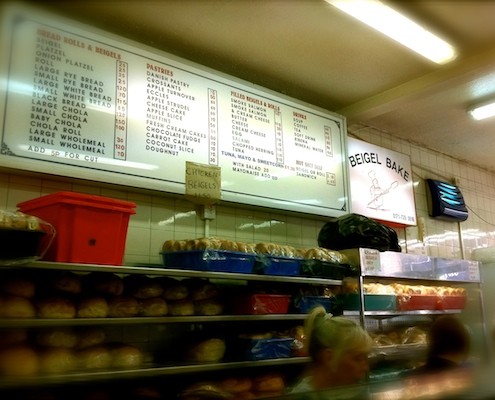 Plain bagel, bagel with cream cheese, bagel with salmon and cream cheese, bagel with egg, or bagel with salt beef and gherkins (should Selfridges food hall really bother trying to emulate this classic? In my humble opinion I think not).  This is about the crowd pleasing prices (25p for a plain bagel!), and above all this is about the buzz. This is bagel utopia, end of.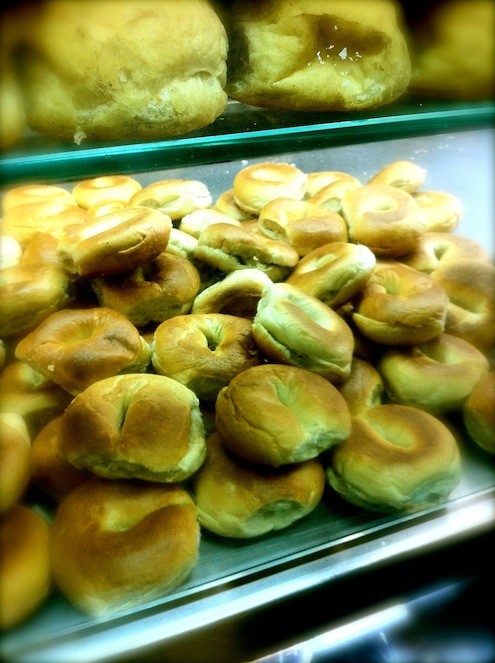 Part of the Beigel Bake's appeal for me is the limited menu. If you do what you do well then what's the point in offering more? Mr Predictable is always going to have the salt beef (he's a man after all) and I'm always going to have cream cheese, and ladies, don't even bother asking if it's low fat, you'd be laughed out the door!
This is the kind of place where being stuck in a time warp doesn't matter. They serve coffee OR tea.  Not americano's, skinny cappuccino's, flat whites with extra shots, bucket sized lattes or caramel macchiatos.  You want coffee you'll get coffee!  You want a bagel you'll get a bagel.  It's a great experience and should be on every tourist map, I love it.
So, you're all wondering where you can experience bagel utopia outside of the East End of London? You might struggle? If any of you know please contact me cos I've got a bagel habit that needs satisfying pronto.
Hilary Sturzaker
Hilary Sturzaker lives in Edinburgh, Scotland, but eats her way around the world! She is a fanatical food blogger and is passionate about eating local and supporting local producers. The exploration of underground restaurants and experiential dining are very close to her heart. You will often find her eating cake, drinking tea and talking food at her favourite local haunts in the beautiful city that is Auld Reekie.