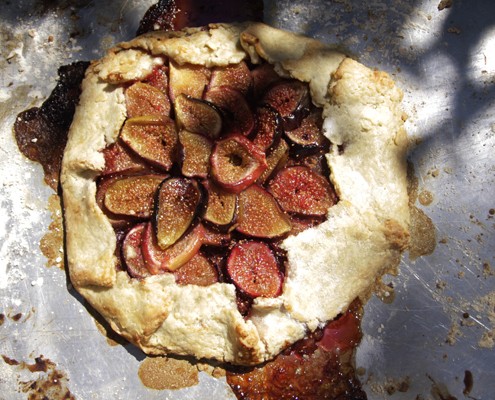 A gorgeous and delicious way to showcase summer's best figs.
By Jeanne Schwartz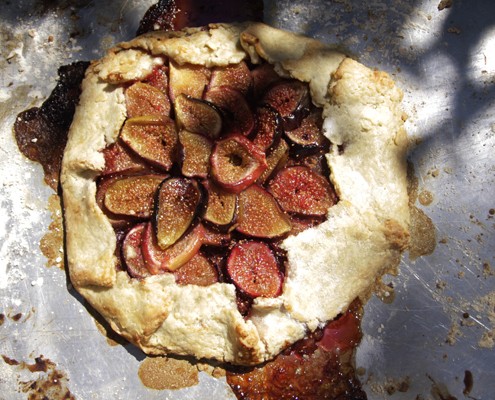 After six months in cold, rainy Berlin there's nothing like coming back to Los Angeles. Granted, our first night back the power went out and our cars weren't exactly "working," but the evening air was warm, the sky was clear blue and the fig tree was booming.
One of the most difficult things about living in Los Angeles is having all of these amazing fruits and vegetables, blooming and blossoming and begging to be made into delicious things at every turn. Lemons to be made into lemonade and oranges for ice cream, loquats for jam, and figs for…everything. I've never had figs as sweet as the ones that come from the tree in our neighbor's yard. Each one puts every other fig I've eaten anywhere in the world to shame. Sweet and warm, they practically burst in your mouth and there are more than enough to go around.
So, of course, the first thing I did upon finding my kitchen again was make this galette. Perfectly flaky but sturdy enough to hold in (most) of that juicy fig-ness, it was the perfect dessert to welcome us back home.
A gorgeous and delicious way to showcase summer's best figs.
Author:
Jeanne Schwartz via Melissa Clark for the New York Times
Ingredients
1⅓ Cup (130 grams) all-purpose flour
½ Cup (100 grams) plus 1 TBS (15 grams) sugar
½ tsp (2 grams) fine sea salt
1 large egg
Heavy Cream
6 TBS (85 grams) unsalted butter
3 Cups (about 1 pound or .45 Kilos) fresh figs
¼ Cup (2 oz) lemon juice
1½ TBS (22 grams) cornstarch
Instructions
For the Crust:
In a food processor or with a pastry blender, mix together flour, 1 TBS sugar and ½ tsp salt.
In a measuring cup, lightly beat the egg and add just enough cream to bring the total amount of liquid in the cup to ⅓ C or about 2.5 oz.
Mix egg and cream together.
Cut butter into very small pieces and add to the flour mixture.
Pulse together in food processor or mix with pastry blender until mixture resembles large crumbs.
Slowly add egg mixture to the dough and mix just until it starts to come together.
Place dough on counter and knead into one piece. Flatten dough into a disk, wrap in plastic and chill for several hours.
While dough is chilling, thinly slice figs and place in a bowl.
Toss figs with remaining sugar, lemon juice and cornstarch.
When dough is ready, heat the oven to 375 degrees.
Roll dough out on a baking sheet to a 12-inch round.
Place figs in center of dough, leaving at least a 1 inch border.
Fold pastry over fruit, pleating as you go along.
Brush pastry with cream, sprinkle with sugar and bake until crust is golden (about 35 minutes).
Jeanne Schwartz
Jeanne is a drifting food blogger originally from New York and currently based in Berlin, Germany and Los Angeles, CA. She is passionate about cooking with real foods and exploring other food cultures both in her own kitchen and on her travels. You can read about her adventures in and out of the kitchen at her blog Drifting Kitchen.