Around the World Eating in London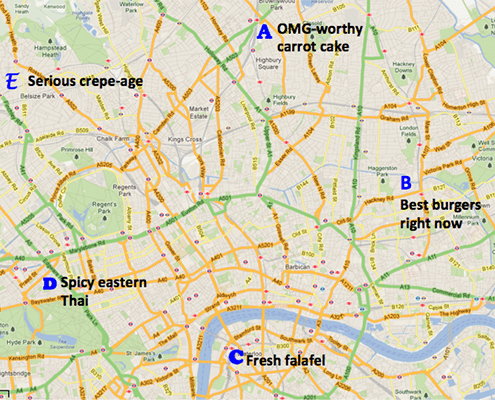 Elspeth Velten with a map of great food destinations from across the globe in London, England.
By Elspeth Velten
London does have great food. Pay no mind to those who deny this, just know where to look when you get there. As seen on the map below, my palette has no geographic bounds. If you find yourself in any of these areas, or hungry and bored (basically the story of my life,) these spots are worth-it.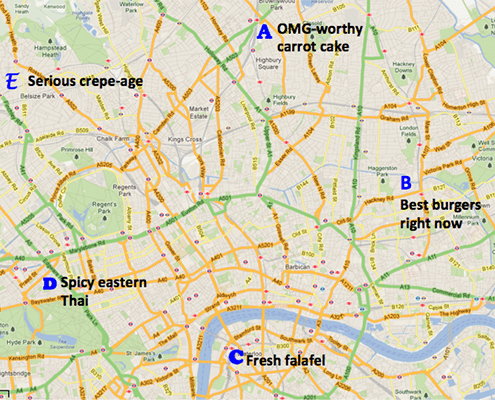 A. Good for Food Cafe, Finsbury Park: Finsbury Park is a magical land. (I don't think you'll hear many people saying that.) Dotted with kebab and bagel shops, run down pubs and workers cafes, there are few stand out storefronts that are blazing the way towards gentrification. Good for Food is located towards the top of Blackstock Road and it's a gem of a cafe. They serve all kinds of sandwiches and frittatas and things but my friend and I popped in for sweets and got cappuccinos, a slice of moist carrot cake and a dark chocolate and macadamia nut cookie. There is a small garden out back with seating, and the narrow room leading out back is currently displaying a riveting set of photos of the Roma people in Italy.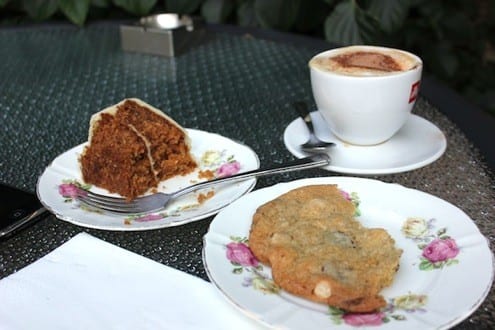 B. Lucky Chip at the Sebright Arms, Hackney: If you want a burger come here. Lucky Chip previously slung its celeb-named, generously topped and super messy burgers at the Broadway Market but have now taken over the kitchen at hipster-pub extraodinaire, the Sebright Arms. I had the el Chapo burger with roasted jalapenos, aioli and blue cheese, and my friend had the Kevin Bacon with bacon and cheddar. We weren't asked how we wanted the burgers cooked but I'd say they both came out around medium. They were really moist so it didn't much matter, even though I usually go a bit redder. There's no tube in Hackney so I really can't tell you how to get here besides be dedicated in your resolve for great burgers and figure it out. Take the overground to London Fields and walk.
C. Vegetarian Falafel at Lower Marsh Market, Waterloo: My boyfriend found this small market when he worked in the Waterloo area, and after drunkenly promising me the best falafel in London for the next day we headed here and split large one for £4. Fresh toppings included hummus, lettuce, tomato, eggplant, pickled veg and garlic sauce. The falafel were nice and light and the whole thing was really colorful.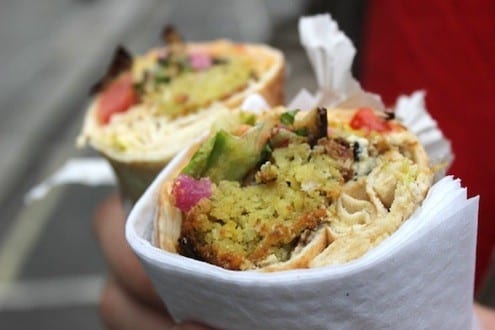 D. Thai food at The Heron, Norfolk Crescent: We were looking for Esarn Thai food in London and came across The Heron, a pub with a small karaoke room in the basement serving authentic northeastern Thai food. The room is seriously bizarre. It's dark and decorated with soccer player cutouts, flower pictures and soccer balls hanging from the ceiling. We ordered a crispy catfish salad, crispy pork, and glass noodles with prawns along with a huge bottle of water because we knew it would be super spicy. Everything was great but I especially loved the catfish. It was crumbled up and fried to a crisp, and served with a fiery chili sauce. It was easy to ignore tiny little bits of bone that popped up intermittently. The pork was positively reminiscent of the same dish at Zabb Elee in NYC.
E. La Creperie de Hampstead: I'm confident that these are some of the best crepes in the world. I mean, the best crepe stand has to be somewhere, and I think this is it. There are many options for both sweet and savory crepes. I always go savory, but you could do what my sister did back in my study abroad days and get savory and then go back 10 minutes later for sweet. She's committed to crepes, and I endorse that. I like to get spinach, egg, cheese and cream, but ham and cheese with a runny egg used to be a favorite as well. This last time I got mushrooms in the mix too but I would skip them next time because they are a bit bland. Watch the (intimidating) chef as he or she expertly spreads the crepe mix in a circle on the grill, shaves the softened white cheese and adds huge pats of butter to create a prefect golden brown crust. It's hard for me to go to Hampstead and not get one.


Good for Food Cafe: 16 Blackstock Road, Finsbury Park, London N4 2DW. 020 7503 0034
Lucky Chip at the Sebright Arms: 31-35 Coate Street, London E2 9AG. 020 7729 0937
Vegetarian Falafel: Lower Marsh Market, Waterloo SE1
The Heron: Norfolk Crescent, London W2 2DU. 020 7724 8463
La Creperie de Hampstead: 77 Hampstead High Street, London NW3 1RE. 020 7445 6767
Elspeth Velten
Elspeth is a contributing writer at Honest Cooking. She is based in New York, but her love for food and travel continues to lead to adventures all around the globe. Elspeth regularly shares her experiences on her food blog, To Stay or to Go? Her happy place is among green curries and fruit smoothies in Thailand.