Oahu: Another Award for Chef Wayne Hirabayashi at The Kahala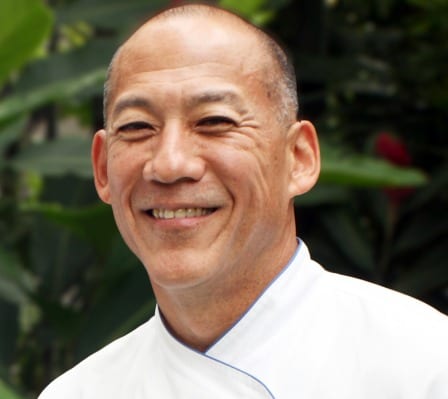 Chef Wayne Hirabayashi named Outstanding Manager of the Year in the Large Property category by the American Hotel & Lodging Association (AHLA).
By Michelle M. Winner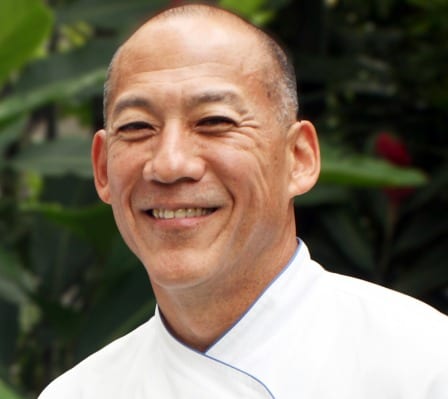 I have had a long-standing love affair with The Kahala hotel. Growing up  at the foot of Kaimanahila (Diamond Head) on Oahu, Hawaii, as children we went to the Kahala Hilton, as it was known way back in the day, for special occasion brunches. After my teen years I modeled Hawaiian fashion there at lunch. As a young adult I went to listen to a knock-out singer like Connie Kissinger with Kit Samson's trio after a special dinner date in the Maile Room. A decade ago I was married on the expansive lawn there in a relaxed an elegant "shoes-optional" party at the waters edge. An incarnation or two later and The Kahala is still evolving and now better than ever.
Especially the cuisine.
Early this summer The Kahala Executive Chef Wayne Hirabayashi was named Outstanding Manager of the Year in the Large Property category by the American Hotel & Lodging Association (AHLA) at their Stars of the Industry awards luncheon held at the Brown Palace Hotel & Spa in Denver, Colorado, June 18. Chef Hirabayashi has been the Executive Chef at The Kahala Hotel & Resort on O'ahu since April 1999 and it has been my pleasure to dine with him at one of his fabulous "Mushrooms and Montrachet" dinners he creates in fall.
In 1998 Chef Hirabayashi joined The Kahala's culinary team as the Executive Sous Chef for Hoku's, the hotel's signature fine dining restaurant. His work in the kitchen defined and shaped Hoku's award-winning culinary style with his philosophy of fresh, farm-to-table cuisine. Chef Wayne embraces sustainable food practices at the hotel through a myriad of programs, from herb gardens on property to providing food waste to local pig farmers.
Born and raised in Hawaii, Chef Hirabayashi won a scholarship to attend the prestigious Culinary Institute of America in Hyde Park, New York. From there he worked in some of the great kitchens around the world, including stints at the infamous Raffles Hotel in Singapore, Ritz-Carlton Hotels at Mauna Lani and Laguna Niguel, and at the Halekulani.
Having spent more than a decade perfecting his craft and balancing the culinary operations of the resort's four restaurants, banquet services, and 24-hour in-room dining with his imaginative fare, Chef has elevated The Kahala's restaurants to a new standard of excellence recognized by national, international travel and culinary organizations.
Always a Hawaii dining favorite, Chef Hirabayashi was also named Manager of the Year at the Na Po'e Pa'ahana Awards sponsored by the AHLA Hawaii Chapter, the Hawaii Lodging and Tourism Association. He also recently hosted a James Beard Foundation fundraising dinner at the hotel. This prestigious event brought national attention to Hawaii's food products and preparations to America's culinary community and showcased Hawaii's own homegrown chefs in a collaborative venture. The effort also resulted in the creation of a $5,000 James Beard Foundation Scholarship for a culinary student enrolled at Kapiolani Community College. This scholarship award will be presented in August 2013. In the Hawaiian tradition of giving back, Chef Hirabayashi serves his community as a culinary mentor and educator, inviting students to participate in internships, conducting cooking demonstrations and seminars at the hotel, and making special appearances on television and radio shows. As The Kahala's Acting General Manager and Landmark Hotels Group President Shawn Sweeney says, "We are especially proud of Wayne's dedication to his culinary craft and his willingness to share his hard-earned expertise with the next generation of great American chefs from Hawaii. The culinary excellence at The Kahala is the heart and soul of our resort's guest experience."
Michelle M. Winner
Michelle was born with a fork in her hand. As a culinary travel writer and confirmed foodophile she delights in the world-wide discovery of new flavor profiles, spices, salts and herbs. Based in one of the world's foodie meccas; Portland, Oregon, not far from "Pinot Noir Heaven" Michelle shares culinary travel and chef's recipes. Her photography has appeared in Saveur Magazine and she has contributed culinary travel articles to Forbes online, WSJ online, Business Insider, Condé Nast Digital Media, Islands magazine and many others. A confirmed globetrotter, she still keeps her bags packed and fork in hand (well . . . except through airport security.)