Spaghetti bolognese. Everyone's favourite and hands down one of the best 'go to' dishes when seeking real comfort. It's easy to make. Easier to devour.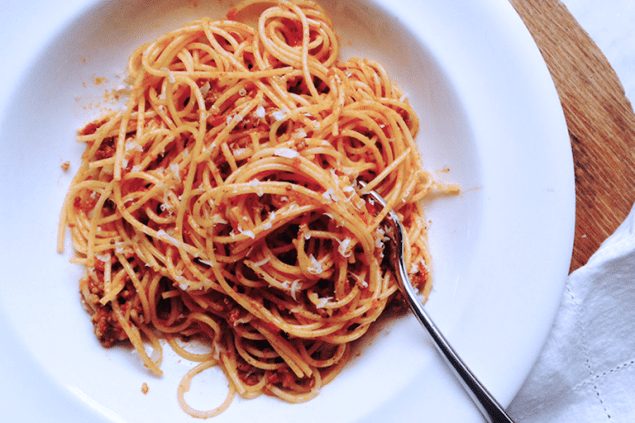 Ahhh. The old 'spag bol'. It's one of those dishes that when brought up in conversation ensues contention. Either because everyone believes theirs (or their mum's) is 'the best', or, that the totally non conventional, traditional faux-pas of an ingredient they add in (e.g soy sauce), makes it really special.
And so, we're not claiming this is THE best spaghetti bolognese, because as hilarious as the comments that might appear down below would be, we're just all for a good "bowl of the bol".
However, this recipe is a beauty, for it contains some pretty essential ingredients. For at the core, it comes down to the meat (your pick of what you use), good tomatoes, liquid, aromatics and, the key ingredient – time. Because if you give it the time it deserves, it just gets better. Ever wondered why the leftovers taste better the day after reheated? You can never have enough time.
When penning this recipe we've taken aboard the advice of three great cooks; Stephanie Alexander (she is god), Robert Carrier (his book is incredible – a must for any avid cook) and one very lovely Italian lady who instilled the basics in one of her neighbourhood pupils from an early age.

Always-Delicious Spaghetti Bolognese
Spaghetti bolognese. Everyone's favourite and hands down one of the best 'go to' dishes when seeking real comfort. Here's a recipe for one exceptionally good, long used and highly trusted one. It's easy to make. Easier to devour.
Ingredients
OLIVE OIL
PARMESAN CHEESE, GRATED
BUTTER
2 GARLIC CLOVES, FINELY DICED
2 ONIONS, FINELY DICED
2 CARROTS, PEELED AND FINELY DICED
1 CELERY STICK, FINELY DICED
1 STRIPS LEMON PEEL
2 BAY LEAVES
4 TABLESPOONS TOMATO PASTE
3 TINS TOMATOES, CRUSHED OR WHOLE
1 TEASPOON OF NUTMEG
1 TEASPOON BROWN SUGAR
1 KILOGRAM MINCED MEAT, BEEF, VEAL OR PORK, OR A MIXTURE OF YOUR PREFERENCES
1 PACKET PASTA, PREFERRED
Instructions
In a large, thick-bottomed frying pan heat a generous tablespoon of butter with three of olive oil.
Add the onion, carrot, celery and garlic, sauté over medium heat until the vegetables are soft and translucent (approximately ten minutes).
Add the mince to brown, breaking up the lumps as you stir.
Generously season the mince with salt and pepper, and the nutmeg.
Once brown add the bay leaves, lemon peel, tomato paste, brown sugar and tinned tomato. Stir to combine, cover and simmer gently for an hour.
Remove the bay leaves and lemon, taste and adjust seasoning. Continue to simmer while you cook your pasta.
Drain the pasta, reserving a little of its water, and splash of olive oil to ensure it doesn't stick together.
Fill bowls with a generous amount of pasta, several spoonfuls of sauce and a good grating of parmesan cheese. Dot with a little butter if feeling the need to indulge more.
Notes
You can add around 100 grams of finely chopped 'bacon' to the pan with the vegetables.
If you have them handy, add both a stalk of parsley, one each of oregano and thyme to the sauce while it simmers, then remove with the bay leaves and lemon.