These classic Italian cookies pair perfectly with a cup of coffee on the weekends and make a great homemade gift for the holidays.
By Robin Runner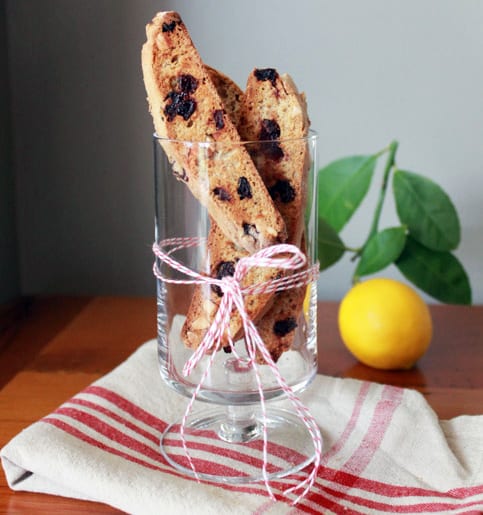 Almond, Lemon and Cherry Biscotti
These classic Italian cookies pair perfectly with a cup of coffee on the weekends and make a great homemade gift for the holidays.
Ingredients
1 cup of whole wheat flour
¾ cup of all-purpose flour
¼ cup of firmly packed light brown sugar
1 teaspoon baking powder
2 large eggs, beaten and at room temperature
¼ cup of unsweetened almond milk (or whatever milk you use in your house)
2.5 tablespoons of melted coconut oil
2 tablespoons of maple syrup
1 teaspoon of almond extract
1 cup of dried fruit (I used dried tart cherries)
½ cup of toasted, slivered almonds
Zest from one Meyer lemon (or regular lemon)
Instructions
Preheat your oven to 350 degrees. Line your baking sheet with a Silpat or parchment paper. Set aside.
Into your stand mixer, paddle attached, blend the flours, sugar and baking powder. Once combined, add the eggs, milk, oil, syrup and extract. Blend to combine but avoid over mixing. Then add the dried fruit, zest and almonds – mix this in by hand with a large spoon so to avoid breaking the nuts up into small pieces.
With floured hands, remove the dough and form it into a large egg-shape on your Silpat lined baking sheet. If you need to, dust the dough with flour to make it less sticky. Bake for about 30 minutes or until you start to see the edges turn a golden brown. Remove and let cool for about 15-20 minutes.
With a serrated knife, slice the large cookie into ½ inch slices (see photo below). Place the cut side down and bake for 10 minutes. Then flip the cookies over to toast on the other side for another 6-8 minutes. I like them really toasted and crunchy. Remove and let cool completely before serving. Store in an airtight container. Makes the perfect holiday gift too!