A Weekend of Food at the Oregon Country Fair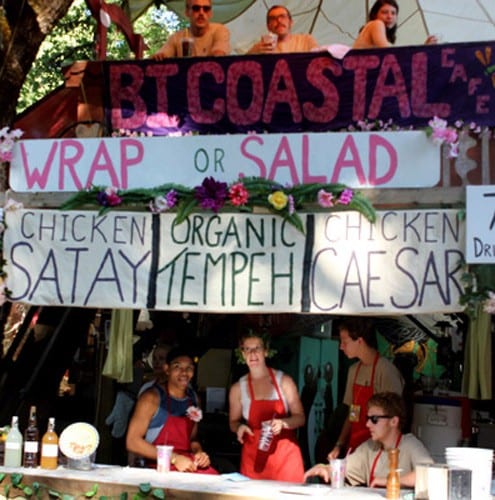 Food options at the Oregon Country Fair range from simple salads and smoothies to extravagant sandwiches and from classic Northwest-style natural foods to ethnic cuisines of almost any sort. 
By Bowen Close
Once you've somewhat wrapped your mind around this event, I want to talk about the Fair food for a bit. Ahhhhh, Country Fair food. As big a draw for me as the costumes, the music, and the general ridiculousness of the whole thing. As most festivals and fairs are, the Country Fair is packed with a huge variety of food booths and stands, the vast majority of which are full of things delicious and worth waiting for in the long lines that sneak through the Fair's paths for most of the day.  Some booths are Eugene-area regulars that show up regularly at farmers' markets, the Holiday Market, and other community events. Some are Fair-only setups, once each year. Some are outposts of classic Eugene-area restaurants and food companies, many of which serve special Fair-specific items. (For example: Springfield Creamery, maker of beloved Nancy's yogurt and a veritable culinary institution in Eugene, sells at the Fair items like ice cream, frozen yogurt, and other products they otherwise don't sell anywhere, in stores or anywhere else. Most notably, ice cream sandwiches. Delicious, delicious ice cream sandwiches. More on that later.)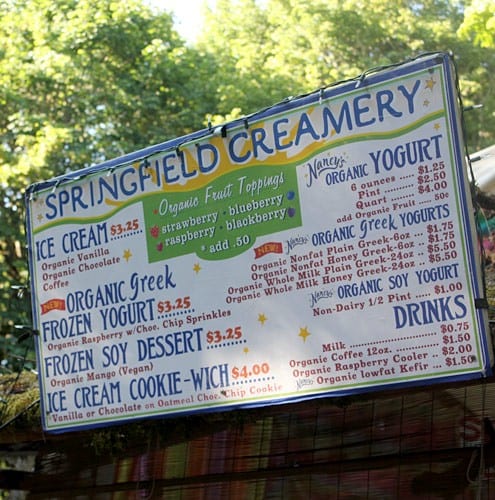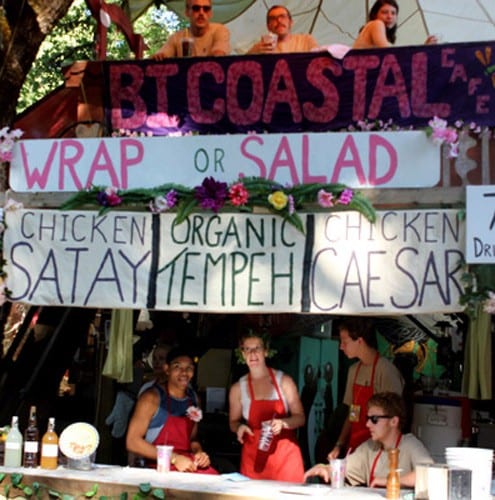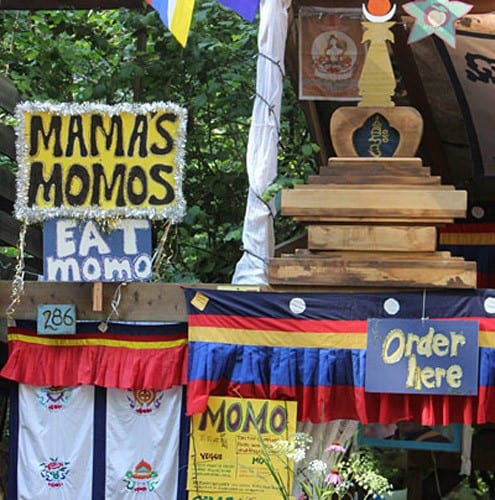 Food options range from simple salads and smoothies to extravagant sandwiches and from classic Northwest-style natural foods to ethnic cuisines of almost any sort.  As Brett and I are wont to do in almost any eating situation, we shared almost everything we ate, in this particular case to make sure we each were able to try as many things as possible.  Here's a rundown of everything we ate at the Fair (plus our own cereal for breakfasts and other food for snacks), with notes on the most spectacular:
Thursday
Frisco chicken sandwich (Fair favorite): Freshly barbecued chicken and juicy red cabbage coleslaw on a pillowy Kaiser roll. Heavenly. Always one of the longest lines at the Fair, so important to get to it before the Fair is open to the public on Friday morning.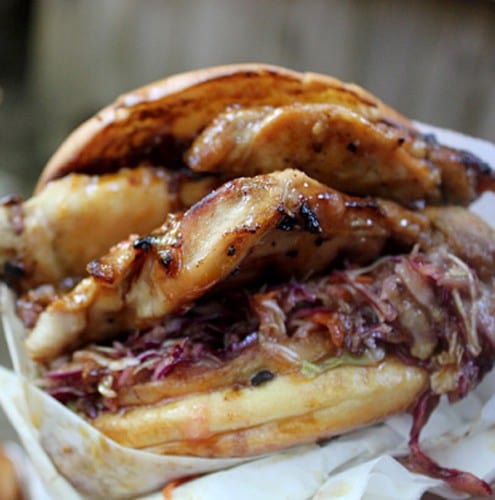 Golden Avatar thali sampler: A plate piled with palak paneer, cauliflower and eggplant pakoras, pappadum, halva, and tomato and mango chutneys. Everything but the (relatively flavorless) palak paneer was fantastic. Message to them: please don't make palak paneer unless you're comfortable with adding lots of cream and salt. There are plenty of other fantastic (and healthier) Indian food options!
Mexican place near the Sauna black bean quesadilla: Crispy tortilla, black beans, lots of cheese. Hit the spot, but otherwise unremarkable (exactly what I needed in a midnight snack). I'm sorry I don't remember the name of this place, though, because the huevos rancheros we had on Sunday morning (see below) was divine and the habanero salsa was ridiculously hot (in a good way).
Friday
Bangkok Grill pad thai with peanut sauce (Fair favorite): Or really I should say "always and forever favorite." A classic of Eugene's farmers' markets, Holiday Market, etc. Always get peanut sauce, and always add Sriracha. Huge and delicious.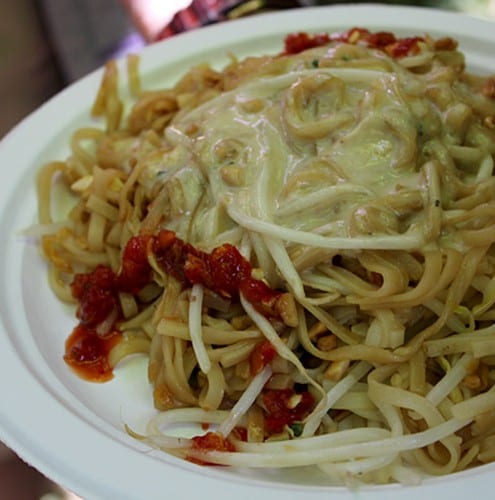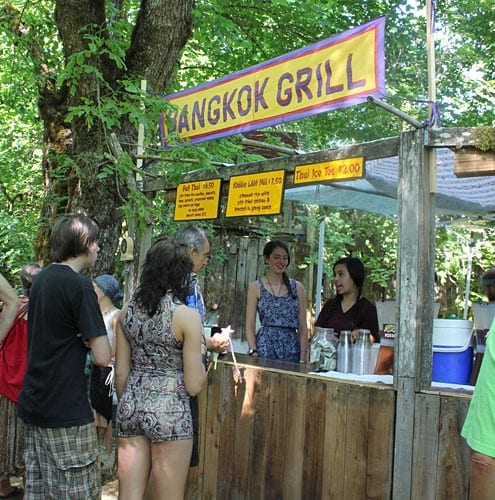 Lovin' Oven vegetable calzone: Oozy with sauce and cheese and stuffed with veggies. Small, but delicious and perfect for Second Lunch.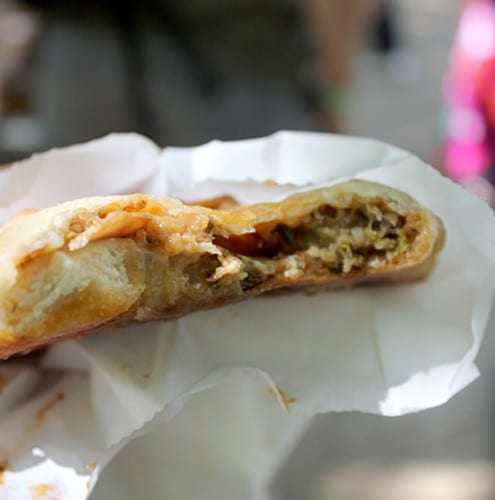 Springfield Creamery vanilla ice cream sandwich (Fair favorite): Oh, Nancy. I wish you sold your ice cream in stores. I should count my lucky stars that we're back in Nancy's territory in general, but I'm going to push my luck here.  Vanilla ice cream on an oatmeal chocolate chip Monster Cookie (another Fair vendor). Always delicious, and always rock hard (purchase approximately 15 minutes before you want to start consuming.) I wish you still had mango sorbet on ginger cookies, but this time I really am not going to push my luck.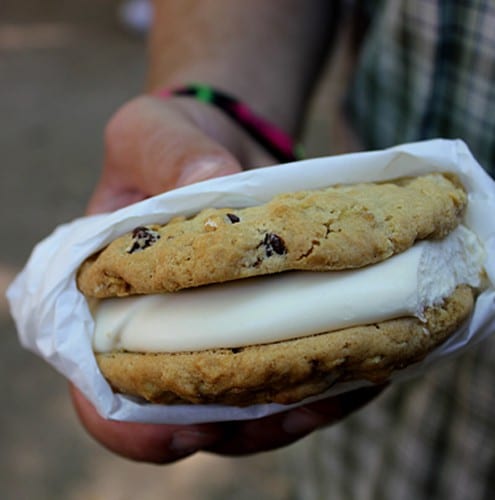 Ring of Fire peanut curry: You looked pretty promising, with your broccoli and tofu and tons of veggies. But really I just wished I had more Bangkok Grill pad thai. Sorry.
Dana's Cheesecake vanilla cheesecake: This slice of cheesecake also looked very promising, with its thick graham cracker crust and sour cream topping. (By "looked very promising" I apparently mean "looked a lot like my cheesecake, which is very obviously the height of cheesecake experience.") But it was 1) too dense, 2) too sweet, and 3) too cream cheesy. Compared to mine. Compared to the entire world of cheesecake, it was quite good. What we've all learned here is that I should probably never buy cheesecake anywhere.
Saturday
Sephano's Souvlaki lamb souvlaki (Fair favorite): Fluffy grilled pita, local organic lamb, creamy tzaziki sauce, sweet summer onions. Perfect combination of flavors and textures, though ridiculously messy to eat.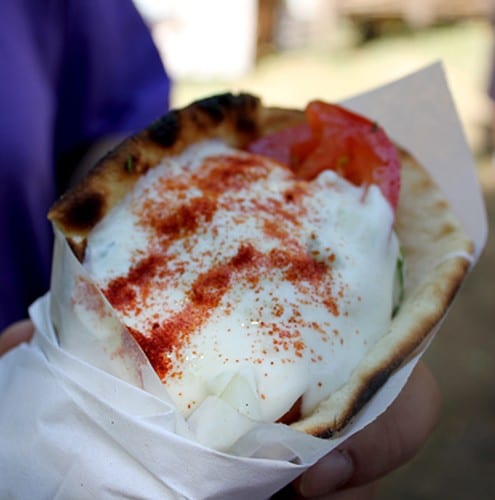 Blazing Salads ensalada loca: Basic Mexican salad (greens, beans, corn, avocado, etc.), but with added Mexi-Snax Pico de Gallo chips, which are relatively rare but Brett's favorite chip of all time. That alone gives them a huge bump up.
Hemp House Grill buffalo burger (Fair favorite): Laugh all you want at the concept of this place, but this burger was so good that I wouldn't risk laughing while eating in case any bits of it should tragically fall out of my mouth. Local, organic buffalo with 1000 hempseed (Thousand Island) sauce on Dave's Killer Bread.
Maty's Peruvian juane (Fair favorite): A sort of rice-based chicken tamal-type thing, plus cabbage slaw, salsa, and fried unripe plantains.  If this is what I have to look forward to in Peru, I am in for a world of delicious delights.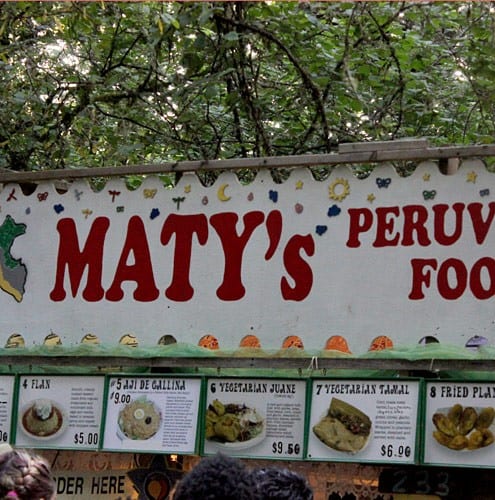 Sara's Tamales fruit salad: Organic bananas, cherries, strawberries, blueberries, pineapple, and watermelon with a huge dollop of fresh whipped cream. Straightforward, but exactly what I needed after our midnight loop of Chela Mela Meadow.
Sunday
Mexican place near the Sauna huevos rancheros (Fair favorite): Two fried eggs, beans, Mexican rice, guacamole, freshly grilled tortilla, ridiculously hot habanero salsa. Nothing better after a 6 a.m. shift at the sauna (where most of the patrons had not yet been to bed).
Sara's Tamales chicken tamale: Traditional chicken tamal with peanuts and a big ol' prune in the middle. Good, but not spectacular. Brett ate the prune, and I ate the prune-adjacent tamal territory. He's a good husband.
Monster Cookie oatmeal chocolate chip cookie: Purchased because I didn't want the guilt of eating an entire ice cream sandwich (see above). Delicious, but a poor substitute. Should've gone with a Nancy's.
There's a lot of stuff to look forward to about the Fair – but the food is pretty close to the top. Hope to see you next year, Fair food.
Bowen Close
Bowen Close believes that food should make people happy and healthy, and loves bringing together people with creative, delicious food made from the heart. She loves making farm-inspired, flavorful dishes with sustainable ingredients - whether that's a big plate of roasted veggies, a towering chocolate layer cake, or a cocktail utilizing backyard ingredients - and collects recipes and other food-related stories on her website, Bowen Appétit. She is a chef, cooking instructor, and food writer living in Southern California with her husband and fully stocked pantry.