Initially, the kids' enthusiasm for Chuck Norris was evident, but their knowledge of herbs clearly questionable. Three weeks later, they'd gone from novices to adventurous herb experts.
By Sarah Rubin and Erin Taylor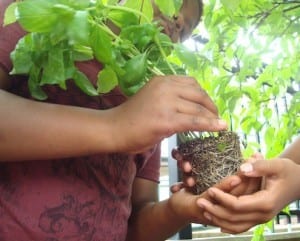 We spend every Tuesday afternoon with the Green Team, a rotating group of elementary and middle-schoolers at our local youth center. Our membership is inconsistent, but we're always guaranteed at least a few kids who want to get their hands dirty and eat delicious snacks. The past few weeks have been all about herbs. We've introduced our young pupils one leaf at a time to the vibrant flavor of fresh cilantro, the pungent bite of chives, the effervescence of mint. In addition, we've assigned these kids the important job of constructing an urban herb garden.
But what fun is an herb garden if you don't even know what an herb is? On day one we asked the kids if they could name any herbs. "Onions?" Vincent ventured.
"Chuck Norris?" joked Elijah. Their enthusiasm for Chuck Norris was evident, but their knowledge of herbs appeared questionable. Clearly, we had our work cut out for us.
Herb-tasting 101 began shortly thereafter. We started by teaching them a magic word: muddle. We poured lemonade for the young mixologists and gave them an array of herbs from which to choose. Upon smelling the herbs, Miles declared them all "disgusting." But soon the boys were muddling everything they could get their hands on, from mint to oregano. By the end of the hour even Miles was slurping chive lemonade and chomping so many raw chives that his breath could have knocked out Chuck Norris.
Week two was all about experiencing the difference between fresh and dried herbs. In preparation, we dried bunches of oregano, parsley, sage, mint, cilantro, and thyme in paper bags by hanging them upside down in the window of our mobile office—the car. We gave everyone a base dip made of Greek yogurt, minced garlic, and salt, then assigned each chef an herb. The challenge was simple: to make a dip with the designated herb, a dip so delicious it would convince everyone else that this herb simply must be planted in our garden.
Somewhere in the excitement of getting to crush, mix, and taste, that neat division fell apart. Being forced into a culinary box was not nearly as fun as concocting inventive mixtures. But despite the blatant disregard for the instructions, all but one dip tasted delicious. After the boys left, we ate the rest of Elijah's creation as an afternoon snack.
On week three we had planned to break ground on our garden, but we arrived to a cold rain and just two boys – Elijah and Vincent. We told them a little rain would never scare Chuck Norris, but they didn't want to be outside and to be honest neither did we. So we proceeded to Plan B. We headed to the dry cover of the kitchen and the warmth of the gas stove, and taught the boys to made quesadillas. Vincent said he had "flipped a lot of pancakes," so he was a natural. Elijah, usually the most energetic and unpredictable of the bunch, waited patiently for the cheese to melt.
Then came the taste test. We had hidden herbs in the quesadillas and challenged the boys and their budding pallets to identify the flavors. Vincent, small and soft-spoken, chewed thoughtfully. "Or-eg-no?" he said. He had barely managed to pronounce it but he knew what it was!
Elijah tore off a bite of herb and cheese filled tortilla. "Sage," he declared.
We tried not to sound as surprised as we felt. "You're right. Great job!"
We were so proud. In three weeks of tastings fresh, then dried, then cooked herbs, they'd gone from novices to adventurous experts! But the boys seemed oblivious to their culinary accomplishments. Through mouthfuls of herbs and quesadilla, they discussed what Chuck Norris would do with a handful of parsley. Next week, we'll work on table manners.

This is a quick and healthy dip that kids will love. It's easy to make and even easier to eat!
Author:
Sarah Rubin and Erin Taylor
Recipe Type:
Appetiser, Snack
Ingredients
2 cups Greek yogurt
2 cloves garlic
1 teaspoon salt
fresh or dried herbs, to taste
Instructions
Finely chop garlic cloves.
Add chopped garlic and salt to yogurt, stirring to combine
Add fresh or dried herbs, to taste
This post was co-authored by Sarah Rubin and Erin Taylor