During the 2012 New York City Wine and Food Festival, Carly DeFilippo checked out Morimoto's Rock & Roll Sushi party at the Harvard Club.
By Carly DeFilippo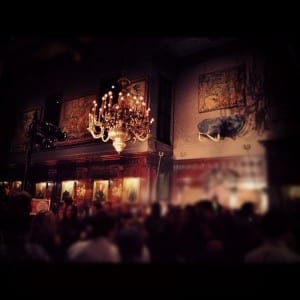 This past weekend marked the fifth annual New York City Wine and Food Festival, a four-day celebration of culinary icons and local eats. From wine tasting in the chic boutiques of the Meatpacking District to a hands-on oyster shucking lesson at the Standard Biergarten, it was a dynamic, whirlwind tour of the New York City food scene.
The highlight out of the many events I attended was Morimoto's "Rock & Roll", a sushi and karaoke party at the Harvard Club. Upon arriving at the ivy league digs, I was immediately struck by the incomparable decor. Taxidermy of all shapes and sizes (including an imposing elephant head), dim-lit chandeliers and dark wood paneling decorated the cavernous hall where the city's best sushi chefs were already busy at work.
Having been to a number of tasting events, I know the food can range from utterly disappointing to extraordinary. Raw fish is one of my favorite ingredients, so I was a bit anxious to sample the chefs' small bites.
Happily, I can report that every bite stood up to the challenge. At $150 per ticket, the event – whose proceeds benefit the hunger-relief programs of Food Bank For New York City and Share Our Strength® – actually seemed a bargain, and I would readily recommend that any fish lover jump on board the next time this sushi party rolls around.
Here are some of my favorite bites:
I've had sepia tagliatelle before, at Txikito in Chelsea (one of my favorite restaurants). Marea's take was distinctively fishier, but enjoyably so, and the "pasta" was cut a bit thicker. But unlike good Italian pasta, the texture wasn't al dente – in fact, it was surprisingly tender for cuttlefish. Overall, a bite that redoubled my interest in dining at this highly praised restaurant.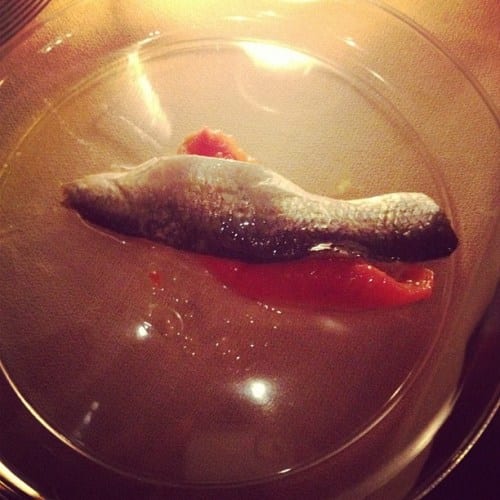 If nothing else, Esca deserves an honorable mention for this simple, fish-forward dish. Sardines are a hard sell, and it was an excellent opportunity to present them – in their highest quality – to a crowd of eager pescatarians. It wasn't the most impressive dish of the night, but its subtlety would not have been lost on a true fish lover.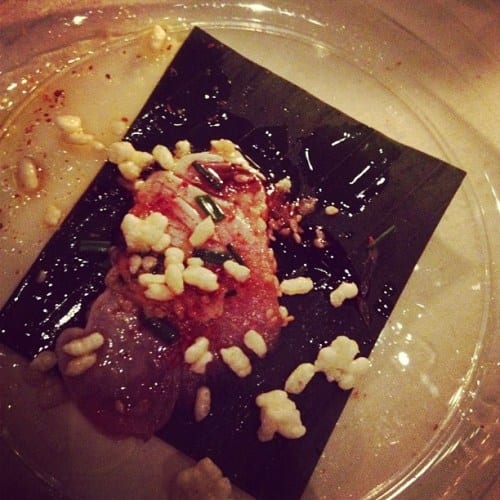 I'll admit, I had actually not heard of Blue Ginger before tasting this dish. But out of everything I ate that night, this hamachi sashimi was one of the most interesting dishes. The spicy seasoning was an unexpected twist, while the crispy rice was a pleasant textural contrast with the sashimi.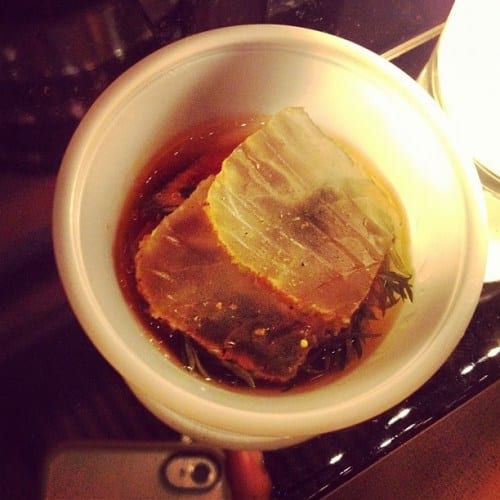 Corton's dish had so many layers of unexpected flavor, it was mind boggling. Yet, somehow, they all went together really nicely. The thinly sliced, slightly smokey fish was an exciting match for the bold broth – a surprise that definitely merited a second bite.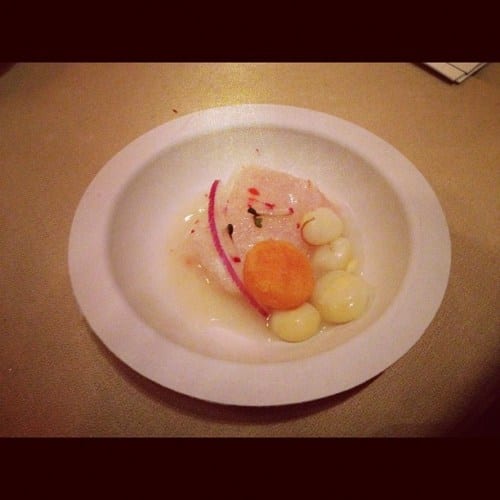 I love ceviche, and I have been hearing raves about La Mar's distinct Peruvian style. The texture of the fluke was absolutely stunning, as was the shockingly bright, pop-in your mouth citrus. Coupled with a few al dente vegetables for textural contrast, this dish was an absolute stunner.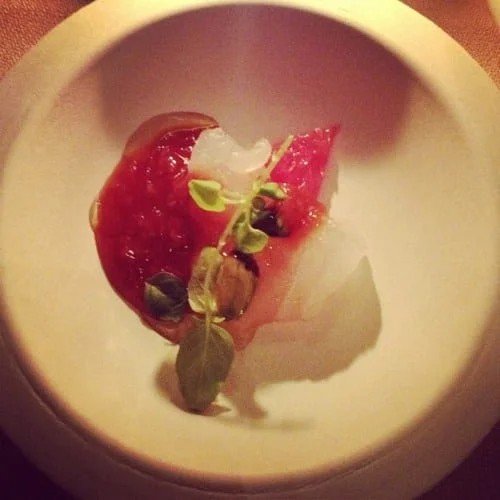 This fruit and fish combo quite literally blew my mind. A just-sweet enough peach sauce, clean snapper slice and smokey spike of citrus. It was a combination that should have overwhelmed the fish, and it didn't. Which officially makes Crave Fishbar the restaurant I want to check out the most after this outstanding city sushi tour.
Carly DeFilippo
Carly is a Contributing Writer at Honest Cooking. Though the first line of her college application essay was "I love tunafish," it wasn't until she pursued graduate studies in Paris that she ever considered a future in food. Based in Manhattan, Carly is a freelance writer and the co-founder of Cognoscenti Creative, a boutique branding agency dedicated to establishing artisans as influencers.