Madrid – the capital of Spain can sometimes be overlooked as being conservative.
Unlike the bustling and very much touristy city of Barcelona, Madrid has a reputation of being 'just' another capital city.
But thanks to a whole new generation of entrepreneurs and families who want to make their home, Madrid as exciting as any other city for both locals and travellers alike, old traditions are being transformed and reinvented to produce an exciting capital for discerning travellers to take note and enjoy.
With new restaurants and pioneers stepping up to the plate – showing off Spain's great designers and producers – here are some very worthy destinations to mark on your bucket list. Michelle Tchea's Chefs Collective gives you possibly the most perfect and up-to-date itinerary for Madrid.
Hotel Heritage – A New Boutique, Luxury Hotel in Salamanca 
Conservas Nudista – Now Trending 
Sure San Sebastian is known for the iconic pintxos – mini bites of food jam packed with flavour – but all around Spain you will find great places to grab a drink and eat something completely local.
Conservas Nudista is at the top of the list with an interesting concept which brings together some great artisan producers who specialize in canning sardines, vegetables and other seafood. Located in Chamberi, a cool neighbourhood akin to SoHo without too much glitz, Conservas Nudista is awesome to have a craft beer from Madrid, meet new friends and of course eat simple yet well-prepared foods.
Go For The Service… And The Food, Of Course! 
Locals come here and real foodies look for Sala de Despiece to tell others they had ate here. Small and no reservations, his cool foodie spot is seen as a pioneer in the Madrid food scene – opening about 6 years ago. The brain child of a well-known restaurant, Javier Bonet , this restaurant is something NYC would have. Fun, full of life, excellent servers who play 'host' to each guest with spectacular anecdotes with each dish being served and of course, excellent tasting plates with locally sourced ingredients.
All items are meant for sharing at a place known set up as 'the cutting room' of a butcher / fish-monger… raw and alive – this is the place to be for a cool night out in Madrid. Get the tomato, smoked eel and everything else on the menu or you will be disappointed.
Watch This Space: Chef Begoña Fraire
Begoña Fraire – remember that name. A female chef with the passion and heart to show the world what she can do with great Spanish ingredients recently opened a new restaurant ETIMO. Located in the cool and high-end district of Salamanca, this is were you go for a really good degustation. Menu's starting at 70Euro speak volumes for this 1-Michelin star chef who is aiming for the stars.
With a seasonal menu, the chefs degustation is your best option for a 6-course meal with surprise dishes to wow you and your guest. The ingredients are fresh, excellently prepared with care and finesse to produce interesting flavours you never thought of. Clean and honest food – a favourite for Chefs Collective.
HERITAGE Hotel Madrid and Hotel Orfila  – Tradition Meets Modern Charm 
The Heritage Hotel Madrid has only been opened up for a year in the quiet area of Salamanca where Madrilenos reside. Possibly the best option for Madrid-travellers, being well and truly away from the tourists centro ( city centre), the Heritage Hotel is within walking distance to great boutique shopping, cool bars and excellent restaurants.
The hotel is unique in its design – modern, chic – inspired by the Belle Epoque era with beautiful design patterns on the walls. The service staff, particularly in the restaurant are great – it is easy to lose yourself in the restaurant talking to them about things to do and eat in Madrid. The restaurant Haroma is an off-shout of 2-Michelin star Chef, Mario Sandoval – offering a different menu to his elaborate degustations.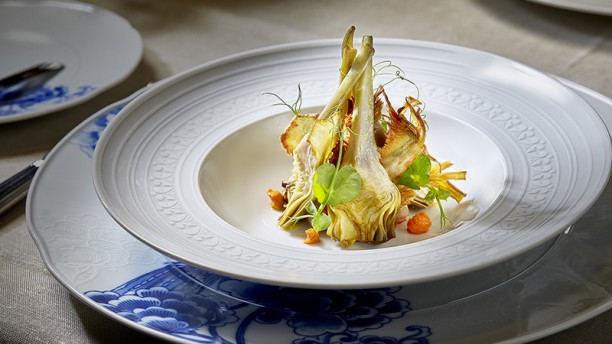 But if you want a more traditional stay in Madrid – you can not miss out on a visit to Hotel Orfila. A Relais & Chateaux member, this hotel is what old-school charm is for the rich and famous / if not royal-breeds we all wish to be part of. The hotel is small and quaint but with a recent renovation in the foyer, it comes to life with excellent service you would probably find in a movie like Downtown Abby… watch the servers and see how professional they are. If you get a chance to stay in Hotel Orfila, walk around the hotel and admire many of the sculptures and artwork – all collections you would find in a museum at your own personal disposal.
Michelle Tchea
Michelle Tchea is a 4-time bestselling author. Her books include, Building a Perfect Meal, My Little SoHo Kitchen, Signature Dishes (Australia's Best) and Chefs Collective. Her work can be found in other leading luxury travel and food magazines including Travel+Leisure Asia, SMILE, NUVO Magazine and The Telegraph