A Healthy Take on Eggs Benedict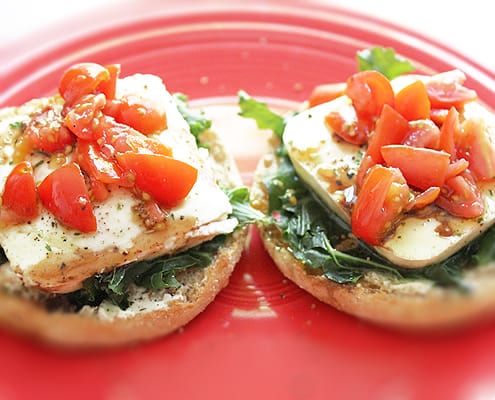 Eggs are like the little black dress of the culinary world, so versatile and so easily dressed up or dressed down.
By Melissa Maki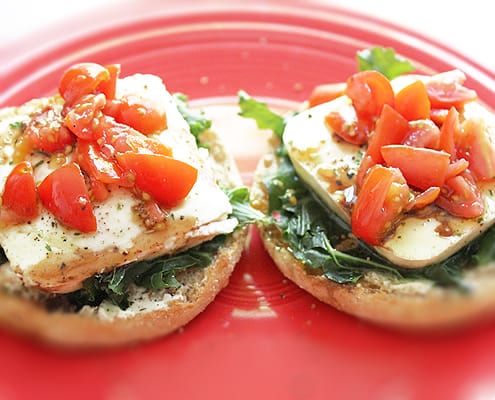 I love eggs. Eggs are like the little black dress of the culinary world, so versatile and so easily dressed up or dressed down. Many people reserve poached eggs—and particularly Eggs Benedict—for a special occasion since the traditional version, with its rich hollandaise sauce, is so decadent. This recipe offers a new twist on the old recipe, incorporating some healthier ingredients.
Tomatoes, kale, herbs, and vinegar give the dish robust flavor. This is a great way to make use of all those summer tomatoes and greens that are coming your way. And for the calorie conscious, it's a satisfying meal without all the fat.

A Healthy Take on Eggs Benedict
A healthy twist on eggs benedict, with kale, tomatoes and herbs
Ingredients
1 English muffin, split
2 eggs
1 Tablespoon of cream cheese
2 slices of tomato
1 cup of kale, coarsely chopped
Salt and pepper to taste
Drizzle of olive oil
Drizzle of balsamic vinegar
1 Tablespoon of fresh, chopped basil or thyme
Instructions
Toast the English muffin.
Heat a small amount of water in an egg poaching pan until simmering.
Grease the egg cups in the pan.
Gently break eggs into 2 of the egg cups.
Divide the kale mixture amongst the remaining egg cups.
Cover the pan and steam for 3 minutes or until eggs reach desired doneness.
Spread cream cheese over the English muffins.
Layer cooked kale on top of the cream cheese.
Place slices of tomatoes over the kale.
Add the eggs.
Salt and pepper to taste.
Drizzle olive oil and balsamic vinegar over the eggs.
Sprinkle chopped herbs over the top.
Melissa Maki
Melissa Maki became a freelance writer while living in Belgium a few years back. Once she had the opportunity to write about beer and bike rides, there was no going back to a "normal" job. She enjoys trying out new recipes, tasting beer, taking photos and walking in the woods. She currently lives in Charlottesville, Virginia.