A Father's Day Dinner In The Real World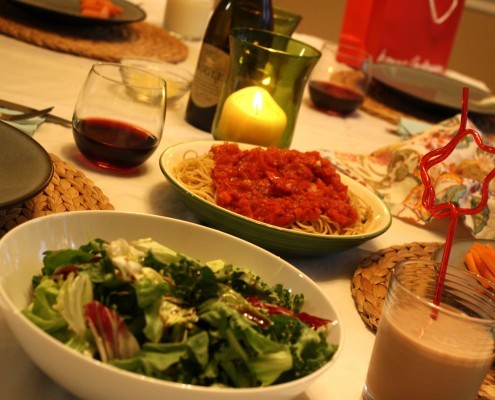 A romantic Father's Day dinner, meticulously planned and prepared days in advance. Or maybe not.
By Gilda Claudine Karasik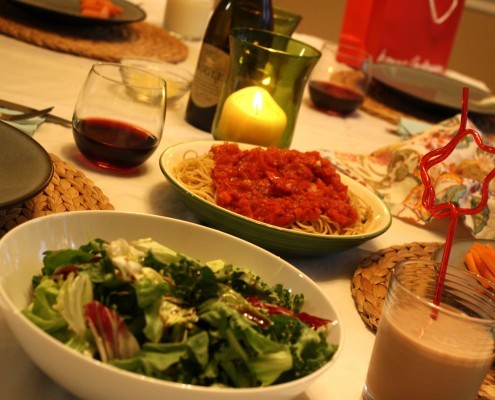 In the controlled chaos that is my home, I prepare a Father's Day dinner for my husband. The tablecloth is creased and the dishes don't match. I've swapped sippy cups for crazy straws and wrapped my husband's grocery-store present in a used Hannah Anderson shopping bag.
There's wine on the table that I started drinking about an hour ago, while chopping garlic and when the kids were on their third episode of Dinosaur Train.  I've scrubbed in at the kitchen sink twice now (after assisting each child with his "business") and broken up one fight and two wrestling sessions.
In between deep breaths, I've thrown together a last-minute menu which includes whole wheat and regular spaghetti (I had to marry two half-full boxes!) and brought the water to a boil twice because the guest of honor is half an hour late getting home from work. Undeterred, I've lit the candles and unwrapped the store-bought-but-made-from-scratch blueberry pie, leaving it in the tin and strategically placing it out of children's reach.
I wipe my brow and momentarily lose myself in a fantasy. One that depicts how I gracefully put together a sumptuously rustic meal at the last minute, looking dewy and ravishing with upswept hair and an apron hugging my curves. In this daydream, my husband walks in, throws aside his briefcase and takes me in arms, breathing in the aromas of sweet basil and thyme, dipping me to plant a salty kiss.
As I drain the pasta, I shake my head and smile at my indulgence.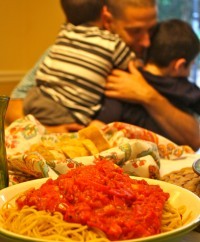 We have young children and romance is too easily relegated to the back burner.  The sacrifice is a no-brainer, though, particularly since this man of mine is a loving father who has the patience of a hundred Buddhist monks.  A man who instinctively knows how to nurture his kids, two little boys who already share his passion for music and hoops, chocolate and pasta.  A generous partner who knows just how to mellow those moments of nearly intolerable frustration that every parent experiences.  And someone who will never notice the wrinkled tablecloth under the plate in front of him because he will be too busy enjoying his meal.

This recipe belongs to an old friend from Ghana and was a favorite last-minute meal during our law school years.
Author:
Gilda Claudine Karasik
Ingredients
10 Roma tomatoes
2 large cloves of garlic
2 tablespoons of olive oil
Dried or fresh oregano, thyme and sweet basil to taste
Salt and pepper to taste
Whole wheat spaghetti
Instructions
Heat the olive oil in a heavy skillet.
Roughly chop the tomatoes and set aside.
Chop the garlic (don't mince) and place in the oil over low heat.
Sweat the garlic for about 5 minutes.
Add the tomatoes and cook down over a medium flame (This takes approximately 10 minutes.) and stir occasionally.
Add the herbs, salt and pepper to taste.
Mash the tomatoes and continue to simmer.
Add a small amount of water for a saucier consistency.
Boil the pasta and drain.
Top the spaghetti with the sauce once it's reached the desired consistency.
Gilda Claudine Karasik
Gilda Claudine is a lawyer and freelance writer. She blogs about Mexican food and culture at www.dosgildas.com and about writing at www.dkwritings.wordpress.com. She is currently working on a her first novel.