A Day at the Great Minnesota Get-Together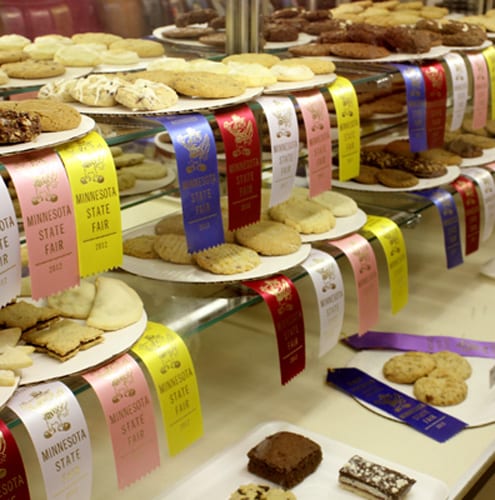 Bowen Close re-visits her childhood Great Minnesota Get-Together fair after more than a decade of absence.
By Bowen Close
I want to write something about the food at the Minnesota State Fair. I can't not write something about the food at the Fair. I grew up going to the Fair every year, this Fair famous for its food on a stick and for its long-standing focus on traditional food-related fair activities, like agriculture and livestock and food preservation and baking contests. But I hadn't been in over a decade, and my interest in the food is so much more intense than it was before. And it was my husband's first time, which meant we needed to eat our way through good coverage of the Fair basics – the Pronto Pups and the cheese curds and the Sweet Martha's cookies and some stuff on sticks – as well as the new and the more sophisticated options.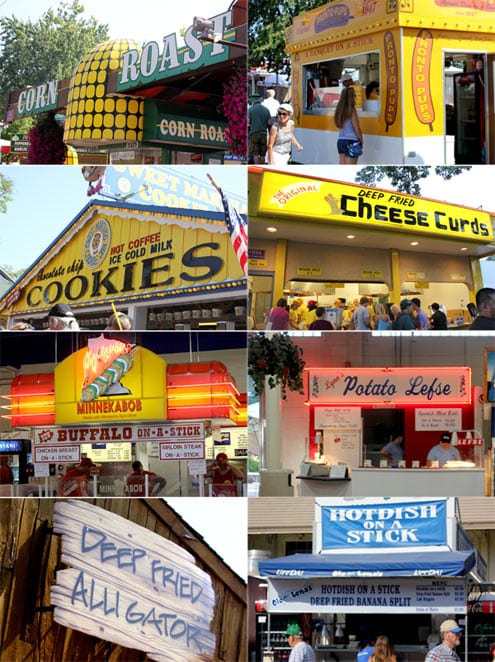 But there's no way I can do it justice. There are books written about it, and we had only one day. There are people who have been writing about the Fair and its food for decades, and this is my first go.
So I'll just say this: We spent more than 12 hours at the Fair, which is practically unheard of. But I hadn't been in so long that everything seemed new and exciting again (I could have watched cows being milked at the Moo Booth for hours), and since everything actually was new and exciting for Brett there was a lot to see. I've been to other similar sorts of fairs over the years, but I was shocked here to see how much there was to see and do at such little cost. We roamed the animal, craft, and agriculture buildings, we rode down the giant slide on pieces of burlap, we watched a lumberjack show, we visited the Miracle of Birth Center to see and pet the animals born at the Fair within the last 48 hours, we pretended to shop for camping trailers and saunas and tractors, and we visited the butter busts of the Princess Kay of the Milky Way finalists. And all of it was awesome. (Also, if we ever move here I'm submitting all kinds of baked and canned things and kicking some Fair butt.)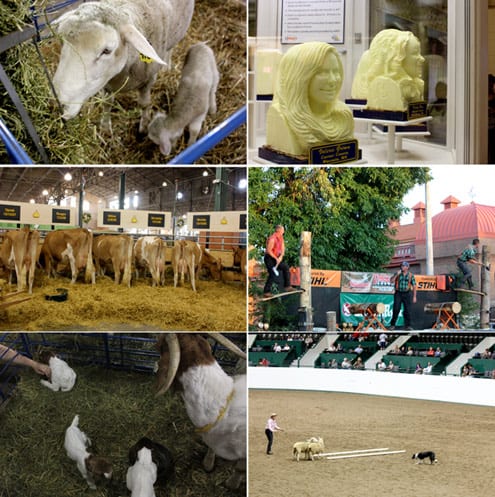 As far as eating goes, we had some hits and some misses. The Stromboli was an unfortunate waste of stomach space, the Pronto pup was everything I ever needed it to be, the walleye roll was great once we piled it with onions and tomatoes and a decent amount of salt, and the roasted corn dipped in melted butter and the fried cheese curds were of course fantastic. The bucket of Sweet Martha's cookies is enough cookie to feed a family of four for approximately 10 days, and I'm not sure why anyone buys it, but the couple we stole from my dad's bucket were pretty good as long as they were still warm. I swear the glass of "ice cold milk" from the Sweet Martha's stand used to be almost painfully cold, perfect for pairing with warm cookies, but this year it was a disappointingly reasonable level of cold. We partook in one of the tasting rounds from the Minnesota Beer Brewers' Guild and were quite pleased. There were other things as well, but those are the most important notes among a full day of Fair eating. It was also really strange for me to realize that people drink alcohol at the Fair, since I never noticed it as a kid and just assumed it wasn't there.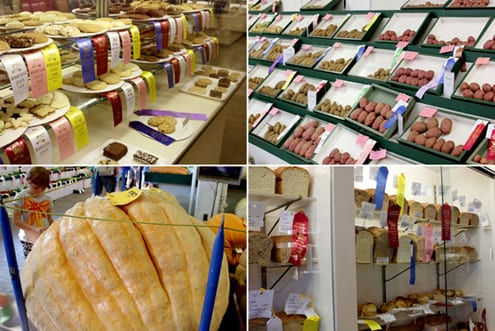 Through the intense length of this day I realized the following important things about myself: it has become one of my life's desires to have a likeness of myself carved into a block of butter, I really really want to see a cow give birth, and baby goats may be what make my heart continue beating.
I doubt I could do a full Fair day year after year, but I'm certainly looking forward to future visits in the coming years. There's more food to eat and there are more baby goats to visit, and those are two things I cannot refuse.
Bowen Close
Bowen Close believes that food should make people happy and healthy, and loves bringing together people with creative, delicious food made from the heart. She loves making farm-inspired, flavorful dishes with sustainable ingredients - whether that's a big plate of roasted veggies, a towering chocolate layer cake, or a cocktail utilizing backyard ingredients - and collects recipes and other food-related stories on her website, Bowen Appétit. She is a chef, cooking instructor, and food writer living in Southern California with her husband and fully stocked pantry.