Jessica Smith enrolls at the famous Blue Elephant Cooking School in Bangkok, and at the end of the day doesn't want to leave.
By Jessica Smith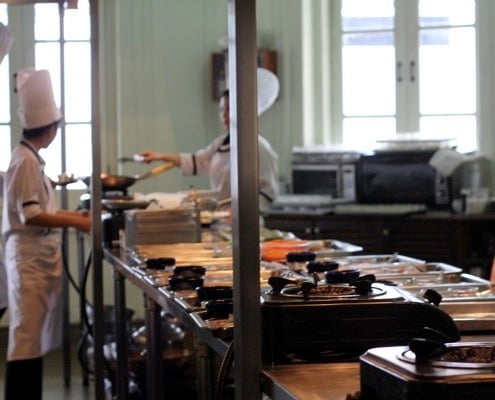 Knowing that I am an enthusiastic home cook, it did not take long for friends (and relative strangers) to hear that I was moving to Bangkok and recommend The Blue Elephant Cooking School. One look at the dishes taught in half-day sessions, and I was ready to sign-up. In my quest to learn about Thai cuisine, a class at The Blue Elephant proved an endearing place to start.
Although there is a clear emphasis on authentic Thai cooking at The Blue Elephant's well-known restaurant and cooking school, many dishes reveal subtle and intriguing influences from other cuisines.  I select a class that appears to strike a balance between the two.  On the agenda is Tom Kha Kai (a traditional coconut milk soup with chicken), Toong Tong Keaw Waan ("golden bags" stuffed with green curry prawn and chicken), stir-fried chicken with red curry and long beans, and, the dish that most stirred my interest, grilled salmon with sweet tamarind sauce.
I arrive at the school early on a Monday morning, excited…and hungry. Although The Blue Elephant's Bangkok location is in a restored house that is awkwardly flanked by high-rise buildings, the interior is an oasis of calm.  Stepping inside, I am immediately transported far away from the busy street.  Heavily polished wood floors and teak furniture are refined and welcoming. Lightly shaded windows and tropical greenery succeed in shutting out the noise and bright heat of the Bangkok morning. When I leave hours later, I am startled by the traffic and noise outside.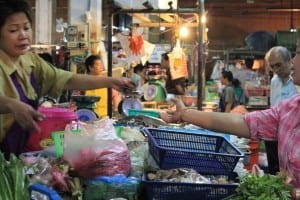 My course begins, as is common with cooking courses in Bangkok, with a trip to a local fresh market. Even before we arrive, I am aware of the market's proximity through sound and smell.  We make our way through stalls of fruit on the pedestrian road outside as the chatter between vendors and shoppers inside is still muted.  When we step into the covered interior, the noise becomes focused and fast.  Every stall is busy with the activity of buyers examining produce and haggling over cost.  In one corner, basil and mint signal their freshness through brilliant green leaves and a tangible aroma.  On the other side of the room, fresh fish are pungent and project the scent of salt, while live crabs clatter over one another in a tub on the floor.
My fellow students and I, twelve of us in all, chase behind our English-speaking instructor, impeccably clad in his chef's jacket and crisp black slacks.  In the bustling market our class is, not surprisingly, a bit of a spectacle.  We block the paths between vendors as we stoop to snap pictures and position ourselves to hear the instructor's discourse on the many varieties of eggplant for sale.  In a quiet corner, surrounded by stalls selling freshly butchered chickens and one offering miniature, speckled quail eggs, we pause for iced coffee and tea. Our drinks are served in small plastic bags, equipped with holes for holding, straws poking out the top.  We again make our way through the maze of stalls, sipping the sweetened drinks, and finding common ground in talk of food.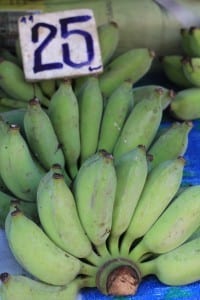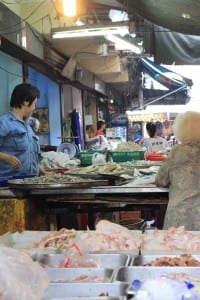 Back at the school, armed with a beginner's knowledge of Thai produce, we begin our lesson.  The instructor's assistant hands out copies of recipes while a chef begins demonstration in a bright, airy exhibition kitchen.  We observe every movement on the counter and stovetop via an overhead mirror, and are encouraged to jump in with questions. And there are many.  We question the technique for forming golden bags – how does the chef create even ribbons in the top and so seamlessly tie them together with a fragile length of spring onion?  Why does she boil the garlic, onion and pepper before whirring them together with pineapple to make a tangy-sweet sauce?  The answer is to cut down on bitterness of the items – one of the many useful tips offered throughout the class.  Each of the instructors responds quickly and in detail, peppering their answers with tidbits on history and technique of Thai cooking.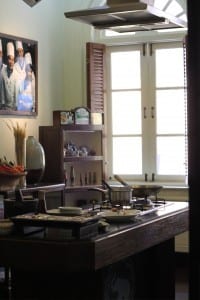 After each demonstration we stand in a semi-circle around the preparation table to taste the chef's creation and are, again, encouraged to ask questions.  The open discourse and casual sampling of the food creates a sense of camaraderie within the class. I often have the sensation that we are in the instructor's personal kitchen, sharing a meal together.
We then file into the well-stocked kitchen to try our hand at each dish.  Despite the clear instructions and a team of assistants overseeing our work, we manage to blunder in our recreation of the recipes.  My neighbor tears wonton wrappers to shreds in an attempt to fill golden bags.  Across the room, a student misinterprets the carefully portioned ingredients and wraps a piece of salmon in an oversized banana leaf meant for decoration.  I too, get caught up in a discussion with the instructor and fail to add a critical portion of fish sauce to my stir-fry (although it is pre-measured and sitting next to my wok).  The mix-ups merely add to the light-hearted atmosphere in the kitchen, and the space is quickly filled with lively chatter.  My experience of working in the pleasant kitchen is enhanced all the more by the knowledge that I will not be called upon to wash a single dish.
See Also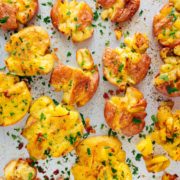 At the end of the class, I find myself hesitant to leave the kitchen and return to the hot chaos I know awaits outside.  The school seems to have anticipated this, and invites students to eat their creations in the restaurant's dining room, only after filling our arms with a certificate of completion and a bag of Blue Elephant-branded spices and seasonings.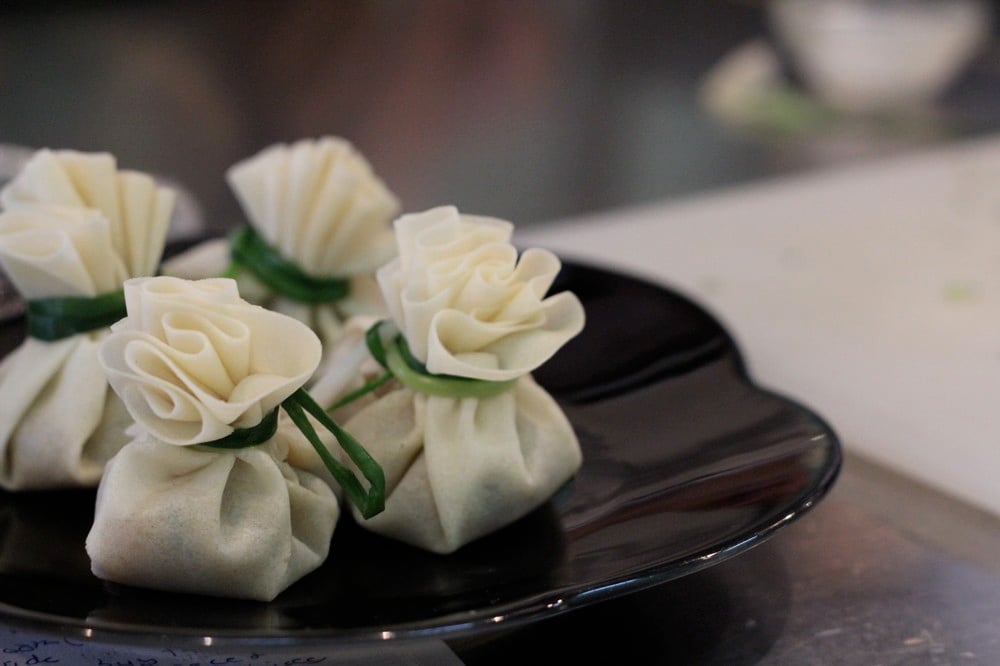 Although The Blue Elephant is an international organization that now boasts restaurants in locations around the world (including Paris, Moscow and Dubai), the value it places on the cooking school is evident.  The quality of ingredients, the thoughtful design of the space, and the shared knowledge of experienced chefs make the experience one that I would happily repeat.  In the end, The Blue Elephant Cooking School easily wins me over, and I find myself jumping to recommend it to other enthusiastic cooks who I hear will be traveling to Bangkok.
A half-day course at The Blue Elephant Cooking School is priced just over 3,000 THB (approximately 100 USD/70 Euros).  Course descriptions (including a vegetarian option) are available on the school's website.  A credit card is required to hold reservations.  For more information on The Blue Elephant Restaurants and Cooking Schools visit www.blueelephant.com.
Jessica Smith
Jessica Smith is a native of the American Midwest, currently living in Thailand where she writes about food and travel throughout Southeast Asia. Jessica believes that the best way to understand a place is through its local cuisine.