The bottom line is that the wines you like are the best wines to serve with Thanksgiving dinner but let's break down classic pairings.
By Snooth.com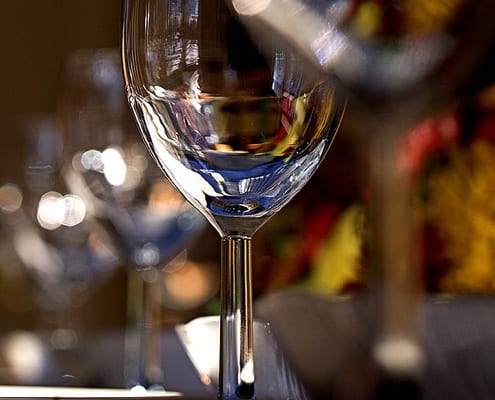 Every year there seems to be a new "best" wine for Thanksgiving. But the fact is your menu probably hasn't changed much in years.
Thanksgiving should be about sharing the day with friends and family, and the quintessential All-American comfort foods. The bottom line is that the wine you like is the best wine for your Thanksgiving but, in case you are searching through all the options, I thought this would be a good time break down some of the classic pairings for Thanksgiving.
Photo courtesy of Andrew Morrell Photography via Flickr
1. Chardonnay
Chardonnay is the most popular wine in America and there's no need to avoid it on Thanksgiving, as it's actually as good a choice as almost any other wine.
If your meal has orchard fruits and a nutty element, apples, pecans, or wild rice, those flavors can serve as a classic bridge, making this complementary pairing an easy winner.
I would opt for a wine with a little oak. The spice and sweetness imparted by the oak will help the wine stand up to the richer dishes at the table.
Two to try:
Lange Chardonnay Willamette Valley, $16
Woodbridge Lightly Oaked Chardonnay, $8
2. Pinot Gris
Pinot Gris, as opposed to Pinot Grigio, generally refers to a wine made in the Alsatian style, as opposed to the Northern Italian; the grape is the same in both.
In Alsace, Pinot Gris tends to be a rich wine with a decidedly spicy character and enough residual sugar to be round and fruity if not downright sweet.
Many producers in the Pacific Northwest produce Pinot Gris in that style, though in general they are fruitier than their Alsatian counterparts. With either example you'll find a wine with rich fruit and an edge of sweetness that allows the wine to work well with the sweeter elements of the meal.
Two to try:
Martin Ray Pinot Gris, $20
Coopers Creek Pinot Gris, $13
3. Riesling
If you want to find an obviously sweet white, Riesling is your best option. The precise flavors of Riesling can range from very citrusy to peaches and honey.
In Germany, the wines are labeled with a rough guide to sweetness: Trocken is dry, while Halbtrocken is semi-dry. The terms Kabinett and Spätlese generally refer to increasing levels of sweetness, but that's not always the case since the terms actually refer to sugar levels in harvested grapes, not the finished wines.
Two to try:
Clean Slate Riesling, $10
Kruger-Rumpf Münsterer Rheinberg Riesling, $20
4. Sparkling whites
There are many people who feel that sparkling wines can complement any meal and, while they can certainly ensure that you'll have a festive Thanksgiving, they may not be the ideal match for your meal.
Having said that, the nutty-fruity interplay of sparkling wines can work very well with a traditional Thanksgiving spread particularly if the wine is a touch sweet.
Prosecco from Italy and sparklers labeled extra dry or demi-sec generally are softer-styled sparklers with just enough sweetness to work with Thanksgiving sides.
Two to try:
Mionetto Prosecco Treviso Brut, $13
Villa Sandi Prosecco, $11
5. Lambrusco
Lambrusco has gotten a bad rap. There are tons of crappy Lambruscos, but when they are well-made they are delicious.
These sparkling wines come in red and rosé versions, and tend to be a little sweet, but the dry versions are gaining popularity in this country.
For the Thanksgiving meal, a slightly sweet red Lambrusco works well. The earthy, dark berry fruit is almost like a liquid version of cranberry sauce, helping to knit the entire meal together!
Two to try:
Cleto Chiarli Grasparossa Lambrusco, $14
Bartenura Lambrusco, $11
6. Beaujolais
Beaujolais is actually a great wine for Thanksgiving, though it is probably more often than not chosen because of the brilliant marketing of the Beaujolais Nouveau.
Released with much fanfare the third Thursday of each November, Beaujolais Nouveau is billed as the first wine of the year, though that distinction no doubt lies with the folks in the southern hemisphere, who harvested in February.
Beaujolais Nouveau can be a fun wine; low in tannins, grapey and easy to drink. It is a nice choice for Thanksgiving, though there are better Beaujolais to choose from. A nice Cru Beaujolais from Moulin-à-Vent, for example, that combines sappy fruit with an easygoing style.
Two to try:
Domaine Dupeuble Beaujolais Nouveau, $15
Joseph Drouhin Beaujolais Nouveau, $10
7. Pinot Noir
Pinot Noir is one of the staples of Thanksgiving and, seeing as this is a uniquely American holiday, it's a good idea to stick with domestic Pinot.
Domestic Pinot, in particular California Pinot, tends to be rich and packed with sweet fruit. A lighter, more elegant example of Pinot Noir might get lost in the sweet/savory/salty stew that is the typical Thanksgiving meal, so looking for a wine that is all about sweet fruit can be a great option.
Two to try:
La Follette Van Der Kamp Vineyard Pinot Noir, $35
Topel Pinot Noir Reserve, $17
8. Zinfandel
Now since Thanksgiving is a uniquely American holiday, it might be good to feature a wine that is almost uniquely American: Zinfandel.
There are many great Zins to choose from but a lighter-styled Zin combines some of the freshness and elegance of Beaujolais with the overt fruitiness of California Pinot Noir.
While Zins tend to be dry wines, their fruity character lends them an impression of sweetness, which helps them to knit together with the food on your Thanksgiving table. It's like we said at the start: the wine you like is the best wine for your Thanksgiving!
Two to try:
Folie a Deux Zinfandel, $14
Tamas Zinfandel, $11
You may also like:
10 Affordable Red Wines for Holiday Parties
14 Well-Priced White Wines for the Holidays