Want to find the best domestic sparkling wines? Here is a list of our 25 favorite American bubblies in price points ranging from $9-$99.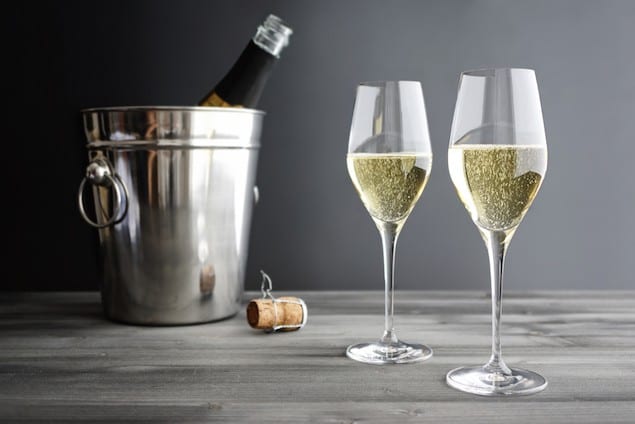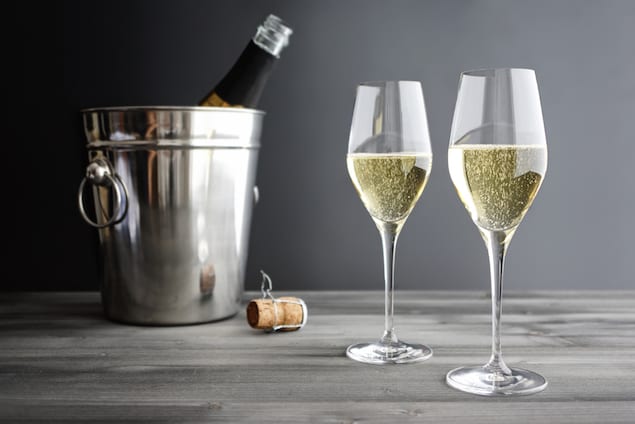 It wasn't long ago that many wine drinkers who otherwise loved American wines would frown upon domestic sparklers. Not so much anymore! Today, you can easily find delicious sparkling wines from almost all wine regions across the USA with great local expression and identity. And while there are still a lot of delicious classic sparkling wines being made, many winemakers experiment with fun production methods or unusual grape varietals. Here is a list of our 25 favorite American Sparklers – ranging from cheap to bank breaking, all fun, delicious and well worth your money.
Barefoot Bubbly Brut Cuvée – $9
Green apple, fresh peach, pear and lime flavors galore. This is a crispy sparkler that works well as a refreshing aperitif at good value. For food pairing, consider some grilled oysters or truffle fries.
Korbel Russian River Valley 2013 Natural – $15
Traditionally, Korbel Natural is a blend of Russian River Valley Pinot Noir and Chardonnay. A great value wine to serve as an aperitif, with lighter fish dishes, raw oysters or poached shrimp. Natural also pairs well with most salads, eggs dishes and sushi.
Gruet Winery Sauvage Blanc de Blancs – $20
From New Mexico, the Gruet Sauvage NV is a bone-dry sparkler, pale straw in color with a delicate but persistent mousse. The aromas of bright mineral and citrus notes tickle the nose followed by touches of green apple, lemon and grapefruit. The finish is structured, flavorful and long. The bright acidity makes this wine a perfect pairing for oysters, sushi and cream sauces.
Pacific Rim White Flowers Sparkling Brut Riesling – $22
Crafted from grapes grown in wind-blown loess on basalt bed rock in Columbia Valley, Washington. This special edition White Flowers Riesling is a dry sparkling wine made in the traditional method. Serve with spicy food or pair with delicious sweet desserts.
Gloria Ferrer Blanc de Noirs – $22
This Blanc de Noirs is predominantly made from hand-harvested Pinot Noir grapes, the hallmarks of which are a vibrant red fruit character. A blush sparkler, it has bright strawberry and black cherry aromas with subtle vanilla highlights. Creamy cherry, lemon and cola flavors combine with a lush palate, lively bubbles and a persistent finish.
Roederer Estate Multi Vintage Brut – $23
Roederer Estate's winemaking style is based on two elements: ownership of its own vineyards and the addition of oak-aged reserve wines to each year's blend or cuvée. The Roederer Estate Brut is crisp and elegant with complex pear, spice and hazelnut flavors. It is fresh and lightly fruity with great finesse and depth of flavor.
R Stuart Bubbly – $28
A fun Orenonian sparkler, the little sister of Rose d'Or. Drink it just the way it is, with its fresh, lean, crisp structure, or for fun you could add some Crème de Cassis to it to make the famous French apertif, the Kir Royale.
Korbel 2014 Reserve Blanc de Noirs – $30
The 2014 Reserve Blanc de Noirs is very dry, with a pleasant balance between crisp red fruit and spicy flavors. Try it with a variety of shellfish, sushi or salads featuring fresh or dried fruits.
Lieb Cellars 2011 Reserve Blanc de Blancs $30
This Methode Champenoise sparkling wine from Long Island is made from 100% Pinot Blanc grapes and, on average, ages 48 months before being disgorged in small lots to guarantee a crisp, fresh wine. This brut sparkler boasts a nose of green apple and pear, accented by hints of citrus, honey, and yeast. The palate comes alive with delicate, refreshing, tiny bubbles.
R Stuart Rose d'Or – $35
Rosé d'Or is an elegant sparkling wine with toasty aromas and notes of nutmeg, honey, thyme, and crisp apple. We barrel age and blend vintages, so that over time, a beautiful rich complexity is created, the likes of which are simply unattainable in a single vintage sparkling wine. It is the perfect companion to everything from Sunday brunch to spicy evenings.
The Chateau Frank Blanc de Noirs – $35
A very well integrated and textural methode champenoise sparkling wine with a long finish. Characterized by aromas of spiced citrus, stone fruits and fresh dough. The Chateau Frank Blanc de Noirs has aromas of lime, vanilla, caramel and hints of spiced orange that combine with a toasty yeast character, persistent foam and tiny bubbles.
Gloria Ferrer 2007 Royal Cuvée Brut – $37
As a showcase for Gloria Ferrer's estate vineyard, only the first pressing of select Carneros grapes is used to craft this wine. This wine pairs beautifully with a wide variety of appetizers ranging from toasted almonds and marinated olives to fried calamari or seared scallops.
Domaine Carneros Blanc de Noir – $39
Made from 100% Pinot Noir and pale golden in appearance, a white sparkling wine made from black Pinot Noir grapes. Serve this wine as an aperitif, or paired with delicacies of smoked salmon, trout or mushroom.
Wölffer 2013 Noblesse Oblige Extra Brut Sparkling Rosé – $40
Wölffer is an iconic Long Island estate that has really caught attention across the US. This sparkler is a powerful statement of bubbly beauty with great depth. This Rosé is made in an Extra Brut style, with a seamless, harmonious elegance that goes on and on. Enjoy as a chilled aperitif or with a fresh summer salad with grilled tuna.
SIMI 1876 Brut Rosé Sparkling Wine – $40
This elegant Brut Rosé is beautifully colored with a hint of salmon. Fresh aromas and flavors of bread crust, candied cherry, fresh apple, and fig give it depth and grace. Weighty on the palate, this sparkling wine has a long finish with baked apple notes. Serve with grilled prawn appetizers or spaghetti alle vongole. Also pairs well with sushi.
Sparkling Pointe 2014 Topaz Imperial – $41
Grown on Long Island and like it's namesake gemstone, the 2014 Topaz Impérial shows a light pink color, however slightly darker than past vintages. Ripe strawberry and sour cherry notes on the nose and palate mingle elegantly with savory touches of biscotti. It's dry in style, yet fruity and juicy with brisk acidity. Delicate and persistent, its fine bubbles compose a harmonious ballet.
Balletto 2012 Brut Rosé Russian River Valley – $42
This California wine is full flavored and textured throughout, and the finish is crisp and lasting with a wonderful tickling-bubble sensation. A light, yeasty mid-palate — with both weight and flavors — lifts and carries this wine to the finish.
Iron Horse 2012 Classic Vintage Brut – $44
Supple and richly styled, the 2012 Classic Vintage Brut is a 'classic' blend of Pinot Noir and Chardonnay, a traditional and elegant showcase of the 2012 vintage, with over three years on the yeast. It is 'brut' level dry and vintage in every sense of the word. Rich, creamy and delicious with precise, pinpoint bubbles.
J Vineyards Brut Rosé Russian River Valley – $45
The J Brut Rosé sparkling wine has a vibrant, pink salmon hue and offers layered aromas of fresh strawberries, raspberries, Fuji apples, rose petals and a savory swath of toasted hazelnuts. On the palate, an elegant mouthfeel complements flavors of ripe raspberry, blood orange and blanched almonds. Lively acidity and steely minerality frame a lingering, lush finish for this Brut Rose. The winery recommends pairing this elegant sparkling rosé with roasted beet and goat cheese salad, a simple plate of smoked salmon canapés, or blue cheese.
Argyle Winery 2013 Spirit Hill Blanc de Blancs – $50
Between 700-800 feet in elevation, north-facing and windy, the chardonnay from Spirit Hill Vineyard provides beautifully focused acidity and tension. The freshness of young Eola-Amity Hills chardonnay shines through with grapefruit and crisp cut apple accompanied by the complexity and depth of a warmer vintage building spicy, toasted notes. Neutral oak barrel fermentation and a small amount of malolactic fermentation build upon its pronounced structure, providing subtle cream and balance, while the driving acid continues through its long finish.
Domaine Carneros 2011 Late Disgorged Brut Rosé – $59
This Rosé is labeled as "Late Disgorged" because it is held back for an additional two years for a total of five years resting on the lees. It has a lovely apricot color that is the result of leaving a small portion of the Pinot Noir in contact with the skins. Only available at the winery, and in limited numbers.
Bedell Cellars Blanc de Blancs 2012 – $60
This crispy and bubbly wine showcases the elegance and balance representative of the North Fork on Long Island. The 2012 vintage was unique and exceptional. Pair with grilled seafood or enjoy as an aperitif.
J Vineyards 2010 Vintage Brut – $60
This charming sparkler opens with delightful aromas of almond blossom, green apple and baked apricot. The palate balances a creamy mouthfeel and pie crust flavors with clean, fruit-driven notes of Meyer lemon, Asian pear, orange peel and tangerine. This wine's bright, heightened minerality shines through to the crisp, refreshing finish.
Domaine Carneros Le Rêve Blanc des Blancs – $110
Le Rêve is a classic tête de cuvée – Domaine Carneros' finest Blanc de Blancs sparkling wine and frequently named America's Best Sparkling. This wine has lovely notes of white flowers, honeysuckle, light citrus overlaid with a light toasty note. The palate opens up to poached pear, hints of ginger and toasted almonds.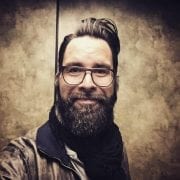 Kalle Bergman
Kalle Bergman is a food writer and media entrepreneur who is the founder of Honest Cooking. As a food writer, his writing has been regularly featured in publications like Gourmet, Los Angeles Times, Huffington Post and Serious Eats. He is obsessed with simple food, more often than not from his native Scandinavia.