15 delightfully effervescent summer favorites in all price ranges that should be on your sparkling shopping and drinking list this summer.
By Honest Cooking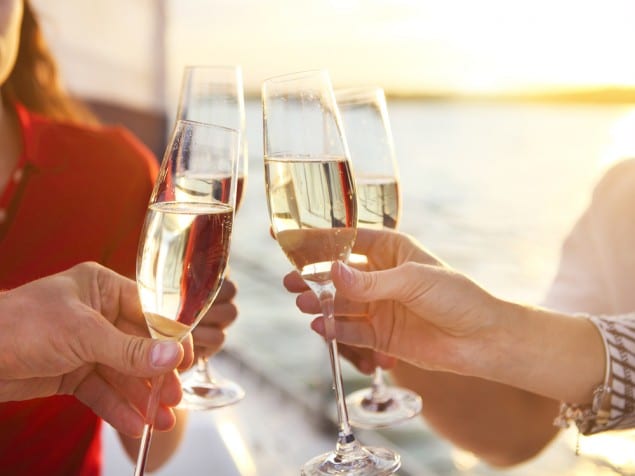 We drink sparkling wine all year around, and so should you of course. But there is indeed something special about sipping a glass of delicious bubbly in a summer sunset or at fun picnic with good friends. Here is a rundown of 15 effervescent summer favorites in all price ranges that should be on your sparkling shopping and drinking list this summer.
Biutiful Cava Brut Naturel N/V – $14.00
A delightful cava that thanks to the Chardonnay addition to the blend becomes more well structured and rounded than most cava. Very high value for money – and it has a fun name too!
Vilarnu Brut Reserva D.O. Cava – $15.00
This is a great budget sparkler from Spain that works well as a welcome drink at any occasion. Small bubbles with a persistent crown, and good structure and lots of natural aromas.

Zonin 'Dress Code' Collection Prosecco DOC – $16.99
This extension of classic Zonin Prosecco offers three tasting profiles and styles, each with a different blend of grapes. The White Edition mixes Glera & Pinot Bianco cuvée for a floral and fruity palate with notes of spring flowers and hints of tropical fruit. The Grey Edition mixes Glera & Pinot Grigio cuvée to create a smooth and mineral wine with a soft palate and hints of apple and ginger. The Black Edition mixes Glera & Pinot Noir cuvée resulting in a silky and creamy Prosecco with intriguing notes of apple, rose and cardamom.
Graham Beck Brut Rosé NV – $17.00
Pale silver pink with aromas of raspberries, cherries and minerality. Brisk on the palate, with hints of oyster shell and fresh lavender. A fun wine that will be a perfect aperitif at your next summer dinner party.
R Stuart & Co. Bubbly – $22.00
This sparkling rosé from Oregon is fun, fresh and charming. You can drink it just the way it is, with its fresh, lean, crisp structure, or for fun you could add some Crème de Cassis to it to make the famous French apertif, the Kir Royale.
Gloria Ferrer Blanc de Noirs – $22.00
Gloria Ferrer creates a couple of different "Champagne style" wines in Sonoma, and they generally provide a lot of bang for the buck. This blanc de noir is a great food wine which works really well with fresh asian fare and grilled poultry. Or, why not enjoy it on its own on your front porch?
Pierre Sparr Crémant d'Alsace Brut Rosé – $22.00
Pure pink color; fresh aromas of red berries, mostly strawberry and raspberry; nicely bodied with delicate bubbles, the flavors are intense on the palate with a lively acidity, framed in a well made structure; the finish is clean, dry and smooth: a delightful sparkling wine.
Mumm Napa Brut Rosé – $24.00
The signature rosé sparkler from Mumm Napa is a pleasure to drink. Beautifully pink color and a fresh aromas of cherries and citrus introduce flavors that are rich and mouth filling, yet retain a certain elegance. This is one of our go to sparkling wines for grilled salmon or scallops.
Taittinger Brut La Française – $52.00
Delicate, consistent bubbles makes this wine easily paired with a variety of summer meals. Light summer fruit aromas and tastes along with subtle buttery flavors are a perfect pair that come together to make a well-balanced glass. Enjoy this wine with a true seafood feast.
Champagne Henriot Rosé – $59.99
This 200 year old Champagne house has gotten a resurgence the last decade, and it is well deserved. The brut rosé is an elegant, feminine wine with a light pink color and a suave fruity palate. Serve with a spiced up tuna tartare, or on its own as an aperitif.
Mumm Napa 2008 DVX – $60.00
This is one of the more prestigious domestic sparklers, and it holds its own well even against expensive Champagnes. Perfect on its own as an aperitif, but also a delicious food pairing wine. Drink with anything from chilled seafood to grilled pork and creamy cheese.
Duval-Leroy Brut Premier Cru NV – $70.00
Fine velvety bubbles dance in the glass of this elegant champagne. Without notes of brioche and a greener hue, this wine is a perfectly light kick-off to a of summer backyard soiree. Prep your guests palate with a sip of this bubbling aperitif.
Charles Heidsieck Rosé Reserve – $72.00
It is never a bad idea to let "Champagne Charlie" accompany a party or a dinner. This is one of our favorite wines across the board, and it really should be more expensive than it is. Elegance, smoothness but with a clear freshness that makes this both festive and exclusive at the same time.
Roederer Brut Nature Stark, $79.00
A champagne with a deep, earthy nose can be a welcomed delight to other light and bubbly bottles. Gorgeous bubbles and lots of mineral and acidity, this is a great wine for ambitious dinners with a vegetable focus.
Laurent-Perrier Cuvée Rosé – $99.00
Rosé is truly back in style and having a beautiful summer moment. Try this fresh tasting wine with a full structure, a unique bottle shape, and enough pink bubbles to go around. If you are trying to celebrate summer in style, be sure to have this festive rosé champagne on hand. Notes of berries with good acidity make it ideal with grilled poultry or a mild cheese appetizer.