13 Places to Eat in Fiumicino, Outside of Rome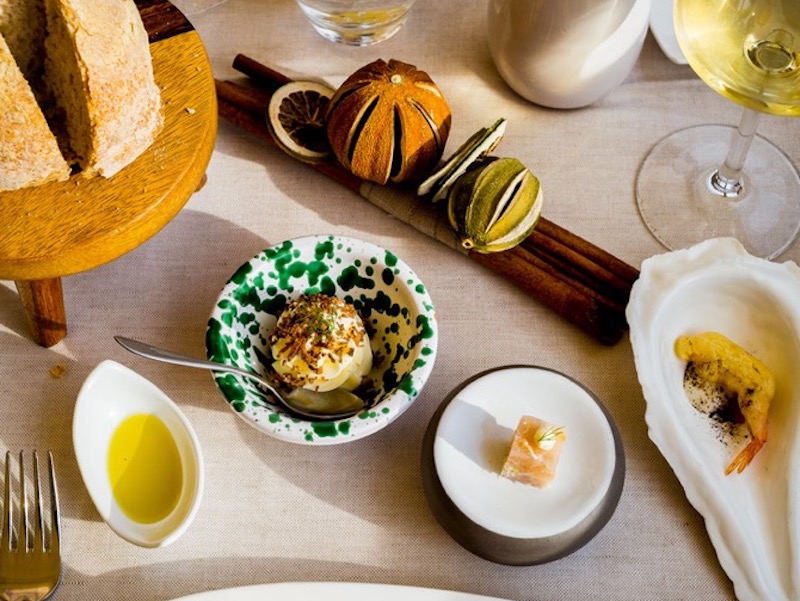 Arriving and leaving Rome by plane, you pass through the town of Fiumicino where Leonardo da Vinci International Airport is located. Just a few kilometers from the main flying hub is the town proper where the principal road sits right next to the canal that comes from the Tiber River then leads to the Tyrrhenian Sea. It's not just a place where you pass through to go to the capital because it holds an interesting aspect to make you stay put and enjoy the place too. For its proximity to the capital, about 30 kilometers, it is a seaside town along the Tyrrhenian Coast where Romans head to for seafood dishes. Fiumicino is a town where restaurants abound, hundreds of them lined up one after the other. Seafood is mainly served, as well as pizzas, meat, gelato, and practically everything that you can imagine eating. In other words, you won't leave the town hungry as there are so many places to choose from. But the big question is, where do you eat well? Having lived in this town for almost two decades and being particularly conscious about the quality of the ingredients used, here are the ones where you can go to wherein the degree of excellence is the protagonist in the kitchens. From very economical options of pizza al taglio (Roman pizza by weight), a genuine trattoria to Michelin-starred restaurants, and finally to an award-winning cup of gelato, here are 13 addresses to take note of.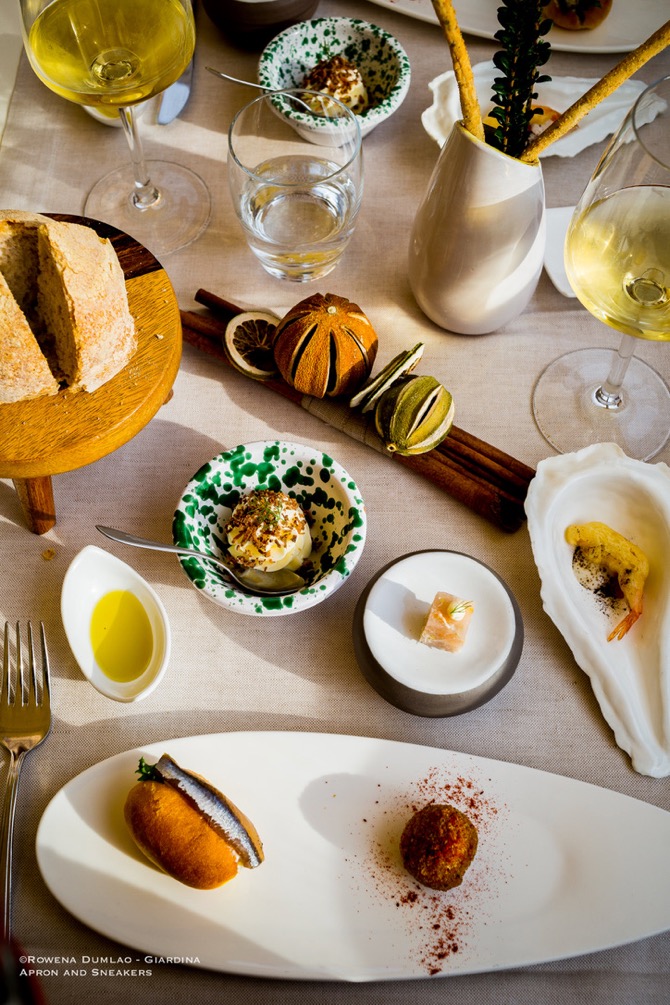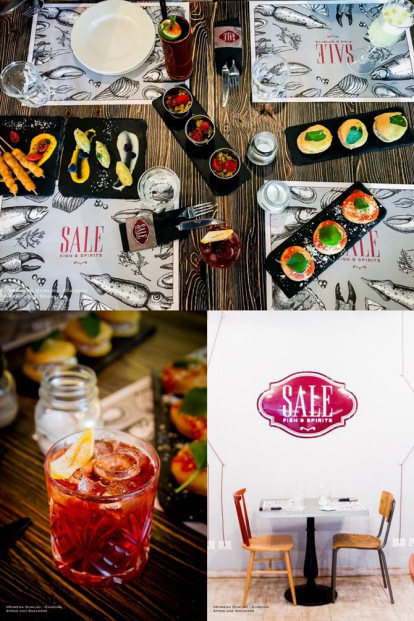 Sale – Fish and Spirits
Sale – Fish and Spirits lies along Via Della Scafa, the road that partly parallels the mouth of the Tiber River. The location is about 2 kilometers from the nerve center of the town but worth the distance if you want some cocktails with a variety of seafood hors d'oeuvres and easy dining. The internal area is very spacious as well as outside when the season permits. Just short of two years in activity, Sale of Roberto Di Giandomenico has become one of the places to head to in Fiumicino for cocktails, casual lunch on weekends and dinner with friends and families. His kitchen proposals are primarily anchored on classic dishes with a slight input of innovation to give some diversity. Occasionally, the chefs of Sale take part in the gastronomic events of Eataly Rome. Friendly service and reasonable prices. Cocktail menu at €15, average prices of appetizers between €9 to €12, pasta dishes between €12 to €16, main courses at around €16 and dessert at €5.
Via Della Scafa 144
Tel: +39 06 99781293
Open from 18:30 to 2:00 (Wednesdays to Sundays) / 12:30 to 15:30 (Saturdays & Sundays)
Closed on Tuesdays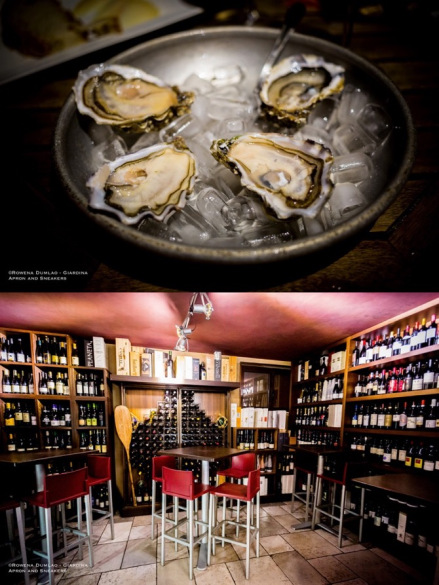 Enoteca Ostricheria
Enoteca Ostricheria of Paola Isopo has been the referral point in the town for years for a wine bar that specializes in excellent wines, French oysters and gourmet products. It is quite compact with only four square tables with bar stools in the inner room that's surrounded by shelves of wine bottles available for drinking and buying. The prices of the oysters vary, between €2.50 to €5 each, depending on the type available. There's a very good selection of wines that can be ordered by the glass with reasonable prices. Enoteca Ostricheria is the perfect place to go to for aperitif or after dinner.
Via Torre Clementina, 122
Tel: +39 06 65048153
Open from 11:00 to 15:00 / 18:00 to 23:00 (Tuesdays to Saturdays & Sunday night)
Closed on Mondays and Sundays mornings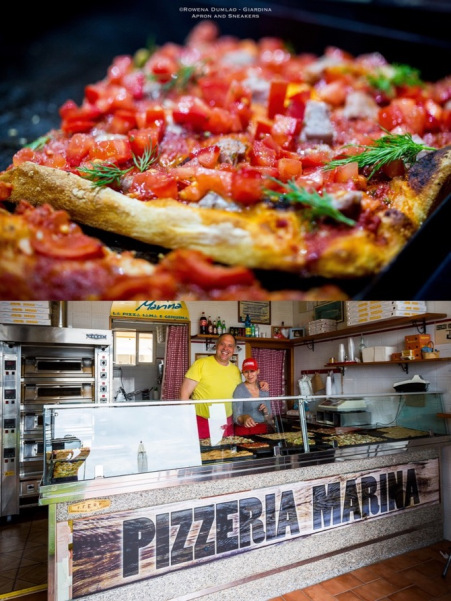 Pizzeria Marina
Roberto Cacchione, World Champion Pizza Chef in 2003, garnered not just one title but a succession of awards and notches in the global and national pizza competitions for pizza al taglio (pizza by the weight) that took place in Italy. Thirty years of activity that has been passed on to him by his parents, his pizzas are very popular in town (and also out of town) because they have high digestibility and the combinations he uses are simply delicious. He has a serious commitment to the superior quality of the ingredients he uses for his pizzas like the flour that is tailor-made for his needs and extra virgin olive oil straight from a trusted small producer in Puglia. The rest of his ingredients are extensively selected before he uses them in his pizzas. In spite of the high quality ingredients, the prices remain economical. Pizzeria Marina is quite small and simple with only outdoor seating available all-year round. On a sunny day, even in the cold seasons, dining outdoors in this pizzeria is a pleasure treat with the harbor in front of you.
Via Torre Clementina, 194 D
Tel: +39 349 8403895
Open daily from 11:00 to 21:00 except Mondays and Tuesdays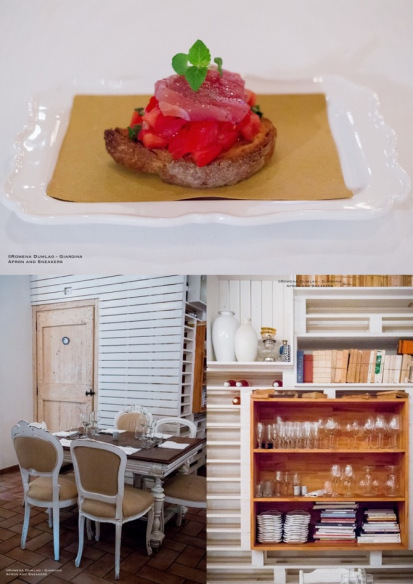 Il Pesciolino Innamorato
The first antipasteria (appetizer restaurant) in Fiumicino 7 years ago opened by Chef Diego Gioia wherein you can order a succession of appetizer dishes at €35 for 5 dishes. Regular courses of pasta, main meat or fish and dessert are also available in the menu. The menu changes according to the availability of the ingredients and season but the theme remains on seafood. The dishes are quite creative but rooted to familiar Italian flavors. Il Pesciolino Innamorato is a very pleasant intimate restaurant in a back road, parallel to Via Torre Clementina.
Via Giovanni Battista Grassi 15 / 17
Tel: +39 06 97990792
Open daily for dinner except Mondays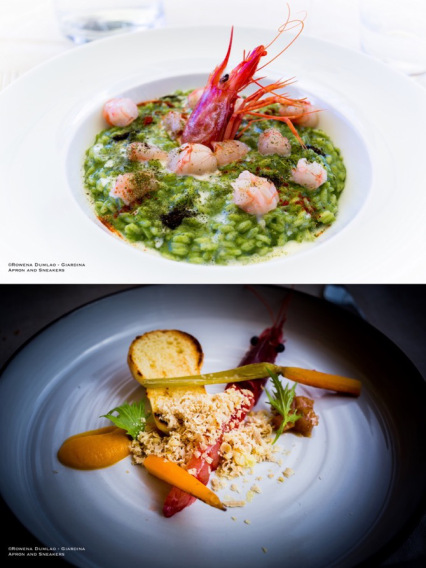 Osteria dell'Orologio
Owned by Chef Marco Claroni and his wife Sommelier Gerarda Fine, Osteria dell'Orologio has been regaling the restaurant's gourmand patrons with impressive seafood dishes. The restaurant has quite a team between the dining staff and the kitchen brigade wherein Sous Chef Alessandro Lambiase takes second in command. When you want a truly good dining experience, head to Osteria dell'Orologio where the food is exceptional, a wine list that complements well the dishes and exemplary professionalism in the dining area. The menu changes every season using fresh ingredients sourced from the best resources. Marco puts different components that knit together into gastronomic delights that are visually striking and decidedly delectable. Book ahead as the restaurant tends to fill up quite fast. Indoor and outdoor seating available all year round (heated in winter). Tasting menus available between €45 to €65 with varying number of dishes. Average prices of appetizers and pasta dishes between €16 to €18 each and main dishes between €22 to €24.
Via Torre Clementina, 114
Tel: +39 06 6505251
Open for dinner from Tuesdays to Sundays and lunch from Thursdays to Sundays in summer. Closed on Mondays.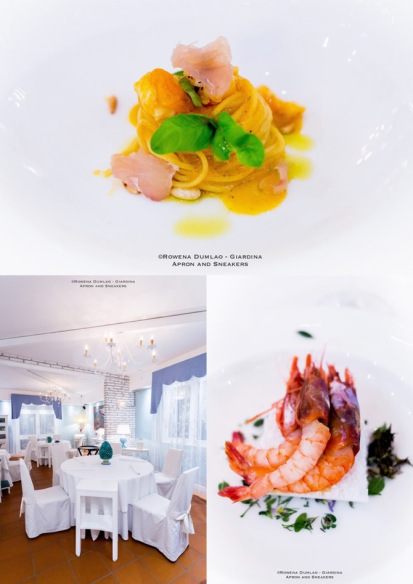 Pascucci al Porticciolo
Known to both the locals and visitors as the best seafood restaurant in town, Pascucci al Porticciolo is a place where you are assured of excellent seafood kitchen using the fresh harvests from the Tyrrhenian Sea. Chef Gianfranco Pascucci has a vast source of ingredients right in front of him, where fishes of different kinds are taken to the dock by the local fishermen of Fiumicino as soon as they come in from fishing. He doesn't limit his ingredients to the usual sea bass or turbot, because he feels impelled to take out the immense supply that the sea can provide us, more the unknown than the ones we are used to. Awarded a Michelin star in 2012, the restaurant assures you of an unforgettable dining experience wherein the food is paralleled with an impressive wine list and commendable dining service in the hands of Giancarlo's wife, Vanessa Melis and her staff. Aside from the singular entries in the menu, two tasting menus are available: Classic Tasting Menu at €80 that consists of 6 dishes while the Tasting Menu of €100 has more dishes. To reach it on foot, just take the pedestrian bridge from Via Torre Clementina.
Viale Traiano, 85
Tel: +39 06 65029204
Closed on Sunday dinner, Mondays and Tuesday lunch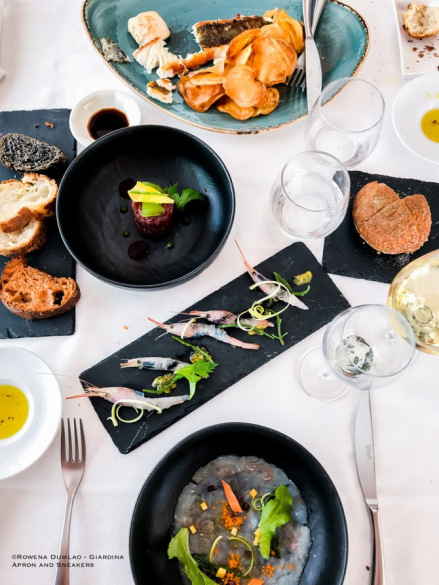 Host
Just over a year old, Host is setting its firm prints in the gastronomic scene in Fiumicino. Chef Alessandro Capponi opened his restaurant, after extensive professional experiences in the Roman kitchens. From those formative years, he decided to start his own restaurant along with his wife Francesca Mangia who manages the dining area. Alessandro's kitchen is innovative, using seafood as the protagonist in his dishes as well as vegetables for his vegetarian dishes. He maintains freshness and quality and he always follows what are in season, including the fish. Wines come from a selected few of interesting Italian producers from all over Italy while there are also some artisan beers to choose from. The restaurant is located in a quiet corner among residential buildings, just a short walk from the main hub of the city. Tasting menus are available between €45 for the vegan, €50 for the fish and €60 for a tasting menu that you compose. Appetizers and pasta dishes cost between €13 to €17, the main courses between €18 to €25 and the desserts at €8.
Piazza Gen. Carlo Alberto Dalla Chiesa (angolo Via Sandro Pertini)
Tel: +39 06 92597477
Open daily for lunch and dinner except Tuesdays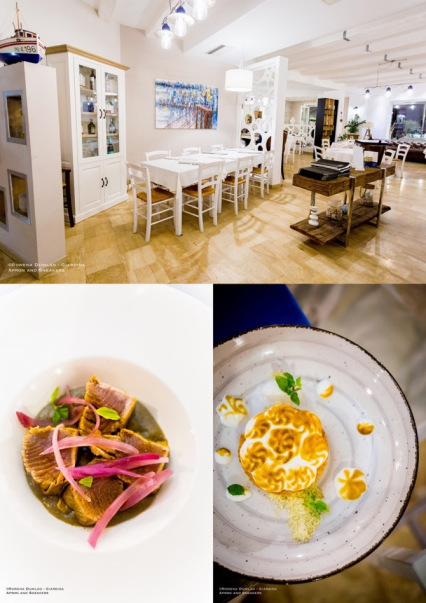 Officina del Mare
Officina del Mare, opened by co-proprietors and siblings Raffaele and Rosanna Forgione, is a spacious restaurant with outdoor seating of about 50 and 60 indoors. It has a refreshing motif of the sea with a backdrop of almost pure white, wood and touches of blue. It has an air of casual refinement wherein the food and service parallel the ambience. Located along Lungomare della Salute, the principal road that has access to the beach, myriad restaurants stand alongside Officina del Mare. Outdoors, the sea reminds you of its proximity with its robust briny scent and its glistening water. Heading the kitchen staff is the very young Executive Chef Ettore Cuzzone, who, in spite of his youth, went through one of Italy's best culinary schools and gained experiences in the kitchens of some important restaurants. Ettore's kitchen philosophy leans towards an innovative approach with the usage of kilometer zero and seasonal ingredients. The majority of the seafood are sourced from the daily catch of the fishermen in Fiumicino while some are obtained from where they are best known to have the highest quality. Expect inventive entries in the seasonal menu. The menu amplifies the seasonality of the ingredients, most especially the availability of the catch of the moment, so some of the entries might vary constantly on top of the mainstays in the menu. Take a step away from the traditional seafood plates and involve yourself in the engaging kitchen of Ettore where you can see and taste creativity. The wine menu has interesting labels to try while the service is very attentive. The average price of the appetizer plates is around €12, pasta dishes at around €16 and the main course at around €18.
Lungomare della Salute, 187
Tel: +39 0645447160 / +39 348 1641822
Open daily for lunch and dinner except Mondays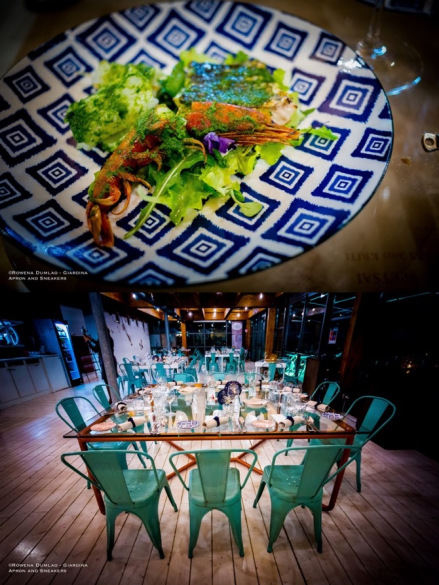 QuarantunoDodici
QuarantunoDodici is pronounced as (kwa-ran-tù-no-dò-di-chi) and translated to forty one-twelve in English. It is a peculiar name for a bistrot but it actually stands for the geographical coordinates of the place, 41-12, along the Tiber River in the town of Fiumicino where the river meets the Tyrrhenean Sea. QuarantunoDodici and Il Tino are both co-owned by Chef Patron Lele Usai and his partners. Both restaurants are located in a building in the premises of Nautilus Marina Complex. QuarantunoDodici is on the ground floor while Michelin-starred Il Tino is located on the second floor. The location of the restaurant requires a car to reach since it stands along the Tiber River that divides the next town, Ostia, from Fiumicino. The bistrot is open daily for breakfast, lunch and dinner. It has indoor seating enclosed in glass, as well as outdoor seating which is right in front of the Tiber River. As opposed to the Michelin-starred restaurant upstairs, QuarantunoDodici's cuisine is quite simple and linked strongly to the territory, using of course, the daily catch from the sea and ingredients of high quality. Average prices of appetizers is €13, pasta dishes at around €16, main courses at around €23 and dessert at €6.
Via Monte Cadria, 127
Tel: +39 06 6581179
Open daily for breakfast, lunch and dinner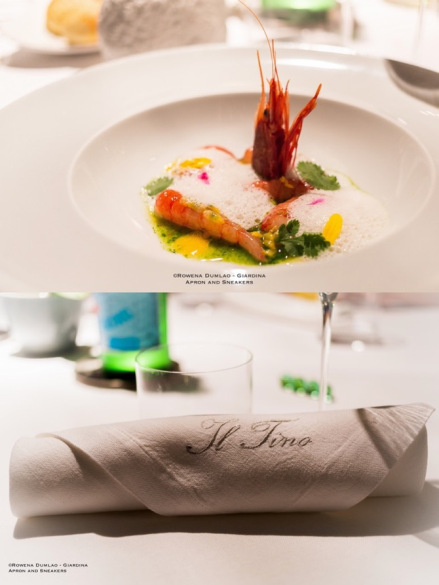 Il Tino
Formerly from the town of Ostia in a quiet residential street, Il Tino captivated its diners for a decade in their original address from 2006 until 2016. In 2015, it was awarded a Michelin star and a year later, moved to its new location in Fiumicino. In the kitchen is Chef Lele Usai who conquers the kitchen with his innovative approach to haute cuisine. His key ingredients are the strength of the Tyrrhenian coast which he marries only with the best ingredients. His reinterpreted dishes highlight unique and refined local flavors derived from his talent for creativity and contemporary techniques in the kitchen. Accompanied with an exemplary wine list, dining at Il Tino is an assurance that your dinner is of supreme quality. Appetizer prices range between €18 to €22, pasta dishes around €20, main courses between €25 to €30 and dessert around €12. Tasting menus of 4 courses is €65, 6 courses at €80 and 10 courses at €100.
Via Monte Cadria, 127
Tel: +39 06 5622778
Open daily for dinner except Wednesdays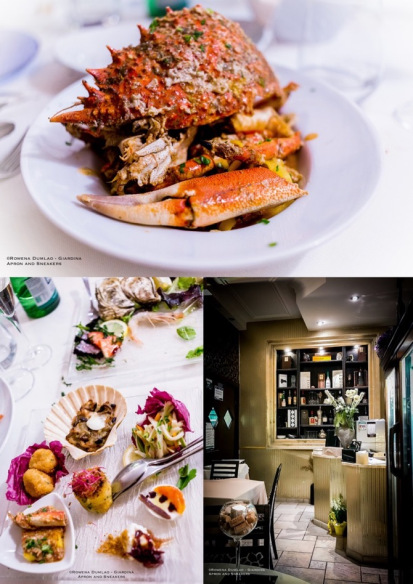 Il Ristorantino Lillo
From Via Torre Clementina, just take the bridge to cross the Tiber River towards Via del Faro for a simple and traditional Italian seafood dinner with moderate prices. It's off the beaten track as it is located in a residential road. Il Ristorantino was opened eleven years ago by Chef Lillo Santoni. The dining area is handled by Chicca Broglio. Lillo's kitchen is deeply rooted to traditional flavors, sometimes with a slight influence of creativity. The level of standard of the ingredients is good and the dishes are straightforward. The linguine with granseola (European spider crab) and tomatoes is notable as well as the raw and cooked appetizer platter.
Via Del Faro, 38
Tel: +39 06 65039033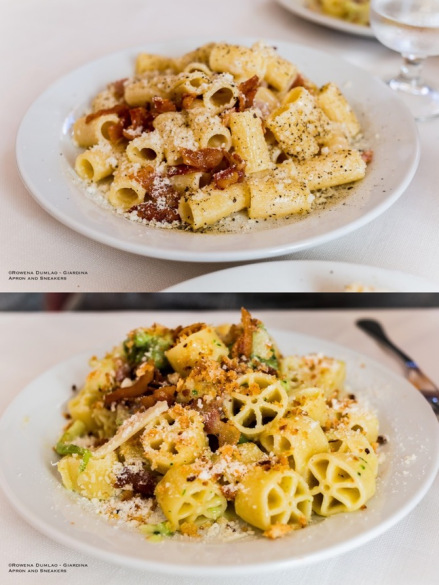 Trattoria Le Romane
When you want to eat genuine classic pasta dishes in a simple ambience of an authentic trattoria, Trattoria Le Romane is the place to head to. Try their abundant servings of Amatriciana, Carbonara, Gricia, Cacio e Pepe and Arrabbiata at an average price of €9. The restaurant is off the beaten path but worth a trip for their classic pasta dishes. Service can be quite slow and wines are limited to basic table wines but the best part is the classic pasta dishes.
Via Attilio Corrubia, 34
Tel: +39 380 523 5910
Open daily for dinner except Mondays / Open also for lunch on Saturdays and Sundays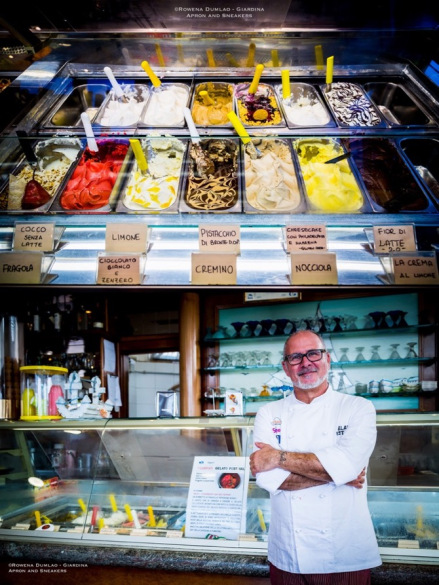 Bar Della Darsena
Bar Della Darsena of Gelato Maker Vincenzo Lenci has been around for years fronting the port of Fiumicino, and just a few meters from Pascucci al Porticciolo. It's a spacious bar with lots of outdoor seating where locals converge until late at night for a cup of gelato, coffee or cocktails. From the outside, you wouldn't think that there is gelato but do step in and check out what are in the freezer. Bar Della Darsena's popularity soared high when Vincenzo created his delightful and refreshing "About…Strawberry and Red Pepper" (strawberry sorbet with a surprising delicate kick of red peppers) flavor and won first place in the semi-finals of the Gelato Festival in Rome 2017. Soon after, he got the second place in the European Gelato Festival in Florence. But it didn't end there because a few months later, he won first place again in a gelato competition in Sicily for another flavor he created with pistachios. Vincenzo's winning streak is due to his perseverance, enthusiasm and passion in making gelato. In fact, he is often in his laboratory continuously concocting new flavors. The best way to enjoy his gelato is when you sit facing the port where the boats are docked.
Viale Traiano, 133
Open daily from 6 AM to 2 AM
Rowena Dumlao Giardina
Rowena Dumlao - Giardina is the author and photographer of Apron and Sneakers and The Chosen Table. Besides her blog, she's also a recipe developer and a travel writer for other food and travel sites.