Have a slice of sundried tomato bread with cheese together with a nice spread of garlic butter. The cranberry poppyseed bread goes well with plain butter.
Taking what I learned in baking culinary class, I added my own little twist. I made plain loaves in class, and instead of using the same ingredients, I made a savory loaf and sweet loaf: sun dried tomato with cheese, and cranberry poppyseed. Moreover, I changed up the recipe, to create a 'home easy-access'. After all, all those industrial baking ingredients are difficult to find.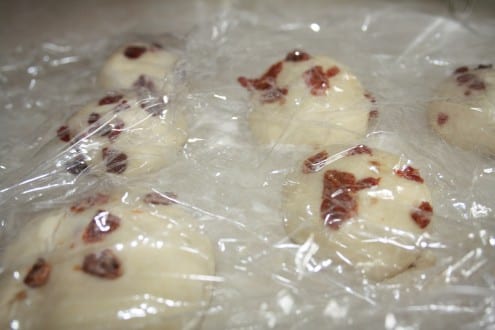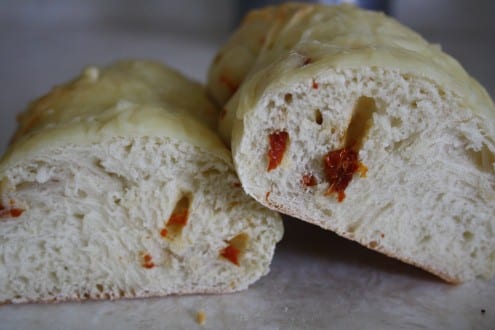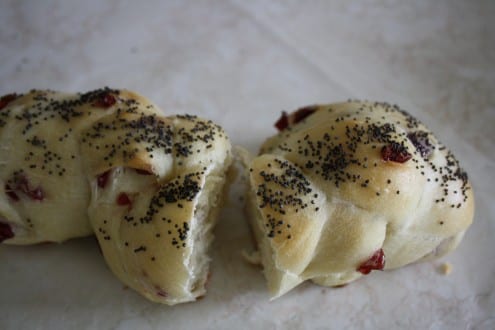 Sundried Tomato Bread and Cranberry Poppyseed Bread
Sundried tomato bread with cheese. Have a slice with a nice spread of garlic butter. The cranberry poppyseed bread goes well with plain butter.
Ingredients
¾ Cup+ 1 Tablespoon of warm water
1 Teaspoon of dry active yeast
1 Tablespoon of oil (I used corn oil)
1 Tablespoon of sugar
2 Cups+ 2 Tablespoons of all purpose flour (sifted)
1 Teaspoon of salt
1 egg
Toppings
⅓ Cup of roughly chopped sundried tomatoes
⅓ Cup of roughly chopping cranberries
⅓ Cup of shredded mozzarella cheese
2 Tablespoons of poppyseeds
1 egg
2 Tablespoons of water
Instructions
In a bowl, whisk the water, dry active yeast, oil and sugar together. Set aside to froth up.
In a stand mixer, pour the flour and salt into the bowl. Mix gently, and slowly add half of the frothy yeast mixture. Add the egg and slowly add the rest of the yeast mixture. You may add more flour if the dough is still sticky. The dough will come together and away from the sides of the bowl.
Pour the dough onto a clean counter, and knead very gently. Do not over knead! Cover the dough with some plastic and let it rise for one hour.
Punch the dough after it has risen, to release air bubbles. Using a knife, divide the dough into 8 sections.
Using your hands, form a ball with each dough section. Gently mix in the sundried tomatoes or cranberries into the ball.
After forming each dough ball, cover with plastic and let it rise for another ½ hour.
You may bake the dough as it is, to make soft rolls. You may also create a challah design like I did, by stretching and interconnecting the dough.
Cover the dough and let it rise for another half hour.
While the dough is rising, fill a tray with water, and place it in the oven at 350°F, to steam the oven. This will create a browning and a crust on the top. Remove the tray after half an hour, when the dough is ready for the oven.
Brush the dough with an egg wash and top it off with cheese or poppyseeds. Bake for 20 minutes or until brown.