South American Chimichurri Sauce is served over roasted zucchini where it can shine.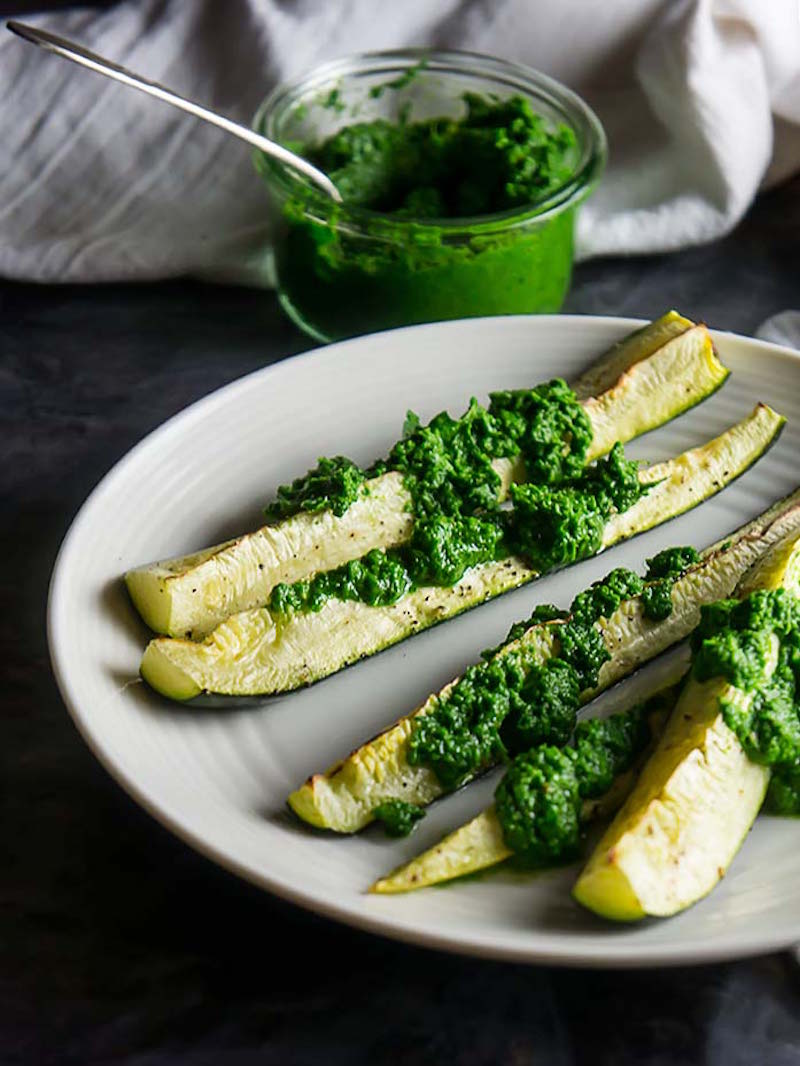 The sauce is meant for steak, but I've always had an undeniable love for zucchini so serving it with Chimichurri felt natural. Then I tasted it, and knew that even though this recipe doesn't quite fit "here" nor "there" on a map of cuisines, it doesn't matter, because it's delicious anyways.

Roasted Zucchini Wedges with Chimichurri
Ingredients
4 zucchini and/or summer squash
2 tablespoons melted coconut oil or avocado oil
1 cup parsley leaves
¼ cup cilantro
1 teaspoon oregano
3 garlic cloves
½ cup olive oil
Juice of 1 lime
1 jalapeño or serrano pepper (serrano if you like it less spicy)
¼ teaspoon salt, plus more for seasoning the zucchini
¼ teaspoon ground black pepper, plus more for seasoning the zucchini
Instructions
Prep the zucchini: Preheat to oven 450°F. While it heats, slice off the stem and end of each zucchini/summer squash. Then, slice each one into sixths, the long way. Toss in coconut or avocado oil, and sprinkle with salt & pepper. Spread out on baking sheet. Bake for 8 minutes, and then turn the oven to a high broil for 1-2 more minutes, until the edges turn a crispy brown.
Make the sauce: Place the parsley, cilantro, oil, lime juice, ¼ teaspoon salt and pepper, jalapeño, and garlic in a blender or food processor. Pulse until everything is finely diced.
Serve zucchini on plate and spoon sauce over top to taste.